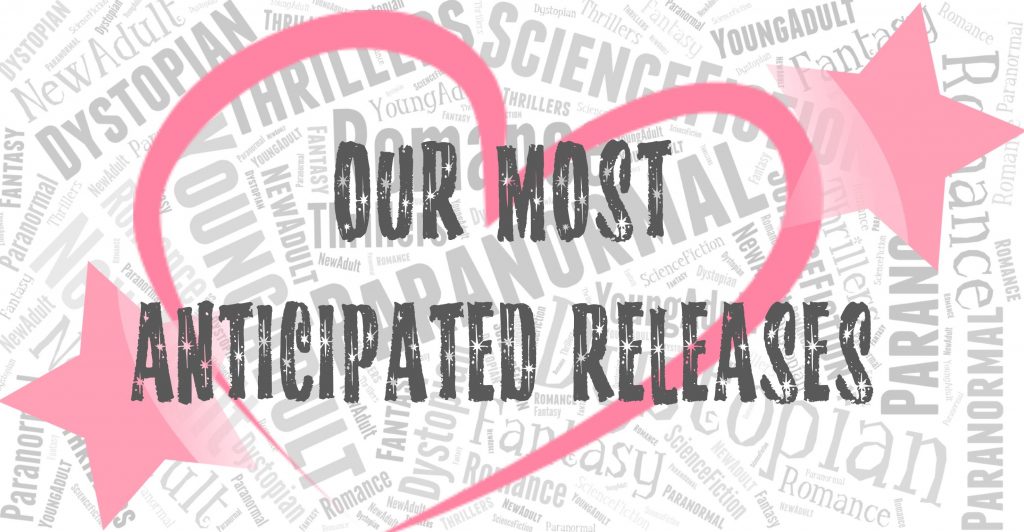 We love talking about books that we can't wait to read! And that includes the ones that haven't been released yet. So around the first day of every month, we'll share with you the books coming out that we're the most excited about. There's a link to Goodreads in case you want to add them to your tbr too! So here are the books we are counting down until they are released in April.
Releases 4/02 – Wicked Saints (Something Dark and Holy #1) by Emily A. Duncan
Goodreads ✩ Amazon ✩ Book Depository

A girl who can speak to gods must save her people without destroying herself.

A prince in danger must decide who to trust.

A boy with a monstrous secret waits in the wings.

Together, they must assassinate the king and stop the war.

In a centuries-long war where beauty and brutality meet, their three paths entwine in a shadowy world of spilled blood and mysterious saints, where a forbidden romance threatens to tip the scales between dark and light. Wicked Saints is the thrilling start to Emily A. Duncan's devastatingly Gothic Something Dark and Holy trilogy.
✩✮✩✮✩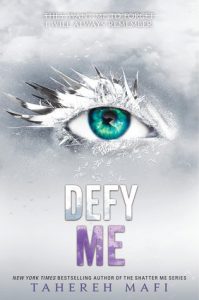 Releases 4/02 – Defy Me (Shatter Me #5) by Tahereh Mafi
Goodreads ✩ Amazon ✩ Book Depository
Juliette Ferrars isn't who she thinks she is.

Nothing in her world is what it seemed. She thought she'd finally defeated the Reestablishment. She thought she'd finally taken control of her life, her power, and her pain. But Juliette has only just begun to unravel a lifetime of lies, and she finds herself faced with a familiar choice: 

Be a weapon. Or be a warrior. 

This time, she's not alone. Stronger, braver, and more resilient than ever, Juliette will fight for life and love with her friends by her side—but first, she has to survive the war being waged against her mind:

She has to remember who she was.

Narrated by Juliette, Warner, and Kenji Kishimoto, this gripping novel perfectly sets the stage for the highly anticipated forthcoming conclusion to the Shatter Me series.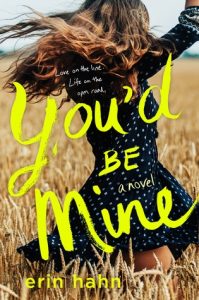 Releases 4/02 – You'd Be Mine by Erin Hahn
Goodreads ✩ Amazon ✩ Book Depository
Annie Mathers is America's sweetheart and heir to a country music legacy full of all the things her Gran warned her about. Superstar Clay Coolidge is most definitely going to end up one of those things.

But unfortunately for Clay, if he can't convince Annie to join his summer tour, his music label is going to drop him. That's what happens when your bad boy image turns into bad boy reality. Annie has been avoiding the spotlight after her parents' tragic death, except on her skyrocketing YouTube channel. Clay's label wants to land Annie, and Clay has to make it happen.

Swayed by Clay's undeniable charm and good looks, Annie and her band agree to join the tour. From the start fans want them to be more than just tour mates, and Annie and Clay can't help but wonder if the fans are right. But if there's one part of fame Annie wants nothing to do with, it's a high-profile relationship. She had a front row seat to her parents' volatile marriage and isn't interested in repeating history. If only she could convince her heart that Clay, with his painful past and head over heels inducing tenor, isn't worth the risk.

Erin Hahn's thrilling debut, You'd Be Mine, asks: can the right song and the perfect summer on the road make two broken hearts whole?
✩✮✩✮✩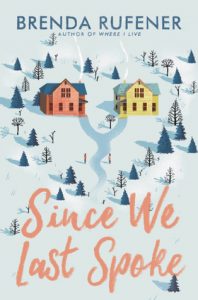 Releases 4/02 – Since We Last Spoke by Brenda Rufener
Goodreads ✩ Amazon ✩ Book Depository
Perfect for fans of Jennifer Niven and Nicola Yoon, this heartbreaking and uplifting novel captures the ups and downs of teen love in the face of unimaginable grief and the rocky journey to healing, peace, and forgiveness. From breakout author Brenda Rufener (Where I Live).

When Aggi Frank and Max Granger finally admitted their feelings for each other last December, it felt like love was beautiful and endless . . . until it wasn't.

A fatal car accident involving their older siblings throws their lives into sudden chaos. And with a restraining order now in place between the two bitter households, Aggi and Max's love runs cold. Being together again seems like a distant fantasy, even though they share the same driveway.

Still, Plum Lake is a small town, and staying apart can't last forever. Aggi and Max eventually reunite at a lake-house party and break the ice after a year of silence.

But just as they begin to rebuild their relationship, the unthinkable happens, leading them to confront each other and their families in the hope of mending the broken pieces.
✩✮✩✮✩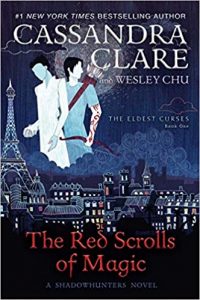 Releases 4/09 – The Red Scrolls of Magic (The Eldest Curses #1) by Cassandra Clare & Wesley Chu
Goodreads ✩ Amazon ✩ Book Depository
From #1 New York Times bestseller Cassandra Clare and award-winner Wesley Chu comes the first book in a new series that follows High Warlock Magnus Bane and Alec Lightwood as they tour the world after the Mortal War. The Red Scrolls of Magic is a Shadowhunters novel.

All Magnus Bane wanted was a vacation—a lavish trip across Europe with Alec Lightwood, the Shadowhunter who against all odds is finally his boyfriend. But as soon as the pair settles in Paris, an old friend arrives with news about a demon-worshipping cult called the Crimson Hand that is bent on causing chaos around the world. A cult that was apparently founded by Magnus himself. Years ago. As a joke.

Now Magnus and Alec must race across Europe to track down the Crimson Hand and its elusive new leader before the cult can cause any more damage. As if it wasn't bad enough that their romantic getaway has been sidetracked, demons are now dogging their every step, and it is becoming harder to tell friend from foe. As their quest for answers becomes increasingly dire, Magnus and Alec will have to trust each other more than ever—even if it means revealing the secrets they've both been keeping.
✩✮✩✮✩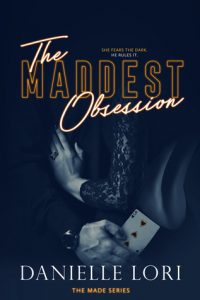 Releases 4/15 – The Maddest Obsession (Made #2) by Danielle Lori
She fears the dark.
He rules it.

Her dresses are too tight, her heels too tall. She laughs too loudly, eats without decorum, and mixes up most sayings in the book. Little do most know it's just a sparkly disguise, there to hide one panic attack at a time.

Nobody can crack Gianna's facade . . . no one anyway, until he comes along.

Most see a paragon of morality; a special agent upholding the law. In the New York underworld, others know him as a hustler, a killer, his nature as cold as the heart of ice in his chest. Christian Allister has always followed the life plan he'd envisioned in his youth, beneath the harsh lights of a frigid, damp cell. With a proclivity for order and the number three, he's never been tempted to veer off course. But perhaps one should never say never . . .

One winter night and their lives intertwine. She hates him—his stone-cold demeanor, his arrogance and too-perceptive eye—but over the years, even as their games consist of insulting each other's looks and intelligence, she begins to live to play with him.

Nowhere in Christian's plans had he ever prepared for Gianna. She's chaos embodied, not his type, and married, but none of that can stop his eyes from following her wherever she goes.

All along, she doesn't even know that she's his—his frustration, his fascination.

His maddest obsession.
✩✮✩✮✩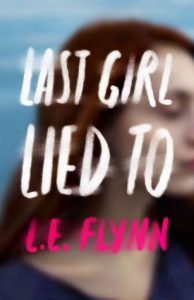 Releases 4/16 – Last Girl Lied To by Laurie Elizabeth Flynn
Goodreads ✩ Amazon ✩ Book Depository

Something made him angry that night.
Something made her cry.
Something made Trixie disappear.
What if it was all the same thing?

Fiona claims she doesn't remember anything about the night her best friend left a party early and walked into the ocean. But the truth is, she wishes she could forget.

Trixie's disappearance is ruled a suicide, but Fiona starts to believe that Trixie isn't really dead. Piecing together the trail of a girl who doesn't want to be found leads her to Jasper, Trixie's former friend with benefits, and Beau—the boy who turned Fiona down, who loved someone else, who might be happy Trixie is gone.

The closer Fiona gets to finding out what happened, and the closer she gets to Jasper and Beau, the more she realizes that the girl she knew better than anyone may have been a carefully constructed lie—and she might have been waiting to disappear the entire time.

Told in alternating chapters between the past and the present, Last Girl Lied To is a gripping emotional thriller.
✩✮✩✮✩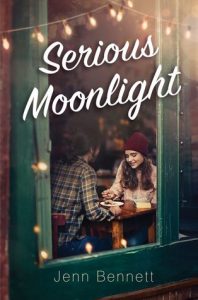 Releases 4/16 – Serious Moonlight by Jenn Bennett
Goodreads ✩ Amazon ✩ Book Depository
After an awkward first encounter, Birdie and Daniel are forced to work together in a Seattle hotel where a famous author leads a mysterious and secluded life in this romantic contemporary novel from the author of Alex, Approximately.

Mystery-book aficionado Birdie Lindberg has an overactive imagination. Raised in isolation and homeschooled by strict grandparents, she's cultivated a whimsical fantasy life in which she plays the heroic detective and every stranger is a suspect. But her solitary world expands when she takes a job the summer before college, working the graveyard shift at a historic Seattle hotel.

In her new job, Birdie hopes to blossom from introverted dreamer to brave pioneer, and gregarious Daniel Aoki volunteers to be her guide. The hotel's charismatic young van driver shares the same nocturnal shift and patronizes the waterfront Moonlight Diner where she waits for the early morning ferry after work. Daniel also shares her appetite for intrigue, and he's stumbled upon a real-life mystery: a famous reclusive writer—never before seen in public—might be secretly meeting someone at the hotel.

To uncover the writer's puzzling identity, Birdie must come out of her shell…discovering that most confounding mystery of all may be her growing feelings for the elusive riddle that is Daniel.
✩✮✩✮✩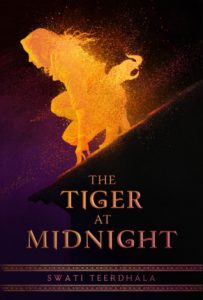 Releases 4/23 – The Tiger at Midnight (The Tiger at Midnight Trilogy #1) by Swati Teerdhala
Goodreads ✩ Amazon ✩ Book Depository

Esha lost everything in the royal coup—and as the legendary rebel known as the Viper, she's made the guilty pay. Now she's been tasked with her most important mission to date: taking down the ruthless General Hotha.

Kunal has been a soldier since childhood. His uncle, the general, has ensured that Kunal never strays from the path—even as a part of Kunal longs to join the outside world, which has only been growing more volatile.

When Esha and Kunal's paths cross one fated night, an impossible chain of events unfolds. Both the Viper and the soldier think they're calling the shots, but they're not the only players moving the pieces.

As the bonds that hold their land in order break down and the sins of the past meet the promise of a new future, both the soldier and the rebel must decide where their loyalties lie: with the lives they've killed to hold on to or with the love that's made them dream of something more.
✩✮✩✮✩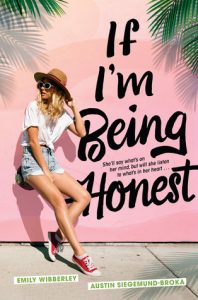 Releases 4/23 – If I'm Being Honest by Emily Wibberley & Austin Siegemund-Broka
Mean Girls meets The Taming of the Shrew in this romantic follow-up to Always Never Yours

Cameron Bright's reputation can be summed up in one word: b*tch. It's no surprise she's queen bee at her private L.A. high school–she's beautiful, talented, and notorious for her brutal honesty. But when she slips up in front of her crush, Andrew, any affection he may have had for her quickly fades. To win him over, Cameron resolves to "tame" herself, much like Shakespeare's infamous shrew, Katherine. If she makes amends with everyone she's ever wronged, Andrew will have to take notice. Thus, Cameron begins her apology tour with Brendan, the guy whose social life she single-handedly destroyed. At first, Brendan isn't so quick to forgive, but slowly he warms to her when they connect over a computer game he's developing. To Cameron's amazement, she actually enjoys hanging out with Brendan; he appreciates her honesty in a way Andrew never did, and she's left wondering: maybe you shouldn't have to compromise who you are for the kind of love you deserve.
✩✮✩✮✩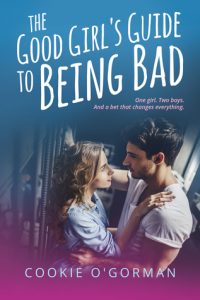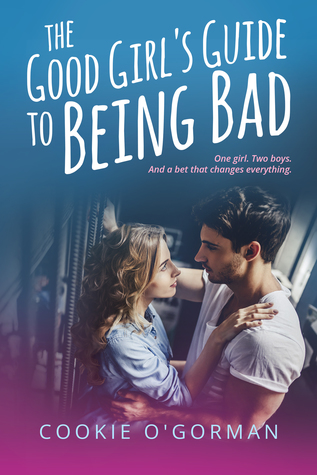 Releases 4/25 – The Good Girl's Guide to Being Bad by Cookie O'Gorman
Seventeen-year-old Sadie is tired of being a good girl.

Her Career Aptitude Test results say she's ideally suited for a career in the clergy (aka a nun), and on top of that, she receives yet another rejection. An aspiring dancer/choreographer, Sadie dreams of being featured on Dancer's Edge—but they say she's too sweet, needs more life experience. Her BFF, Kyle, and her oldest friend, 79-year-old Betty, agree: Sadie is in desperate need of a life makeover.

But she'll need a coach.

Sadie doesn't lie, cheat or steal–heck she doesn't even curse (part of the reason she hasn't checked off anything on her "Carpe Diem List"). Sadie doesn't know the first thing about being bad. But Kyle's twin brother, Colton, does. And he's willing to teach Sadie on one condition: she has to do everything he says for the next month.

A dazzling first kiss, two smokin' hot brothers and a bet that changes everything. In this enemies-to-more YA romance, Sadie learns:

Breaking the rules can be fun—especially when it leads to happily-ever-after.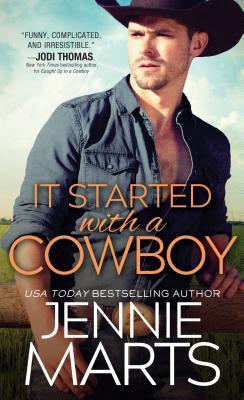 Releases 4/30 – It Started with a Cowboy (Cowboys of Creedence Book 3) by Jennie Marts
Goodreads ✩ Amazon ✩ Book Depository

What will this cowboy risk for love?

Colt James is back home on the family ranch, and he's done taking risks. A car accident ruined his shot at a professional hockey career and messed up his love life, and he's not taking a chance on anything that seems too good to be true. Especially not on Chloe Bishop, his nephew's irresistibly charming teacher and the one woman he can't stop thinking about.

Chloe Bishop liked her life the way it was—orderly, structured and safe. Life goes from managed to messy when Colt talks her into helping him coach a hockey team of rowdy eight-year-olds. Being this close to the cowboy she's crushing on is dangerous territory. But when a real enemy threatens Chloe, Colt will do anything to protect her. Even if it means risking himself—and his heart.
So these are the books we can't wait to be released this month! Are you excited about any of these releases too? Or is there a book we missed that we should definitely check out? Let us know. ♥
Related Posts