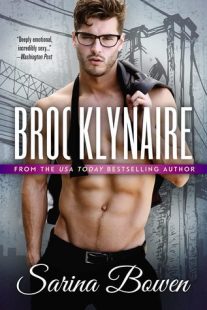 Brooklynaire
(
Brooklyn #1
)
by
Sarina Bowen
Purchase on:
Amazon
, 
iBooks
Add to:
Goodreads
Synopsis:

A sexy new standalone from USA Today bestseller Sarina Bowen.

You'd think a billion dollars, a professional hockey team and a six-bedroom mansion on the Promenade would satisfy a guy. You'd be wrong.

For seven years Rebecca has brightened my office with her wit and her smile. She manages both my hockey team and my sanity. I don't know when I started waking in the night, craving her. All I know is that one whiff of her perfume ruins my concentration. And her laugh makes me hard.

When Rebecca gets hurt, I step in to help. It's what friends do. But what friends don't do is rip off each others' clothes for a single, wild night together.

Now she's avoiding me. She says we're too different, and it can never happen again. So why can't we keep our hands off each other?
It is universally acknowledged that I am something of a badass.

So again, like I said in my review for Overnight Sensation I knew part way through this book that I had made a mistake in reading these all out of order. I knew even more so when I went back and read books one through three after this one and saw a bit of a mysterious build up between Rebecca and Nate. Even the progression of getting to know both of these characters. Don't get me wrong, I still was obsessed with this book but I think the anticipation of seeing these two finally get together could have been even greater if reading them in order.

Now there's a document my HR department doesn't want in the world. Dear Diary, it wasn't until I snuck into Rebecca's hotel room and screwed her seven ways till Sunday that I realized I was in love with her. Not helpful.

BUT ANYWAY. OMG. On to me blabbing on about how much I love Rebecca and Nate. And who DOESN'T love a good "H taking care of h" storyline. Even though I have an unhealthy obsession for hockey players in romances (like I have never been to a real hockey game, what the fuck, Arielle?!) I also love a good hot nerd. And badass heroine. And friends to lovers, especially when the one friend is clueless about it even though the signs have always been there. Lol I love the shit that Lauren gives Nate about it, too. So again, great book. Great sexy times. Great everything.

"Wait." I sit up. "Did you bring me empanadas and tequila?" 
"Yeah," she says softly. "It's nothing, really, but…" 
I interrupt her. "Do you know I love you?"
Her mouth slams shut and her eyes get damp. "No. I didn't." 
"It's true, Bec. I've got it bad."
Side note: It should be mentioned that every book in the Brooklyn Bruisers and Brooklyn series can be read as standalones.  In my own personal opinion though, once you read one, you won't stop until you read the rest.
Related Posts