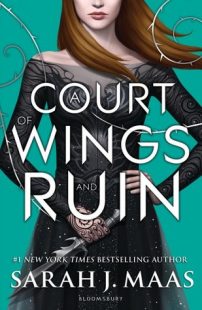 A Court of Wings and Ruin
(
A Court of Thorns and Roses #3
)
by
Sarah J Maas
Purchase on:
Amazon
, 
iBooks
, 
Book Depository
Add to:
Goodreads
Synopsis:

Looming war threatens all Feyre holds dear in the third volume of the #1 New York Times bestselling A Court of Thorns and Roses series.

Feyre has returned to the Spring Court, determined to gather information on Tamlin's manoeuvrings and the invading king threatening to bring Prythian to its knees. But to do so she must play a deadly game of deceit – and one slip may spell doom not only for Feyre, but for her world as well.

As war bears down upon them all, Feyre must decide who to trust amongst the dazzling and lethal High Lords – and hunt for allies in unexpected places.

In this thrilling third book in the #1 New York Times bestselling series from Sarah J. Maas, the earth will be painted red as mighty armies grapple for power over the one thing that could destroy them all.
"This is Velaris," I explained. "The City of Starlight."
His throat bobbed. "And you are High Lady of the Night Court."
"Indeed she is."
My blood stopped at the voice that drawled from behind me.
At the scent that hit me, awoke me. My friends began smiling.
Out of the blue last week at work I was suddenly in the mood to pick up on where I had been on my ACOMAF audiobook, just to have some familiar noise playing in the background while I was working on a few mindless tasks. Well, SURPRISE surprise, one thing led to another and I was suddenly sucked back into the world of some of my favorite characters in the ENTIRE UNIVERSE. I realized while I had been finishing ACOMAF, though, that I had started to become a bit jaded. You see, this book did not live up to what I wanted it to be. Yes it is amazing and intense and features some GREAT scenes but it was almost too much. I think it fell into this trap of being a final book while also….not being a final book. Even though ACOWAR is the final book in Feyre's trilogy, as we all now know, Maas is writing a few more books and novellas in this world, with these characters. In my opinion, she threw in wayyyy too many new plot points in order to end this trilogy but also set up for things to come in future books. UGH. I get it but again, I was disappointed and I don't think I wanted to admit it to myself until I just started re-reading it.
"Because the books were full of magic, and things they wanted to keep humans from knowing."
Because I don't really even know how to begin reviewing this book, the "final" book in this series that has meant so much to me, I might just start by listing things I loved.
-Since the book was again in Feyre's POV but there were so many things going on with so many characters that Maas let us see these other interactions through Feyre's daemati powers (or through other things as well). I thought that was really well done and interesting!
-How sassy Az is. LOVED that he was the one to teach Feyre to fly. Good lord I loved getting to know him better. P.s. I ship him with Elaine x1000
-Getting glimpses into the other courts….how I need a story about Kallais and Vivienne and her becoming High Lady of Winter….we all know it's going to happen
– Tarquin saying they're alternating holidays with Amren and Varien..I died
-Getting kind of more Lucien again…also I want a book featuring him and perhaps Vassa???? Maybe?????
-THE FUCKING BATTLE SCENE ESP WHEN THE LAST GROUP SHOWED UP. FUCKING SOBBED MY EYES OUT.
He said at last, "I'm a warrior. I've walked beside Death my entire life. I would be more afraid for her, to have that power. But not afraid of her." He considered, and added after a heartbeat, "Nothing about Nesta could frighten me."
Aaaaand then there were the things I didn't like as much:
-As much as I am dying for all the rest, how I think Sarah added too much. I felt overwhelmed with the ending and all of the new characters and possibly threads and directions that she possible could go in
-Elaine…lol seriously though I was sick and tired of her until the very end when she did ~the thing~
-Jurian having this weird bullshit redemption arc….didn't buy it AT ALL.
"One life may change the world. Where would you all be if someone had deemed saving my life to be a waste of time?"
And other, long and random/not so random thoughts:
Mor.
I fully enjoyed seeing her more vulnerable in this book. As for her whole reveal, guys, I am 100% fine with her being gay and I don't know how more people weren't. Didn't feel "thrown in" like so many people are saying, wasn't a "plot twist" –people were just calling it that on Tumblr. You guys, we only have ever gotten FEYRE's perspective on things. And she's been a part of the inner circle for a few months…how would she have picked up on anything but the very basics of all of their complicated relationships??? The only thing that REALLY bothered me about the whole deal is that Mor thought that she couldn't have told any of them. ESPECIALLY AZRIEL. I'm pretty sure if it came down to it, he would have wanted her to just tell him so that he didn't have to sit around pining for her, hoping that someday she'd change her mind. But now 500 years have gone by and he's going to be fucked up when he finds out (even if he does start some tentative thing with Elaine). They all love her so much, there isn't a doubt in my mind that they won't accept ever bit of her, especially after she tells them.
CASSIAN AND NESTA.
HOLYYYYYYYYYYYYY CRAPPPPPPPPPPPPPPPPP. They are my ship of ships. My OTP. My heart yearns for them. I had FORGOTTEN all of the little moments they share in this book. S:DLGJSODGJSEIOGJSEOPGJE$O. BUT. That being said, I recently, quickly re-read ACOFAS too and reading all of this good stuff just makes all of their interactions from that book even more fucked up. I mean I get it. Nesta 100% has a baaaaad case of PTSD after what happened with her father, after seeing this war. But fuck. It's Cassian. If anyone knows what she's dealing with, it's going to be him. I am dying to any information on their book. Dying to know if they're mates or if have always just had this weird bond because they have found each other worthy opponents from the very beginning. Sighh….
So yes. I did love this book. I love this book 4.5 stars worth and that missing .5 star was still almost enough to break my heart. I love these characters and I will happily re-read ACOMAF which is still my favorite until the day that I die. Thank you Sarah for introducing us to this court of Dreamers. I will never forget them.
Only you can decide what breaks you, Cursebreaker. Only you.
Related Posts