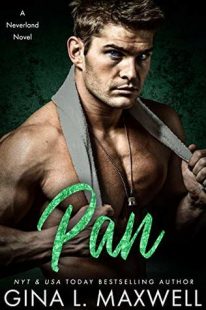 Pan

(Neverland #1)
by Gina L. Maxwell
Purchase on: Amazon, 
Book Depository
Add to: Goodreads


Synopsis:

From NYT and USA Today bestselling author, Gina L. Maxwell, comes a brand-new series with a fresh twist on an old classic.

Once upon a time, in Neverland, North Carolina--I fell in love.

I was twelve when Peter first climbed up to my balcony.
Thirteen when I sneaked out to see him at the School for Lost Boys.
Seventeen when his touch made me fly,
And eighteen when his words made me cry.

We were magnetic, drawn to each other from that very first night, and what I thought would be forever. But when it came time for me to leave, he wouldn't come with, soI left town with a map for my future and a shattered heart.

Ten years later, I've returned to Neverland, hoping to find a man in place of the boy.

Peter was partially right, growing up is no fun. After quitting my fancy career that sucked the magic out of life, I'm now organizing the fundraiser of the year. In a move that could make or break the event and my new company, I've hired Peter, master mechanic and owner of LB Automotive, to help me pull this off--trusting him to rebuild a classic car for the auction that could help hundreds of foster kids in need.

I thought I was prepared, but the boy who refused to leave is now a man hell-bent on getting me to stay, and as sparks fly between us, that undeniable fire flares back to life, deeper and hotter than ever.

But that ripped body doesn't mean Peter's matured enough to make us or this event work, and not everyone in Neverland is happy about my return.

Not every wound heals.
Not every heart can be fixed.
Not every boy grows up.

And after all this time, the love we found might be lost to us again...this time, forever.

Pan is an adult contemporary romance retelling of Peter Pan, complete with Wendy, Hook, Tink, and all the Lost Boys. There are no fantasy elements in this world, other than the "magic" that happens between the sheets. 😉
Review:
I stare into his blue eyes sparkling in the lamplight, promising unexpected adventures and stories untold.
Pan was a fun and whimsical adventure!  It had so many references to the Peter Pan I fell in love with as a child.  But this time around, everything I craved as an adult was there too.  And while this book is contemporary, just know that you will need to stretch what is believable.  For me that was effortless to do, and I loved how the story unfolded.  So if you're looking for a romance novel, that is also a retelling, then definitely give this one a chance.  I'm so glad I did!
"Okay," I whisper.
Hope and excitement flash in his eyes. "Okay?"
"Yeah, okay." Taking a deep breath, I utter the words that will begin our story. "I'll go with you to Neverland, Peter Pan."
We started the story off when Wendy and Peter were just kids.  From there, we alternated between Wendy and Peter, while they were in the past and the present.  It was all done so seamlessly and I loved seeing every aspect of them.  I loved watching them forge a friendship so easily and then becoming the best of friends.  Their younger years felt so innocent, and you couldn't knock the smile off of my face.  Especially when there were scenes like the thimble, oh my heart!  But slowly they evolved into something more.  Well, until Wendy moved away and Peter was left in Neverland.
Then I claim her lips like I once claimed her heart—fully, almost desperately. Even growing up as I did, I'd never needed anyone. Not until Wendy. Not until I asked her for a kiss, and she gave me a thimble. From that moment on, I needed her like I needed air.
While I absolutely loved peeking into their past, the present would sweep me off of my feet too.  Wendy has returned, ten years later, and I loved seeing where their lives had taken them.  Even though years had passed, their deep and beautiful friendship was still there. Plus there was also this amazing sexual tension between them!  While Peter and Wendy definitely had a lot of stuff to work through, I had hope since Wendy had a huge heart and I loved how Peter saw her.  They were both each others biggest champions and their love felt eternal.
With a smile on my face, I follow Peter into oblivion and dream of our happily ever after. It's perfect and amazing, and everything I ever hoped for…except for that tinkling bell that won't stop echoing in the distance.
But the story wasn't just about Peter and Wendy.  All of our other favorites were there too, and my favorites so far…..besides Wendy and Peter……were Tink and Hook.  Tink was as feisty as ever.  That girl has so much fire in her.  And Hook broke my heart and I may just be rooting for his happily ever after the hardest.  I love that there are so many fabulous stories this series can tell!  Pan was one of the most creative and unique retelling I've ever read, so I can't wait to see what's next!
Reaching up, he cups the sides of my face, his fingers slipping into my hair as his blue eyes stare into mine. "I'm yours, Wen. Always have been. Take what you want, and I swear, I'll give you all that I am."
*I voluntarily read and reviewed an advanced copy of this book, provided by the author. All thoughts and opinions are my own.*
Related Posts