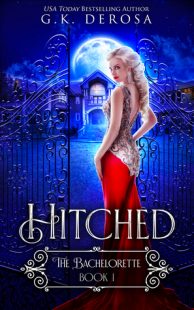 Hitched: The Bachelorette
(
Hitched #1
)
by
G.K. DeRosa
Purchase on:
Amazon
Add to:
Goodreads
Synopsis:

One innocent human girl. Twenty-five supernatural bachelors. Six weeks to choose The One.

When struggling actress Kimmie-Jayne Starr discovers she's snagged the starring role on the next huge reality TV show, Hitched, she thinks all her dreams have finally come true. But as soon as she lands on the beautiful island of Mystic Cove, something feels wrong.

Sure, the twenty-five bachelors are heart-stoppingly gorgeous, but she's certain they're all hiding something—something supernatural. As she gets to know the guys, protecting her heart proves impossible when she finds herself irresistibly drawn to more than just one.

As a string of strange accidents on set grow deadlier, Kimmie realizes there's much more to this dating show than she ever could've imagined. If she can't figure out who's behind these incidents, she'll end up risking more than just her heart.
Review:
Hitched was absolutely charming and so easy to devour. With a richly imagined world and characters that stood out brightly, I have to discover the rest of G.K. DeRosa's books! Especially since the writing was so additive that I binged this whole series is under a week. So if you adore reality tv or books with paranormal creatures, you should check this one out!
I draw in a breath of sultry air and still my racing thoughts. What's a girl to do with so many choices?
Kimmie-Jayne Starr got the coveted role of playing the Bachlorette on a new tv show, Hitched. She was whisked away to the beautiful island of Mystic Cove, where the filming was to take place. But not everything was at it seemed. You see, Kimmie-Jayne was a human, but the bachelors were all supernatural creatures. She was being set up for the shock of her lifetime to learn that that not only do paranormal creatures exist, but she was falling for some of them too.
The twist. I smack myself for being so stupid as I pace the balcony. After watching so many reality TV shows, I should've known there had to be one. Now here I am playing a game that I'm not sure I can win.
There was so much that I loved about this book. Trix and Bash were like her own fairy godmothers. They got her ready before screen time and their playfulness and huge hearts made me like them both from the start. They were ones I'd love to have as friends! Plus I loved watching Kimmie meet all of the bachelors. I was just as overwhelmed as she was, and I was thankful for that first elimination round right away. Then there were fewer guys to remember. Confession time – I made a cheat sheet of the bachelors left after that first elemination. She got one, so why not me too lol!
There's something weird going on around here and no matter how attractive these guys are, I can't let it distract me from discovering what that is.
Next came the group dates, and I loved getting to know the bachelors a lot better. I was happily surprised that there were a quite a few of guys who stood out as my favorites, such as Fenix, Flare, Luciano and Cillian. Ohhh I even liked one of the camera guys *smacks self in the forehead*. What can I say? This author knows how to write men that you just want to steal from the book! And I'm super intrigued by Ryder, since I always feel pulled towards the bad guys. But I'm pretty sure we aren't supposed to like him, whoops. But during the group dates, crazy and unexplainable things happened. It left Kimmie questioning what exactly was going on. And as it progressed and got more deadly, I was glued to the pages.
"You see, Ms. Starr, there's something you don't know about all of these men. Something the majority of the world doesn't know. There's nothing ordinary about the ten remaining bachelors. They have all been keeping a big secret from you."
With another elimination round, towards the end of the book, we were left with 10 bachelors. And a huge cliffhanger. That cliffhanger had me scrambling to grab that next book right away. Thankfully the whole series is already complete, so I don't have to wait to see what happens next, phew. So if you love paranormal creatures and a fun story that has some twists and turns, then definitely add this one to your tbr.
Related Posts