So I read and reviewed the first book in this series, Hitched: The Bachlorette, back in September and completely forgot to post the reviews for the rest of the series. Even though they were already written. Whoops, mommy brain! So I'm sharing them with you guys today. If you want to go back and read my review of the first book, you can find it here.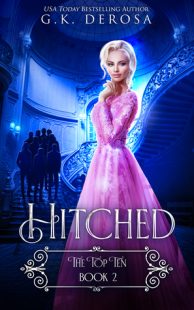 Hitched: The Top Ten
(
Hitched #2
)
by
G.K. DeRosa
Purchase on:
Amazon
, 
Book Depository
Add to:
Goodreads
Synopsis:

A Fae prince, a guardian angel, twin dragon shifters, a vampire… And that's only the beginning.

Now that the truth is out about the supernaturals, things are starting to get interesting. With ten bachelors remaining, Kimmie-Jayne needs to get her head in the game. But with a murder investigation underway on set, listening to her heart only complicates matters.

To make things worse, the mysterious accidents that were supposed to end with the big supernatural reveal are back with a vengeance.

As if choosing between ten hot guys wasn't hard enough, Kimmie-Jayne still needs to watch her back. With more twists and secrets being revealed everyday, is there anyone she can really trust?

Will following her heart be the answer or her ultimate downfall as she narrows it down to the final five bachelors?
Review:
Hitched: The Top Ten was an absolute blast! We got to learn more about Azar and the political rulings. And I loved that we were down to ten bachelors and got to spend time learning who they were. With group dates and accidents still being prevalent, there was a lot of action in the pages and a hint of mystery in the air. This book flew by fast again and I found myself shocked with a barbaric twist within the pages.
Not only have I been thrown into this dating game with supernaturals, but they're all from super powerful and politically influential families. What does that even mean, and how am I involved?
The only thing I was wishing for, was that we got to hear all of Kimmie's thoughts. She doesn't share all of her feelings with us, about the guys. And with her kissing many of them, it left me feeling nervous we wouldn't end up on the same page. Thankfully she kept my favorites around at the end of the book, when she narrowed it down to the final five!
✮✩✮✩✮✩✮✩✮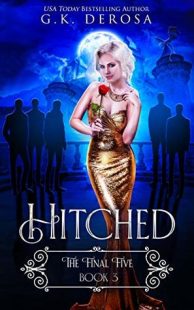 Hitched: The Final Five
(
Hitched #3
)
by
G.K. DeRosa
Purchase on:
Amazon
, 
Book Depository
Add to:
Goodreads
Synopsis:

Five bachelors left. Four mystical families to meet and territories to explore. Four chances to avoid a supernatural war.

Kimmie-Jayne thought discovering the bachelors were supernatural was tough, until she finds out she has to spend the week with their families.

Now she's whisked off to meet four of the most powerful families of Azar. If she can survive dragon lords, daunting angels, the intrigue of Fae court, and the Underworld, she'll end up with the man of her dreams. Or so she hopes.

But nothing is as it seems in each of these households, and perils loom in every corner of the vast estates. As more secrets and betrayals surge to the surface, Kimmie-Jayne can't deny that following her heart might get her killed.

Will the men she loves be able to protect her or will the supernatural world prove too much for her as she struggles to choose the final two?
Review:
His fiery kisses sear a path down my skin, marking me as his.
Hitched: The Final Five is my favorite so far! We got to visit the bachelors homes and I was ecstatic to see where they came from and learn even more about the guys I had fallen for. I felt like I got to understand Azar a lot more and that I got to know each of the bachelors inside and out! And while I still have my favorites in this group, I feel like there's only one that felt right for Kimmie. I'm holding out hope he will be the winner of her heart. And that the others get their own books *fingers crossed*.
His intense eyes pierce into me, reducing my insides to a quivering mess. "I don't know what it is about you, but you're all I can think about. I see you in my dreams, in my every waking moment. You've left your mark on my soul, and nothing will ever change that." – said by my favorite to Kimmie
This was another fast paced story with lots of action. This time around we get a ton of answers to our questions. Or clues, like when Lucifer said something I shouted out loud, I knew it! Ha! I absolutely adore this series. Hitched: The Final Five was so effortless to devour and I loved being lost in this world!
✮✩✮✩✮✩✮✩✮
Hitched: The One
(
Hitched #4
)
by
G.K. DeRosa
Purchase on:
Amazon
, 
Book Depository
Add to:
Goodreads
Synopsis:

The time has come to pick The One.

With one bachelor missing and chaos in her heart, Kimmie-Jayne must find the strength to choose the final two. Once that terrible decision is made, she's sure things will be easier.

But she's wrong.

When jealousy flares within the manor, the producers have no choice but to sequester the final two bachelors. As Kimmie-Jayne battles her fracturing heart, torn between two men, news of a surprise visit home sends her hopes soaring.

But it's short-lived.

Disaster hits while she's at home, leading Kimmie-Jayne to make a startling discovery about her past—one that changes everything. Juggling this new information while attempting to disentangle her feelings for the remaining bachelors only further complicates matters.

Will Kimmie-Jayne finally get her happily ever after?
Review:
I absolutely loved how Hitched: The One ended. It was everything you could wish for in a happily ever after! But, this book was emotionally the hardest. There could only be one winner, and feelings were bound to get hurt. When Kimmie narrowed it down to two bachelor's, my heart hurt for the one who I guessed wouldn't have a shot at winning. But at the same point, my heart was ecstatic for who I had a good feeling she would pick. It was impossible not to get so deeply attached to either of the remaining two bachelors.
I do love them all, but in different ways. There are some I can't imagine my life without and others that though parting would be difficult, it wouldn't be life-ending. I want the all-consuming, heart-shattering kind of love and as unlikely as I thought it would be, I believe I've found it here.
In The One, the two final bachelors got to go home and meet Kimmie's family. They both fit in so perfectly with them, it warmed my heart. Plus I loved that we got to learn more about Kimmie and her family life. And I loved even more that my suspicions and the rest of the questions were answered! So if you love happily ever afters, characters that you can't but fall for and reality tv then you should definitely add this series to your tbr! I'm so glad I picked it up and I'm excited to devour the rest of this author's books!
PS I'm SO excited that one of the contestants that didn't make it to the end got to be in a spinoff series called Darkblood Academy. I can't wait to read it!
Related Posts