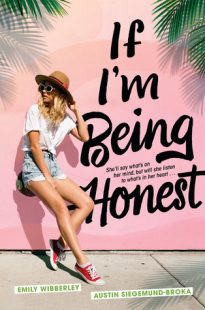 If I'm Being Honest
by
Emily Wibberley
Purchase on:
Amazon
, 
iBooks
Add to:
Goodreads
Synopsis:

High school senior Cameron Bright's reputation can be summed up in one word: bitch. It's no surprise she's queen bee at her private L.A. high school—she's beautiful, talented, and notorious for her cutting and brutal honesty. So when she puts her foot in her mouth in front of her crush, Andrew, she fears she may have lost him for good.

In an attempt to win him over, Cameron resolves to "tame" herself, much like Katherine in Shakespeare's The Taming of the Shrew. First, she'll have to make amends with those she's wronged, which leads her to Brendan, the guy she labelled with an unfortunate nickname back in the sixth grade. At first, Brendan isn't all that receptive to Cameron's ploy. But slowly, he warms up to her when they connect over the computer game he's developing. Now if only Andrew would notice…

But the closer Cameron gets to Brendan, the more she sees he appreciates her personality—honesty and all—and wonders if she's compromising who she is for the guy she doesn't even want.
It's hardly an uncommon thought here. Cameron Bright is a bitch … If every glare I earned, or didn't earn but received nonetheless, bother me, I'd drown in the judgment.
If I'm Being Honest, the second book from Emily Wibberley and Austin Siegemund-Broka, is a very loose retelling of The Taming of the Shrew/10 Things I Hate About You. Cameron is a mix of the Bianca and Kat characters and I suppose Brendan is somewhat like Patrick, but really, it is very loosely related. This retelling really focuses on a popular girl, a nerdy gaming boy and a whole cast of side characters.
I just want to start off by saying I love Cameron Bright. She is one of my favorite MC in YA books, all genres. She says exactly what she's thinking to almost everyone (except her dad, but more on that later), and has no problem with people seeing her as a bitch. She has several close friends and is well-known around school. However, being from a lower social economic family than many of her classmates, Cameron strives to be the best at anything she does and controls what she can, as not everything in her life, especially her family life, does she even have an ounce of control.
After an unfortunate incident at a party involving Andrew and Paige, Cameron is desperate to show the school, and Andrew, that she is indeed not a bitch and goes out of her way to make up for past incidents. This starts with Paige, the girl who was part of the incident at the party, and her brother, Brendan.
As you can probably guess, as Cameron begins to hang out with Paige's friends (and Brendan), her priorities in life start to shift. She begins to see other possibilities for her future, which she struggles to accept. She also struggles to balance her old life and this new one she is creating, and it ends up creating more conflict in life, even as she's trying so hard to help and be nicer to everyone. Of course, she stumbles and reverts back to her natural tendencies, but Cameron never apologizes for being herself or realizing there are areas she could improve.
I don't remove my hand. I follow him into the market, wondering for the second time what this is to him. He was just talking about going over to another girl's house, I remind myself. But the way my hand feels in his, I'm having a really, really hard time convincing myself this isn't a date.
I'm really happy how slowly Brendan and Cameron's relationship came together. There were a lot of wonderful small moments that built into something beautiful. I especially loved their bonding after his father speaking to him about his grades. It really showed how both of them felt compelled to go a certain way in life due to family expectations, even if it wasn't what they wanted at all. And speaking of families, my heart broke for Cameron regarding the relationship with her parents. Cameron is so desperate for any scrap of attention for her father, who knowingly and cruelly denies her. In her anger, Cameron often takes it out on her mother, who is battling her own issues. It's heartbreaking all around and I was happy to see the seriousness of it juxtaposed with the rest of this happy book.

Overall, I really enjoyed this book and definitely liked it more than Always Never Yours. As I said before, I absolutely adored Cameron and liked so many of the other side characters. I was a little disappointed there wasn't a lot of resolution with Cameron and her "popular" friends at the end, but sometimes that's how life is I guess. If you are looking for a funny and cute YA contemporary with not-quite-enemies-but-not-friends to lovers theme, this is a book for you.
"I've been trying this week not to pressure you into anything you didn't want. But I've known what I want for a long time. Don't ever doubt this, Cameron. I'm crazy about you. You, with your fierce intelligence and extraordinary talent. You, with your uncompromising opinions. And I want you to know it. I'm desperate for you to know it."
Related Posts