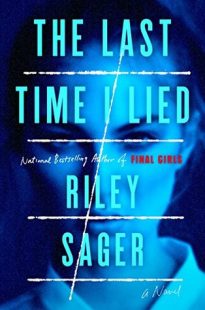 The Last Time I Lied
by
Riley Sager
Purchase on:
Amazon
, 
iBooks
, 
Book Depository
Add to:
Goodreads
Synopsis:

Two Truths and a Lie. The girls played it all the time in their tiny cabin at Camp Nightingale. Vivian, Natalie, Allison, and first-time camper Emma Davis, the youngest of the group. The games ended when Emma sleepily watched the others sneak out of the cabin in the dead of night. The last she--or anyone--saw of them was Vivian closing the cabin door behind her, hushing Emma with a finger pressed to her lips.

Now a rising star in the New York art scene, Emma turns her past into paintings--massive canvases filled with dark leaves and gnarled branches that cover ghostly shapes in white dresses. The paintings catch the attention of Francesca Harris-White, the socialite and wealthy owner of Camp Nightingale. When Francesca implores her to return to the newly reopened camp as a painting instructor, Emma sees an opportunity to try to find out what really happened to her friends.

Yet it's immediately clear that all is not right at Camp Nightingale. Already haunted by memories from fifteen years ago, Emma discovers a security camera pointed directly at her cabin, mounting mistrust from Francesca and, most disturbing of all, cryptic clues Vivian left behind about the camp's twisted origins. As she digs deeper, Emma finds herself sorting through lies from the past while facing threats from both man and nature in the present.

And the closer she gets to the truth about Camp Nightingale, the more she realizes it may come at a deadly price.
I smile, pretending they're right. What none of them understand is the point of the game isn't to fool others with a lie. The goal is to trick them by telling the truth.
I'll admit, I'm a sucker for stories that take place with summer camp setting. I went to one for several summers as a pre-teen, so I certainly have no trouble picturing it. There's just something about breathing in those early breaths of independence and freedom. No parents, new people and new experiences that often don't translate back to life at home. Because of this, I am thrilled when books have a summer camp setting, and this book DID NOT disappoint.
Fifteen years. That's how long it's been. It feels like a lifetime ago. It also feels like yesterday.
As the synopsis says, fifteen years ago four girls (Vivian, Natalie, Allison and newcomer, Emma) form a short but strong bond one summer. But one night, Vivian, Natalie and Allison go missing while Emma is left to fill in the blanks, which she does with varying degrees of accuracy and truthfulness.
In present day, Emma struggles with the events of fifteen years ago. She does her best to deal with the aftermath, using painting as a form of therapy. But when she is asked to return to the camp as a counselor and art teacher, she is drawn back into the world and begins to investigate what really happened so long ago.
But after my time at Camp Nightingale, I vowed never to lie again. Omission. That's my tactic. A different sin entirely.
While this is certainly a thriller, at the heart of this story is female friendships, especially those made at the cusp of the change between being a girl and being a woman. It's a precarious time of life; there's a reason it's written about so much – it is such a unique and major event in life.
The scenes between Vivian and Emma were fascinating. Vivian is older and more experienced at life and takes Emma under her wing. She serves as a surrogate older sister, which is both wonderful and terrible for Emma, as we the readers learn more about the events of that summer. While Allison and Natalie play a role, this novel really focuses on the relationship between Vivian and Emma.
Yes, boys can break your heart and betray you, but not in the same stinging way girls can.
As the book jumps back and forth between the summer of the girls disappearing and present day, more and more comes to light about the events of what happened and how that plays into what is happening to Emma in present day.
The author, Riley Sager, did an excellent job in creating sympathetic but complicated characters and keeping me guessing the entire time. I enjoyed his last novel, Final Girls, but was a little put off by the ending. However, that was not the case this time around. I was breathless up until the last page and I was left fully satisfied. I cannot wait for future books from Sager if his first two novels are an indication of what's to come next.
I want to laugh. I want to cry. I want to confess. Instead, I say, "Two Truths and a Lie. Let's play."
Related Posts