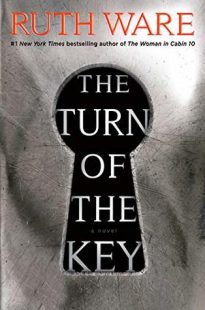 The Turn of the Key
by
Ruth Ware
Purchase on:
Amazon
, 
iBooks
, 
Book Depository
Add to:
Goodreads
Synopsis:

When she stumbles across the ad, she's looking for something else completely. But it seems like too good an opportunity to miss—a live-in nannying post, with a staggeringly generous salary. And when Rowan Caine arrives at Heatherbrae House, she is smitten—by the luxurious "smart" home fitted out with all modern conveniences, by the beautiful Scottish Highlands, and by this picture-perfect family.

What she doesn't know is that she's stepping into a nightmare—one that will end with a child dead and herself in prison awaiting trial for murder.

Writing to her lawyer from prison, she struggles to explain the unravelling events that led to her incarceration. It wasn't just the constant surveillance from the cameras installed around the house, or the malfunctioning technology that woke the household with booming music, or turned the lights off at the worst possible time. It wasn't just the girls, who turned out to be a far cry from the immaculately behaved model children she met at her interview. It wasn't even the way she was left alone for weeks at a time, with no adults around apart from the enigmatic handyman, Jack Grant.

It was everything.

She knows she's made mistakes. She admits that she lied to obtain the post, and that her behavior toward the children wasn't always ideal. She's not innocent, by any means. But, she maintains, she's not guilty—at least not of murder. Which means someone else is.
Dear Mr. Wrexham,
Please help me. I didn't kill anyone.

I was cautiously optimistic when I saw a new Ruth Ware book was coming out. In a Dark, Dark Wood is one of my favorite thrillers, but her two most recent releases were disappointing. However, I thought the premise of The Turn of the Key sounded promising, so like I said, I was cautiously optimistic heading in to it. I was happily blown away.

The book is essentially one giant letter being written from Rowan Caine, who is sitting in jail on murder charges, to a solicitor she wants to help her in her defense. She wants to explain everything surrounding the incident and how everything came to be. Other than knowing that Rowan ends up being accused of a crime, the rest of it is in fairly chronological order.

When we first meet Rowan, she is working at a daycare facility and has recently been passed over for a promotion. So when an opportunity arises that would allow her to be a nanny for a wealthy family in the secluded Heatherbrae House, she jumps at the opportunity. It's here she meets Jack Grant, a handyman, and more importantly, the three children she is to look after while their parents are away for a work trip.

"Don't come here," she whispered, still refusing to look at me. "it's not safe."
"It's not safe?" I gave a little laugh. "Maddie, what do you mean?"
"It's not safe," she repeated, with a little angry sob, shaking her head harder so that her words were almost lost. "They wouldn't like it."

Left alone in a smart house, Rowan struggles to adapt to her new life. The two eldest children do not make things easy on her and weird things are happening around the house. Rowan can't sleep due to the footsteps above her room at night and she feels like she's going mad. But she's determined to figure out exactly what's going on, while holding on to explosive secrets.

It was like there were two forces in the house, one fighting to drive me away, another to protect me. But who—who was doing this?

I love nothing more than a secluded setting. Private homes/islands, secluded boarding schools, etc. There's just something so unnerving about being so isolated from the rest of society that lends itself to a creepy atmosphere. I will say I was on the edge of my seat for most of this book. It didn't help I was reading late into the night, which made going to sleep a bit difficult.

It was well-paced, the characters were incredibly engaging and the atmosphere was perfectly creepy. The ending was fairly shocking, but also a bit frustrating. We never get a true resolution to Rowan's letter to Mr. Wexham. If you like everything tied up in a pretty bow, please be aware that while you will know many things, there's a big thing that is left unstated. While I do wish I knew exactly what happened in the aftermath, I overall loved the book and would easily call it my second favorite Ruth Ware, just after IADDW.

A child is dead, and the police, and the public, and the press, they all want someone to pay. And that someone must be me. But I didn't kill that little girl, Mr. Wexham. I loved her. And I don't want to rot in jail for something I didn't do. Please, please believe me.
Related Posts