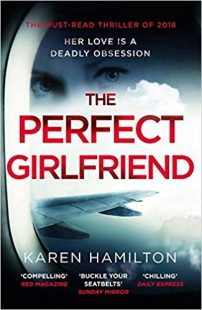 The Perfect Girlfriend
by
Karen Hamilton
Purchase on:
Amazon
, 
iBooks
, 
Book Depository
Add to:
Goodreads
Synopsis:

Juliette loves Nate. She will follow him anywhere. She's even become a flight attendant for his airline, so she can keep a closer eye on him.

They are meant to be.

The fact that Nate broke up with her six months ago means nothing. Because Juliette has a plan to win him back. She is the perfect girlfriend. And she'll make sure no one stops her from getting exactly what she wants.

True love hurts, but Juliette knows it's worth all the pain...
Thank you to NetGalley, Karen Hamilton and Wildfire for my free ARC.


I loved him and yet I'd been unable to stop him making the biggest mistake of his life. He was mine.

Juliette loved Nate. Nate decided to end his relationship with Juliette. Juliette cannot let Nate go and will do anything to get him back. And thus begins our story.
Once upon a time, I could walk up to him and hug him any time I pleased. Now, I am not allowed. Those are the rules. I have not been given any choice or say in the matter.

Juliette is both highly problematic and also sympathetic in moments. After being dumped by Nate, an airline pilot, Juliette becomes a flight attendant to worm her way back into his life. She is methodical, disciplined and tries to stay three steps ahead of everyone else. It honestly sounds exhausting, but Juliette is nothing but dedicated.
He thinks he doesn't want me, but he's proving that he does. It's all up to me to help him come to terms with his feelings so this whole mixed-messages thing stops.

This book is very much along the lines of Kaira Rouda novels or "The Last Mrs. Parrish." I found it hard to put down because I wanted to see what Juliette would do next. I think my mouth dropped open as some of the pieces fell together at the end. I felt like I should have seen it coming, but I was so invested in what was in front of me, I wasn't really trying to piece it together like that.
Some people may hate the ending, as it is not the cleanest, but I didn't mind. After all the events of the book, it seemed fairly realistic. It thought this was very well written and while Juliette was far from a good person, I did have sympathy for her, especially as we learn about her background. I didn't want her to succeed, but I did want her to get the help she very much needed.
If you love someone, set them free. If they come back, they're yours. If they don't, make them.
Related Posts