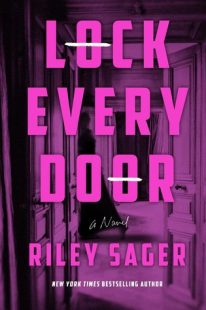 Lock Every Door
Purchase on:
Amazon
, 
iBooks
, 
Book Depository
Add to:
Goodreads
Synopsis:

No visitors. No nights spent away from the apartment. No disturbing the other residents, all of whom are rich or famous or both. These are the only rules for Jules Larsen's new job as an apartment sitter at the Bartholomew, one of Manhattan's most high-profile and mysterious buildings. Recently heartbroken and just plain broke, Jules is taken in by the splendor of her surroundings and accepts the terms, ready to leave her past life behind.

As she gets to know the residents and staff of the Bartholomew, Jules finds herself drawn to fellow apartment sitter Ingrid, who comfortingly, disturbingly reminds her of the sister she lost eight years ago. When Ingrid confides that the Bartholomew is not what it seems and the dark history hidden beneath its gleaming facade is starting to frighten her, Jules brushes it off as a harmless ghost story—until the next day, when Ingrid disappears.

Searching for the truth about Ingrid's disappearance, Jules digs deeper into the Bartholomew's dark past and into the secrets kept within its walls. Her discovery that Ingrid is not the first apartment sitter to go missing at the Bartholomew pits Jules against the clock as she races to unmask a killer, expose the building's hidden past, and escape the Bartholomew before her temporary status becomes permanent.
"Welcome to the Bartholomew. I think you're going to love it here."
Riley Sager is quickly becoming one my favorite, and more dependable, thriller writers. I really enjoyed [book:Final Girls|32796253] and loved [book:The Last Time I Lied|36626748], so I was very excited to start his third book. And I was far from disappointed. It was an enthralling read with a crazy ending and I loved every minute of it.
Lock Every Door centers on Jules Larsen, a down on her luck 20-something living in New York. Jules recently went through a tough breakup and is crashing with her best friend while she figures out her next steps. As luck would have it, an apartment sitting job is available at the mysterious and infamous Bartholomew, overlooking Central Park. As long as Jules follows the strict rules set in place, she will be paid well and can stay in the building. Simple enough, right?
Even though a mere minute in her company has left me exhausted, I follow. She's fascinating in the same way tornadoes are fascinating. You want to see how much they're going to spin.
Not long after moving in, Jules begins to meet the other occupants of the building, including fellow apartment sitter Ingrid. The two become quick friends and begin to look into the mysterious occurrences at the Bartholomew. Jules also befriends her handsome doctor-next door, a former TV starlet and a reclusive author. There's a lot of fascinating side characters and I really enjoyed getting to know them as the plot was moving along.
Lock Every Door takes the old adage "If something is too good to be true, it probably is" and turns it up to 100. I think most people would understand why Jules and the other apartment sitters would be willing to take on a job with such strict rules for the benefits, despite all the red flags. I didn't really find myself questioning Jules and her actions, but rooted for her the entire time.
While Sager writes pretty decent characters, where he excels (in my opinion) is the setting/atmosphere and the pacing. I was thoroughly creeped out as Jules tried to get through each night in her big and lonely apartment. I also devoured this book, needing to find out the answers along with Jules. Things definitely started to click into place but I didn't totally see the big reveal. It was bonkers and I can understand why it might not be for everyone, but I loved it.
I'd recommend going into this book with as little knowledge as possible. It's been a few weeks and I can still vividly remember the ending, so it definitely knocked a hard punch for me. I am definitely looking forward to whatever Sager gives us next.
"Please," she hisses, her face still hidden in the shadow. "Please stop asking questions. No one here is going to answer them."
Related Posts