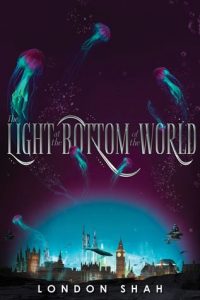 The Light at the Bottom of the World
by
London Shah
Purchase on:
Amazon
, 
iBooks
, 
Book Depository
Add to:
Goodreads
Synopsis:

Hope had abandoned them to the wrath of all the waters.

At the end of the twenty-first century, the world has changed dramatically, but life continues one thousand feet below the ocean's surface. In Great Britain, sea creatures swim among the ruins of Big Ben and the Tower of London, and citizens waver between fear and hope; fear of what lurks in the abyss, and hope that humanity will soon discover a way to reclaim the Earth.

Meanwhile, sixteen-year-old Leyla McQueen has her own problems to deal with. Her father's been arrested, accused of taking advantage of victims of the Seasickness-a debilitating malaise that consumes people,often claiming their lives. But Leyla knows he's innocent, and all she's interested in is getting him back so that their lives can return to normal.

When she's picked to race in the action-packed London Submersible Marathon, Leyla gets the chance to secure his freedom; the Prime Minister promises the champion whatever their heart desires. The race takes an unexpected turn, though, and presents her with an opportunity she never wanted: Leyla must venture outside of London for the first time in her life, to find and rescue her father herself.

Now, she'll have to brave the unfathomable waters and defy a corrupt government determined to keep its secrets, all the while dealing with a secretive, hotheaded companion she never asked for in the first place. If she fails, or falls prey to her own fears, she risks capture-and her father might be lost forever.
Review:
Thank you to the publisher for an ARC in exchange for an honest review.
As with many books I've read this year, especially ARCs, I REALLY wanted to love this book, but I ultimately decided I just liked it.
I landed on about four stars out of five, as there was a lot of good mixed with a few areas of improvement.
The setting and world building in this book was easily my favorite aspect. Set in the future, after the climate crisis has devastated the world, the remaining living beings of the world have retreated to living in underwater structures. There are water cars and submarines, but it sounds like there's not a lot of travel among underwater hubs. Meanwhile, sea creatures can be found all around them and trips to the surface have been reported to have disastrous results for those who attempt to resurface.
Leyla is sixteen, living a comfortable life with her father and her dog, Jojo, until he is taken by the government. In an effort to earn his release, she enters a race. She is a highly skilled driver and the competition was really neat and exciting. However, this all happens in the first quarter of the book and that plotline is done with pretty quickly.
Instead, most of the book follows Leyla traveling in a submarine with a mysterious boy, Ari, who her grandfather hired to accompany Leyla on her quest to find her father. There's times where Leyla, Jojo (her dog) and Ari leave the submarine, but really, a lot of the book takes place in this sub. I bet you can see where this is going…
Let's talk about Leyla. She's sixteen, which I tried to take into account for her dialogue and actions. However, I ultimately felt like I couldn't connect with her. She makes a lot of poor decisions, trusting strangers for absolutely NO reason (this happens several times)) and truly did not seem to think any of her plans through.
"I'm going in, like I said. So now it's up to you. You can either explain to my papa and grandpa why you let me go near a top security prison without a clue, or you can send me everything you guys have on the place. I mean, everything. Because I am going in, and nobody is stopping me."
I think the author was trying to make her seem brave, but I found it made her seem a bit short-sited and rash. However, she believes in herself and is willing to do whatever it takes to rescue her father.
Besides the world, my other favorite thing about this book was the relationships between Leyla and others. She connected so well with others. I loved her friends, who are mostly featured in the beginning, though they do pop up a few times as the book progresses. I do wish they had been in there more, but I understand why not. Leyla also had a really touching relationship with her grandfather. They seemed to truly care for each other, even when they didn't agree with each other's choices.
And I can't forget about her relationship with Ari. While I did feel it was a little awkward and forced at first, as they spent more time together and helped each other, I really found it to be quite sweet and cute.
"Phwoar. Who is he?"
"What, nobody! I don't even know him!"
"Erm, he just exited your sub?"
"Whatever. I honestly don't even know him!"
"Okaaaaaay, then. Oh, congrats on the marathon! You rocked it!"
I understand these are young teenagers and the author wants to make sure we understand these aren't adults. However, there are a lot exclamation points used in this book (sorry, that's just a pet peeve of mine in books) and sometimes it felt a little stilted or awkward. By no means does it take away from the book's enjoyment, but just something I would like to see improved upon as the author settles in and moves the story along.
Overall, I was fairly invested in the story. I cared about what was happening with these characters and wanted to see what was going to happen next. While some storylines were wrapped up by the end, there's certainly plenty more to come next. And considering the book ended with a cliffhanger, there's definitely plans for a follow-up.
I'm definitely interested in what the author has planned next, because like I said, cliffhanger. Also there's so many ways this can go and I really hope the world continues to open up.
To see a full tour schedule, please click on the banner or here!
*******
Favorite Quotes: 
Hope is all I have right now; it's as unending as the oceans–and I must hold on to it. I just need a miracle.

*
"It breaks my heart to tell you this now, Queenie. I tried so hard to keep it from you, to keep you from the pain. But you are right, I have an obligation to tell you the truth."
*
"You taught me that: 'I will either find a way or make one.'"
*
The waters can't halt human connections. The desire–the sheer will, to reach out, to anchor one another, is too stellar. People will always find a way to keep from losing one another–from losing themselves.
*
There's an immovable weight inside threatening to engulf me, drag me down. Somewhere just beneath it is the daring to hope.
*
"I'll be alright," I say quietly, nudging him with my elbow. "We have to hope for the best."
"I don't dare hope, Leyla. It abandoned us long ago."
Giveaway: 
Want to win 1 of 2 copies of The Light at the Bottom of the World?
Terms & Conditions: Giveaways open to US Residents Only. Must be 18 or older to participate. Giveaway ends on November 17, 2019. False entries will result on the complete disqualification of the participant and this person won't be eligible to receive a copy of the book. There are multiple giveaways currently live organised and promoted by The FFBC Tours, Disney and London Shah. Participants can ONLY claim 1 copy of the book regardless of the different platforms and blogs. If more than one blogger contacts you as a winner, please accept only one prize and decline the other. Winner will be notified via email and needs to answer in 48 hours letting us know if he/she accepts the prize and send us his/her full name and address. Your personal information won't be used or be seen by anyone unless you're the winner of the giveaway. We won't sell it nor use it in a bad way. Tour Hosts, the FFBC Tours and authors are not responsible for any lost or stolen items.
About London Shah:


Author London Shah is a British-born Muslim of Pashtun ethnicity. She has lived in Britain's capital city for most of her life via England's beautiful North. When she's not busy re-imagining the past, plotting an alternate present or dreaming up a surreal future, then she's most likely drinking copious amounts of tea, eating all the sweets and cakes, strolling through Richmond Park or along the Thames, getting lost on an evening in the city's older, darker alleyways—preferably just after it's rained—listening to punk rock, or losing herself in a fab SFF book or film. If she could have only one super power, it would be to breathe underwater. THE LIGHT AT THE BOTTOM OF THE WORLD is her debut novel.
Keep up with London: Goodreads | Website | Twitter | Instagram
Related Posts