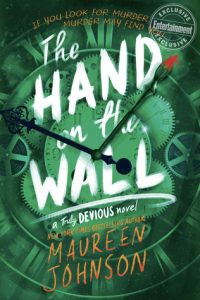 The Hand on the Wall
(
Truly Devious #3
)
by
Maureen Johnson
Purchase on:
Amazon
, 
iBooks
, 
Book Depository
Add to:
Goodreads
Synopsis:

New York Times bestselling author Maureen Johnson delivers the witty and pulse-pounding conclusion to the Truly Devious series as Stevie Bell solves the mystery that has haunted Ellingham Academy for over 75 years.

Ellingham Academy must be cursed. Three people are now dead. One, a victim of either a prank gone wrong or a murder. Another, dead by misadventure. And now, an accident in Burlington has claimed another life. All three in the wrong place at the wrong time. All at the exact moment of Stevie's greatest triumph . . .She knows who Truly Devious is. She's solved it. The greatest case of the century.

At least, she thinks she has. With this latest tragedy, it's hard to concentrate on the past. Not only has someone died in town, but David disappeared of his own free will and is up to something. Stevie is sure that somehow—somehow—all these things connect. The three deaths in the present. The deaths in the past. The missing Alice Ellingham and the missing David Eastman. Somewhere in this place of riddles and puzzles there must be answers.

Then another accident occurs as a massive storm heads toward Vermont. This is too much for the parents and administrators. Ellingham Academy is evacuated. Obviously, it's time for Stevie to do something stupid. It's time to stay on the mountain and face the storm—and a murderer.

In the tantalizing finale to the Truly Devious trilogy, New York Times bestselling author Maureen Johnson expertly tangles her dual narrative threads and ignites an explosive end for all who've walked through Ellingham Academy.
Review:
IT'S HERE. The conclusion to the Truly Devious trilogy. And if you've been on the edge of your seat, barely hanging on through all the twists and turns and crazy reveals of this series, then buckle up. Maureen Johnson has one last book to shock us and finally reveal exactly what's been happening at Ellingham Academy – then and now.
All of our favorites are back, including Stevie, David, Janelle, Nate and Pix. We also add in Hunter, who made some brief appearances back in The Vanishing Stair. The gang is all back together and working to figure out why terrible things keep happening and how they are connected to the original Ellingham mystery.
I'll just say this upfront, I was very happy with the ending. Everything is revealed (in its own time) and all the threads Maureen Johnson has been weaving are tied together and it thankfully all makes sense. These kids have been through so much trauma and craziness, and to see their stories conclude with resolution, made me very appreciative.
The Hand on the Wall picks up shortly after the events of the Vanishing Stair. School is in session, but after another accident happens, Ellingham Academy decided to close its doors and send the students back home. However, Stevie and co. have other ideas. They need to figure out why and how everything has been going on. But to complicate the matters, a massive snow storm is headed their way, essentially trapping them on campus. What better to way hunker down and solve a decades old mystery?
For anyone who's read this series, you've spent at least two books trying to pick out the correct puzzle pieces and figure out this mystery. I really didn't guess anything correctly, but once everything was revealed, I was truly satisfied. It's been a pleasure following along with these characters and trying to figure everything out with them. It's truly a mystery series, with a additional emphasis on friendships and relationships.
Besides the overarching mysteries of the series, I loved these characters, especially when they are all together. They've all been through so much together, but it's very clear how much they care for each other and are in tune to what each other are feeling. This is especially evident when Stevie struggles with her anxiety, when David self-deprecates or when Nate self-sabotages. These are smart and capable teens, but who all have their own unique battles.
If it's not clear already, overall I really enjoyed this book and this series. It's a great upper-YA mystery series and I wish there were more like it. The story is unique and all of the characters are memorable in their own way. I'm not sure what Maureen Johnson has planned after this, but I hope it's another series similar to this. I'm ready to dive back in to a multi-book mystery.
Favorite Quotes:
She'd let him down because she could not handle it all. Guilt crept around the edges of everything—the taste of the coffee and the smell of the room and the cold coming from the window. Guilt and paranoia. She felt the thrumming in her chest, the engine of anxiety rumbling, making itself known.
*
She had a clue now, a point of focus. There were things in the walls. She wasn't sure what that meant, or what she might be looking for. But so much of this had been about walls.
*
But sometimes, quite by accident, you find yourself vibrating on someone else's frequency. You can follow the sense of the thing, if not the literal meaning. Sometimes, this is more important and more informative.
*
"So," Hunter said, breaking the silence. "Weird night, huh?"
"Not really," Nate replied, picking through the bottom of a large bowl of popcorn, looking for any fully popped pieces that weren't hard kernels in disguise. "This is pretty much how it goes. Something terrible happens and we all come back here and talk about how terrible it is. We don't learn."
*
He had seen people give up hope before, seen the light leave their eyes. Albert Ellingham could buy almost anything he wanted, but not hope. Hope is not for sale. Hope is a gift.
*
Stevie had just failed some test she had no idea she had to take, on a subject she was not aware of. She had been sitting here in her hole in the ground, minding her own business, and then this. There was no winning. But he was here.
Giveaway:
Win one copy of The Hand on the Wall (US Only). Open Jan. 21 – Feb. 4, 2020.
About the Author:

Maureen Johnson is the New York Times and USA Today bestselling author of several YA novels, including 13 Little Blue Envelopes, Suite Scarlett, The Name of the Star, and Truly Devious. She has also done collaborative works, such as Let It Snow (with John Green and Lauren Myracle), and The Bane Chronicles (with Cassandra Clare and Sarah Rees Brennan). Her work has appeared in publications such as The New York Times, Buzzfeed, and The Guardian, and she has also served as a scriptwriter for EA Games. She has an MFA in Writing from Columbia University and lives in New York City.
Keep up with Maureen: Goodreads | Website | Twitter | Instagram | Pinterest | Tumblr | Facebook
Related Posts