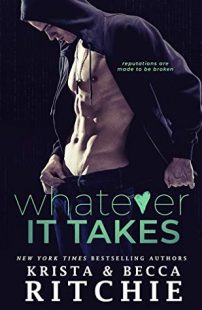 Whatever It Takes
(
Bad Reputation Duet #1
)
by
Krista & Becca Ritchie
Purchase on:
Amazon
Add to:
Goodreads
Synopsis:

I HAVE A BAD REPUTATION.

Call me what you want: Bad Boy Next Door. Trouble. That Kid Who Can't Do Anything Right.

When Willow moves into my neighborhood, nothing should have happened. She's geeky. Shy. A true wallflower.

Willow is a good girl.
Too good for me.

And how the hell was I supposed to know that she's related to Loren Hale—yeah, that douchebag celebrity that lives on my street. The same guy I've been pranking by spray painting vulgar words on his mailbox and worse. Much worse.

Don't ask me why I do the things I do.
Don't ask me why it had to be her.

I'm cursed. Simple as that. But here's the thing about people who are cursed—they break everything they touch.

And yet. . .I still want to touch her. ​

Whatever It Takes is the first book in the Bad Reputation Duet and can be read and enjoyed without reading any of Krista & Becca's other novels.
Review
Oh Garrison, my heart. My heart hurts for you so much.

People, I have been dying for this couple's story since the Ritchie's posted the Wattpad chapters about them. Before this book was a for sure thing and those were taken down, I read them several times over. There was just something special about the quiet, nerdy girl from Maine who learned she was Loren Hale's half-sister and took a leap of faith to meet him and move close to him to get to know him. Something about the damaged, "bad boy" who you could tell had a heard of fucking gold but had been raised in a HORRIBLE household with shitty friends and just wanted more, more, more out of life. The way these two form a tentative friendship over Tumblr and other nerdy things called to me and I needed to know more. When we found out we'd be getting that, I was ecstatic.

This book is told in a series of chapters set both in the present day with Willow going to school in London and Garrison working for Connor at Cobalt, Inc. and in the past with chunks of those very same chapters from Wattpad where the two first meet and get to know each other. Because I already knew *those* chunks, the ones that really got me were the present day chapters because that's when you can really see Garrison struggling. Let me just tell you, I pray to God that Loren and/or Ryke beat the shit out his brothers in the second book, I really do. My heart was in my throat every single time he interacted or even THOUGHT about them. Like I can just FEEL his inner self silently screaming, knowing that while they are his flesh and blood, they are the worst part of his life. I want to slap that mom across the face.

ANYWAY, I can't wait to see more of their relationship actually starting romantically and I am so glad we don't have long to wait to see how things pick up with Garrison in the next book in the present day because my boy is hurting in more ways than one and I want to see the gang rally around him to help heal him. *sobs* THEY'VE DONE IT AGAIN, PEOPLE.

Huge thanks to Krista and Becca Ritchie and to Kandi Kane PR for allowing me to read and review an ARC of this book in exchange for my honest review! ♥
Related Posts