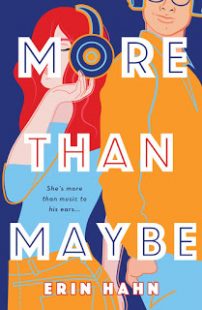 More Than Maybe
Purchase on:
Amazon
, 
iBooks
, 
Book Depository
Add to:
Goodreads
Synopsis:

Growing up under his punk rocker dad's spotlight, eighteen-year-old Luke Greenly knows fame and wants nothing to do with it. His real love isn't in front of a crowd, it's on the page. Hiding his gift and secretly hoarding songs in his bedroom at night, he prefers the anonymous comfort of the locally popular podcast he co-hosts with his outgoing and meddling, far-too-jealousy-inspiringly-happy-with-his-long-term-boyfriend twin brother, Cullen. But that's not Luke's only secret. He also has a major un-requited crush on music blogger, Vada Carsewell.

Vada's got a five year plan: secure a job at the Loud Lizard to learn from local legend (and her mom's boyfriend) Phil Josephs (check), take over Phil's music blog (double check), get accepted into Berkeley's prestigious music journalism program (check, check, check), manage Ann Arbor's summer concert series and secure a Rolling Stone internship. Luke Greenly is most definitely NOT on the list. So what if his self-deprecating charm and out-of-this-world music knowledge makes her dizzy? Or his brother just released a bootleg recording of Luke singing about some mystery girl on their podcast and she really, really wishes it was her?
Thank you to Wednesday Books for an early copy of my book in exchange for an honest review!
I met my other half three years ago, and as far as I know … she has no idea.
More Than Maybe is Erin Hahn's second YA book, which yet again, is focused on music and the role it plays in our main characters' lives. It's told through alternating POVs, shuffling between Vada, a music blogger, and Luke, a son of a former rock-n-roller, and current podcaster. Luke is also a secret songwriter/composer, but doesn't want the same life that his father had. The setting is Ann Arbor, Michigan, which was a nice change than the typical LA/NY music scenes. I will always appreciate a Midwest setting, especially college towns in the Midwest, which are unique in their own right.
Through a school project and a shared love of music, Vada and Luke slowly get to know each other. Music is a medium in which they share how they are feeling and brought a lot of cool references to us readers. I'll be honest, I only knew some of them, but it was still neat to read.
"It seems we both have our secrets, and I'm honored to be one of yours, Vada."
There's a lot of wonderful side characters, including Cullen, Luke's brother, and Zack, Luke's best friend and Cullen's boyfriend. Luke is very supportive of their relationship, but he is definitely feeling left out of their world at times. Another great character was Phil, Vada's boss and stand-in father, who is worlds better than her actual father. I loved her genuinely beautiful relationship with him and was thrilled every time he made an appearance. Both Vada and Luke have complicated family lives and thought the familial issues were written really well.
Music is my obsession, my life's blood. It runs through my veins, coloring my skin. My natural inclination is to rock, but that's not enough if I want to make music my career.
If you read Hahn's first book, More Than Maybe, then you'll recognize a lot of similar themes: music is ever present. You're going to get a lot of lyrics, a lot of references and just a lot of general talk about how important it is. It's not necessarily necessary to get these references, but I'm sure it helps. There's also a lot of complicated family dynamics and relationships. There's also mentions of religion, which wasn't as prevalent in this book as it was in the first. The Luke/Vada relationship is both a bit of insta-love and slow burn oddly. I wish it would have had a bit more tension and angst to counteract the insta-attraction.
Overall, I really enjoyed this book, and even more so than You'd Be Mine. I really liked Luke and Vada, but I thought several of the side characters were really great. It was a cute story, with fully realized teenagers on the cusp of adulthood, with a great setting.
We stare at each other, the room erupting around us, but don't move. I'm afraid to. At last I close my eyes, taking a picture in my mind. I want to live in this moment forever, and maybe I'd like it okay if Luke were here, too.
Related Posts