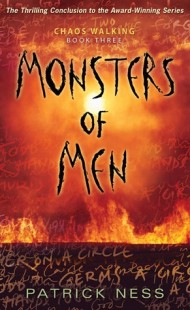 Monsters of Men
(
Chaos Walking #3
)
by
Patrick Ness
Purchase on:
Amazon
, 
iBooks
Add to:
Goodreads
Synopsis:

In the riveting conclusion to the acclaimed dystopian series, a boy and girl caught in the chaos of war face devastating choices that will decide the fate of a world. As a world-ending war surges around them, Todd and Viola face monstrous decisions. The indigenous Spackle, thinking and acting as one, have mobilized to avenge their murdered people. Ruthless human leaders prepare to defend their factions at all costs, even as a convoy of new settlers approaches. And as the ceaseless Noise lays all thoughts bare, the projected will of the few threatens to overwhelm the desperate desire of the many. The consequences of each action, each word, are unspeakably vast: To follow a tyrant or a terrorist? To save the life of the one you love most, or thousands of strangers? To believe in redemption, or assume it is lost? Becoming adults amid the turmoil, Todd and Viola question all they have known, racing through horror and outrage toward a shocking finale. Includes "Snowscape," a short story by Patrick Ness.
Review:
Read with Chelsea (shut up, shut up, shut up!) 😉
Yet again, Patrick Ness has my emotions all over the map. I loved the characters and the way the story moved at such a fast pace. I loved the alternating voices telling the story and how your view of what is truly evil can change in the blink of an eye. But again, I struggled with parts of this book. All of the doom and gloom, endless war and suffering made my heart hurt. I ached for those struggling and in pain, and it seemed as though we never got a break from that. And then that ending? I was definitely left wanting more, A LOT more. I'm all for imagining what happens after you close the book but with that ending, there were too many what ifs. I wanted something more concrete and solid. But all in all, I enjoyed this series. It was a little outside of my comfort zone, but I will definitely be thinking about this series for a long, long time.
Yes, I think. Here it comes. The end of everything. The end of it all. – Todd
War is coming! The battle cries and bombs can be heard. It is only a matter of moments before it will arrive on their doorsteps and change their lives forever. Therefore Todd makes the split decision to untie Mayor Prentiss (sorry, but he'll always be the mayor to me). Whether that was a smart decision or the worst idea on the face of the planet, only time will tell. They are now off to protect their town. With the mayor and Todd fighting side by side against the new threat, Viola racing off to be the first one to get to the pilot ship and Lee trying to reach The Resistance, everyone's fate is in the air. No one is safe in war, especially when you are smack dab in the middle of it.
He's never going to be the same again, never ever, which makes my throat choke and my chest hurt. This is what war does. Right here, in my hands. This is war. – Viola
Shockingly, I loved Todd throughout this whole book. I agreed with the majority of his decisions except View Spoiler »thinking that the mayor could be redeemable. No way! That man is a crazy psychopath! « Hide Spoiler . Plus he tries his hardest to redeem himself and not let past events happen again. While I don't believe anything can be done to make up for his past actions, I did admire his current actions and it made me love him that much more. I was so happy because I saw a Todd I thoroughly respected. And he finally became the person I always knew he could be!
If it would save Todd, it wouldn't have mattered, I was going to do it – I would have killed hundreds, thousands to save him. I would have started an even bigger war for Todd. – Viola
Again, I loved Viola. Her strength, morals and decisions are all admirable. Her actions, which are sometimes with fault, are understandable and so real. When you are doing things in the name of love during war, are they really right or wrong? Black and white lines can become a blur and your moral compass can definitely change, but that's not necessarily a bad thing. And the third voice thrown in the mix? I LOVED it! The understanding and insight was remarkable, and I'm so glad it was there.
Feeling the thrill of it – Cuz that's it– That's the nasty, nasty secret of war- When yer winning- When yer winning, it's ruddy thrilling – Todd
This was a great series. The action was intense, the characters were interesting, I loved how the story flowed and the fact that I could never guess what was going to happen next was wonderful. But I was deeply disturbed by some events that happened and I struggled to stay afloat in the doom and gloom of war. And even after reading Snowscape I was still left wanting more of a solid ending. I had so many unanswered questions and that will always bug me. So if you aren't as sensitive as me and don't need an iron clad ending like I do then you'll love this series! Just be prepared for a whole lot of crazi-ness. 😉
Related Posts