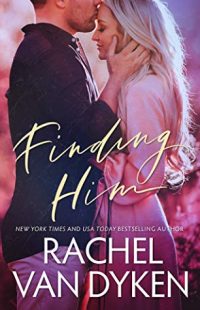 Finding Him
(
Covet #2
)
by
Rachel Van Dyken
Purchase on:
Amazon
, 
Book Depository
Add to:
Goodreads
Synopsis:

A novel about a shattered family, broken hearts, and healing love by Rachel Van Dyken, the number one New York Times bestselling author of Stealing Her.

Coming out of a coma was one hell of a wake-up call. While I was in the dark, my estranged twin brother, Bridge, had replaced me in the company I owned and swept up my fiancée in the takeover. With my ruthless reputation, can I blame them for falling in love? I have to look long and hard at where I've been and where I'm headed. Alone time? The universe has other plans.

Our family's secluded Vermont cabin comes with a gorgeous—if at first, unwelcoming—surprise. She's renter Keaton Westbrook, a social media superstar struggling with her own private grief. As a winter storm bears down, we've found something to keep us warm—an intimacy neither of us expected and both of us need.

After we say goodbye, what happens then? Keaton and I are longing to reconcile with our painful pasts. I can't bear to do it without her. Is it too much to ask of fate to give us a second chance at life and love?
Review:
"You're the annoying twin, aren't you?"
I narrowed my eyes at the back of her head. "Actually, I'm the charming one."
She looked over her shoulder. "Hmm, can't see it."
Finding Him was beautifully emotional and one of my favorite books this year!  By that first chapter, I already had tears in my eyes.  Twice.  And as the story unfolded, I had tears for a past love story, tears for brothers and of course tears for Julian and Keaton.  But there was also so much to smile and swoon about.  This book was sexy, funny and had the best banter.  So if you're a fan of romance, a tortured hero and the most beautiful happily ever after, definitely add this one to your list.  I can't recommend it enough!
"You're going to get drunk while I take care of our basic human needs?"
"Think of it this way . . ."He smirked. "If you don't build a fire, we're going to have to get naked and share body heat, and I highly doubt that would be your first choice, since you're already so fucking frigid."
I almost picked up the knife.
I almost threw it at his perfect face.
Instead, I took the high road, flipped him off, and went in search of my coat.
Julian and Keaton got off on the wrong foot, and then some.  Julian was forced to get away from life and find some peace after waking up from a coma, losing his fiancée to his twin brother, and having his mother pass away.  Keaton wanted to write her past love story, but away from all of the lime light.  Neither of them expected to find someone else at that cabin.   And neither of them wanted to be the one to leave.  So what unfolded was an emotional roller coaster that had me completely addicted.
Because my heart might as well have been buried in that casket next to my mom's. God knows that's how my soul felt, like the dirt was trying to pull me under, trying to bury me along with my mother.
I was just as dead as she was.
And I had to wonder if maybe, maybe the world was better off without Julian Tennyson fully existing in it.
Julian fascinated me in Stealing Her, and as we got to know him in this story, I loved him even more than Bridge.  His thoughts bled from the pages, since he was consumed by the pain of his past.  His decisions, actions and who he was haunted him at every waking moment.  Yes he had done horrific things, but at the same time it felt like he had been so easily cast aside.  His whole world changed in the blink of an eye.  So of course he was an asshole to those around him.  Especially when we saw how little he thought of himself.  He broke my heart again and again.  So tortured doesn't even begin to describe Julian.  Yet, he could be so thoughtful and considerate.  Well, when he wanted to be lol.
I would always need a weapon and armor.
Because Julian Tennyson up close was lethal.
And Julian Tennyson thinking about me, holding me in his arms, felt too good.
I shivered again.
And while Julian was battling his own demons, Keaton was there.  She was sassy and I loved how she had no problem standing up to him. She would go toe to toe with him and wouldn't back down!  They definitely didn't like each other in the beginning, and they had no qualms letting the other know it.  It was awkward and funny, and I loved how the messed with each other.  The "test" had me laughing so hard I was gasping for air! 
"Just because you type the end to one story doesn't mean you don't get to start another," he said wisely as he stood and made his way back to the stove.
Yet at the same time, Keaton had her own personal struggles.  Her parents were celebrities and she was a social media sensation.  Keaton fell in love with a normal guy who sadly ended up passing away from cancer.  And she was writing their love story for a book.  So while there was lightness within Keaton, she was still drowning in her own pain too.  Just like Julian.
We were polar opposites. The media painted me like a saint. And Julian Tennyson? Hell's number -one sinner.
I wasn't stupid enough to believe it was just mind-blowing sex.
It wasn't.
Not with Julian.
It felt raw, aggressive, violent in the way it crashed over me every time he touched me.
Finding Him truly had it all.  There was love, friendship, redemption, forgiveness and it was emotional every step of the way.  There was also sexual tension, steamy moments and scenes that had me laughing so hard. And the journey Julian and Keaton faced, after leaving the cabin, had me even more obsessed with what would happen next.  Finding Him had everything I always look for in a romance novel.  It was uplifting while also gutting.  If made me laugh, smile, cry and best of all, I fell madly in love.  This story will always hold a special place in my heart and I hope you'll discover Finding Him too!
*I voluntarily read and reviewed an advanced copy of this book, provided by the author. All thoughts and opinions are my own.*
Related Posts