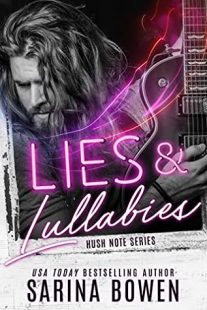 Lies & Lullabies
(
Hush Note #1
)
by
Sarina Bowen
Purchase on:
Amazon
, 
iBooks
Add to:
Goodreads
Synopsis:

Summer nights and star-crossed lovers! From USA Today bestselling author Sarina Bowen.

Once upon a time, he gave me a summer of friendship, followed by one perfect night. We shared a lot during our short time together. But he skipped a few crucial details.

I didn't know he was a rock star.

I didn't know his real name.

Neither of us knew I'd get pregnant.

And I sure never expected to see him again.

Five years later, his tour bus pulls up in Nest Lake, Maine. My little world is about to be shattered by loud music and the pounding of my own foolish heart.
Review
I'm not gonna lie, I tend to avoid the rock star trope because that scene really isn't my type of thing. I do however, love anything and everything that Bowen writes so I figured why not give this a chance. Just like with all of her other books, the characters are what truly draw you in. Jonas and Kira are no different. Jonas meets Kira when he decides to take a summer away from it all in quiet Nest Lake, Maine. He gives her a different name, John, to keep some anonymity and they bond over her cooking. While the two try their best to keep it to a friendship (he having just gotten out of a toxic relationship and she having gone through a rape) we all know how the story goes….

Five years later he's back, not even expecting to see Kira again and gets the surprise of a lifetime.
Let me tell you, it is so funny to me the kinds of stories you grow to like and dislike based on what season of life you are in. I used to never like any romances that had an unexpected pregnancy or child involved but here we are now, with two kids of my own, totally being fine with both of those things. This hasn't been the first book I've read where the Hero leaves and comes back years later only to find out they've left behind not only their Heroine, but a baby besides. Sometimes it's a pretty unbelievable situation that pisses me off but honestly that wasn't really the case with this one. With Jonas being a rock star and with the things Kira had gone through in her past (and him not returning her letter) I don't find it hard to believe that she had kept things quiet about Vivi. Is it incredibly sad that Jonas missed out on FIVE years of her life? Extremely. But that's how things went and as we all know, we can't turn back time.

I liked the flashbacks of Jonas and Kira meeting, getting to know each other, and the making of Vivi (lolllllll). I liked how simply they knit themselves back together and how quickly Jonas took to having a daughter even though he initially was thinking he was not father material. While this isn't a TOP favorite of Bowen's, I did thoroughly enjoy and sped through it in a few days. Her writing is just one of those comfortable things at this point that makes me happy and it was exactly what I needed!
P.S….I NEED to know more about Nixon…..
Huge thanks to Tuxbury Publishing LLC for the chance to read this eARC in exchange for my honest opinion! ♥
Related Posts