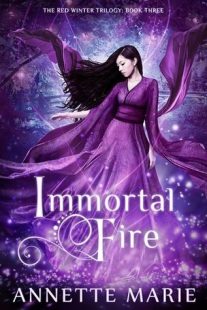 Immortal Fire
(
Red Winter Trilogy #3
)
by
Annette Marie
Purchase on:
Amazon
Add to:
Goodreads
Synopsis:

Once, Emi believed the heavenly gods were righteous and wise, while the earthly yokai spirits were bloodthirsty and evil. But with a traitorous deity poised to destroy her world, and the yokai standing as humanity's only defense, the lies of her upbringing have toppled to reveal a far more terrifying reality.
​
Despite the looming threat, Emi can't escape her greatest distraction: Shiro, the fox yokai who has so deftly claimed her heart for his own. Soon—too soon—she will have to break the curse that binds his magic and memories. And once the ancient power inside him awakens, the yokai she loves will be changed forever.

As the earthly gods gather to wage war against the heavens, Emi and Shiro must gamble everything to turn the tide against their immortal, all-powerful foes. Together, they will find a way to save her world—even if it means losing each other.
Review:
*Buddy read with Sophie @ Beware of the Reader and Raven @ Dreamy Addictions*
Immortal Fire was an epic conclusion to a thrilling trilogy!  I devoured every page and yet at the same time, I wanted to slow down and savor every moment.  I became so attached to these characters, I didn't want my time to end with them.  With twists, sacrifice, love and friendship flowing throughout the pages, this book was impossible to put down.  I can't ever recommend this trilogy enough!  Here are a few reasons why you should pick up this book….
"Now that I've finally found you, why must I lose you?" His torment cut through her, rending her heart. "Every instinct I possess demands that I protect you, that I save you. But I can't. I can't stop this."
The story:
Shiro drew her up and, for a single instant among the chaos, he crushed her against his chest, his face in her hair. Somehow her arms were around his neck, and she held him just as tightly, knowing it was their final embrace, their final moment together. There would be no more time for farewells.
Immortal Fire was a beautiful and deadly tale.  There were lots of obstacles in their way.  So I kept finding myself with sweaty palms.  I didn't always feel like I knew what was going to happen next and I'd get so nervous it felt like my stomach was tied up in knots.  So of course I kept finding myself gasping out loud.  And again there were elements to the story that creeped me out.  The kanashibari…ugh *shudders*.  With an action packed story and some epic battles, this book had it all.
The characters:
"Saving my life won't earn you Amaterasu's forgiveness!" She shouted the words, her hands clenching with sudden fury. "I would rather die fighting than give up!"
His dark eyes widened.
Emi was perseverance.  No matter how bleak the situation was, she kept trying.  And even though it felt like sometimes she didn't even get two second to breathe, and I was terrified for her, she kept going.  I loved how much she continued to grow and how much she was capable of thinking on her feet!
"Command me, Emi."
This time, her heart didn't stumble. It soared. How casually, how confidently he ordered her to rule him. Without restriction, without hesitation or doubt, he'd demanded she ask him for anything she wanted. Anything she desired.
A shiver ran through her. Before she could think, before she even realized she was speaking, the words slipped from her traitorous tongue.
"Kiss me."
Shiro was the ultimate book boyfriend.  He was always thoughtful of Emi.  And I loved how he always listened to her.  How he always chose her.  And even when he was possessive of her.  I've said it before, but the lengths Shiro would go to protect Emi made my heart soar.  Add in the fact that he made me laugh and had so much wisdom and insight.  Sigh.  I loved everything about Shiro.
He staggered back a step, holding his hands away from her as though he had no idea how an embrace worked. She pressed her face against his shoulder, tears streaking her cheeks.
"Thank you, Yumei," she choked.
"She's crying," he growled at Shiro.
"Try returning her embrace," Shiro said with a snicker. "That might help."
Yumei was the truest of friends to Emi and Shiro, even if he would never acknowledge it lol!    He was still cunning, cut throat and wickedly handsome, yet friendship entered his heart.  And I loved seeing how much he would do to help his friends in need.  With darkness radiating around him and never knowing what he was thinking, I loved watching Yumei in this story.  He could be so matter of fact and he made me laugh.  But I loved how protective Yumei was of Emi and Shiro and I'm hoping he gets his own story some day!
The ending:
"I would have kept you forever, little miko." His words were soft, almost soundless. "I would have taken you with me wherever the tides of time carried us, and I would have loved you until the very end."
That ending was beyond epic.  If you love happily ever afters, then you're in for a treat with this series.  It was an extremely rough path to get there.  It even made me shed some tears and all out cry.  Multiple times.  But that ending was everything my heart could ever want!
"You realize you're mine now, don't you?" he growled. "I am keeping you. Forever."
Immortal Fire was an emotional tale that continually pulled at my heart.  Especially since there was a love story that felt forbidden and star crossed.  They were truly doomed from the start, but I still held out so much hope for Emi and Shiro.  But it helped that there were humor in moments you wouldn't expect.  I loved how the hidden smiles and laughter could be found in this story.  Especially since sacrifice felt like a strong theme in this book.  So just know that I closed Immortal Fire on cloud 9 and I can't ever recommend this series enough.
Reading Order & Links:
Amazon (click on covers) & Book Depository (click on book #)

Red Winter #1
Review:
Jen

Dark Tempest #2
Reviews:
Jen


Immortal Fire #3
Reviews:
Jen
Related Posts