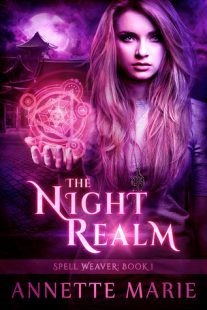 The Night Realm
(
Spell Weaver #1
)
by
Annette Marie
Purchase on:
Amazon
, 
Book Depository
Add to:
Goodreads
Synopsis:

Clio is good at all sorts of things. As a nymph, she's great at outdoorsy nature stuff. As a nymph living in exile, she's got the "blending in with humans" thing down pat. As a nymph living in exile because she possesses the rare ability to mimic magic, she's had to pick up some unique survival skills.

But stealing from the most dangerous spell weavers in the Underworld? Not so much.

Unfortunately, that's exactly what she has to do to earn a ticket back home. Conning her way into the night realm may have gone pretty well, but now she's got a new problem. His name is Lyre and he's a sinfully alluring incubus, a dangerously skilled spell weaver, and the only thing standing between her and stealing some damn magic.

Maneuvering around him without blowing her cover shouldn't be that difficult, but chaos has been dogging her every step, monsters hide behind beautiful faces, and Lyre keeps saving her neck even though they're enemies. Kind of enemies? Either way, her mission is getting complicated fast, and in the Underworld, even one mistake could prove fatal.
Review:
The Night Realm was an intoxicating and spellbinding ride!  With a cast of characters that was enchanting, and pages that were filled to the brim with action and intrigue, it was impossible not to fall in love with this book.  Add to that a magic system and worlds that were addicting to learn about, and it was shocking how fast I flew through the pages.  I'm so happy to say that The Night Realm was such a huge win for me!
Clenching her hands until her fingernails dug into her palms, she broke into a run, fleeing the corridor, desperate to escape the building. To escape this place. To escape this world.
We first meet Clio who is a nymph and has royalty blood.  She's been sent to Earth, from the Overworld, to be kept safe.  And not that far into the story she takes on the task to help protect her country in the Overworld, from losing an eminent war. And to complete that task she must travel to Hade's territory, in the Underworld.  So from the first few chapters I knew that I liked Clio.  She was brave and determined, and her thoughts and actions warmed my heart.  Plus she had me cracking up at times.  She doesn't mean to be funny, but she could be such a walking disaster.  Which is kinda shocking since it goes against her capable demeanor lol.  But it made her so down to earth and someone I easily clicked with.  I thought Clio made a fabulous heroine who constantly proved why she deserved my respect.
Lyre didn't feel like an enemy. And that was even more dangerous.
Upon arriving in the Underworld with two body guards, Clio gets linked to work with Lyre, an incubus.  They've had a run in in the past…..one of those situations where Clio is a walking disaster.  Oh my gosh, I just wanted to hug that girl at times lol.  But this time around they're to work together, since Lyre will commission the magic to help Clio's country not lose the coming war.  Every time they're around each other, there's definitely lust and attraction that had me smiling a ton.  But it was their other interactions that pushed me over the edge into obsessed territory.  You see, they're both so used to being a means to an end for others.  But they each go out of their way to help one another time and again.  And that makes them start to look at each other a little bit more.  So it doesn't matter that Lyre runs hot to cold with Clio and it doesn't matter that Clio is purchasing magic that Lyre struggles with, because that's not what makes them pause.  You see, they're enemies.  He's from the Underworld and she's from the Overworld.  They definitely don't mesh together at all.  Yet it seems that fate has other plans for this slow-burn romance.
She exhaled shakily and touched her lips— the lips he had almost, almost kissed. And she reluctantly admitted that her relief wasn't nearly as strong as her disappointment.
I just have to say that I loved Lyre!  He was beyond sexy and charismatic and so much more than meets the eye!  There's much more that I want to say, but you'll slowly discover all there is to know about Lyre.  And he is definitely bbf material!  So while The Night Realm ends with me needing to know what's going to happen next, we stopped at the perfect place to take a break.  Or at least a breath….you'll see what I mean when it comes to the action in this book!  At times it felt like their enemies and difficult situations were a mile long, but it was soooo much fun!  It makes the stakes crazy high and I can not wait to pick up the next book!!  But till then I'm looking forward to reading her other books.  I bought Chase the Dark and can't wait to read that completed series!
"You butchered another warlord's escort?" Lyre repeated incredulously.
"I also maimed the warlord." He frowned. "Or maybe I killed him too. It got kind of messy at the end."
"You …" Lyre cleared his throat. "This isn't … concerning for you? Won't there be consequences?"
"Obviously." Ash gestured in the direction of the searching soldiers. "But Samael won't kill me. He'll just send me back to the bastille again."
"You're awfully casual about impending torture."
PS I didn't know if I should like Ash at first, but is it horrible that all of his killings didn't phase me?  I loved that him and Lyre formed a tentative….hmmmm well I wouldn't call it friendship but it was definitely something.  The way they would nudge the other or even help each other out made me smile and their interactions always had me laughing like above.  I'm so excited to see what happens between the two of them next!
*ARC kindly provided by Xpresso Book Tours in exchange for an honest review*
Reading Order & Links:


The Night Realm

#1


Reviews:
Jen

The Shadow Weave

#2


Reviews:
Jen

The Blood Curse

#3


Reviews:
About Annette Marie:
Annette Marie is the author of the Amazon best-selling Steel & Stone series, which includes Goodreads Choice Award nominee Yield the Night, and fantasy trilogy Red Winter. Her first love is fantasy, but fast- paced urban fantasy and tantalizing forbidden romances are her guilty pleasures. She lives in the frozen winter wasteland of Alberta, Canada (okay, it's not quite that bad) with her comparatively sensible husband and their furry minion of darkness—sorry, cat—Caesar. When not writing, she can be found elbow-deep in one art project or another while blissfully ignoring all adult responsibilities.
Giveaway:
Save
Save
Save
Related Posts
The Night Realm was an intoxicating and spellbinding ride! Check out my 4.5 Star Review below and enter a fabulous giveaway! Enjoy!