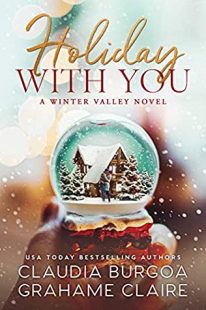 Holiday With You
by
Claudia Y. Burgoa, Grahame Claire
Purchase on:
Amazon
, 
iBooks
, 
Book Depository
Add to:
Goodreads
Synopsis:

USA TODAY Bestselling authors Claudia Burgoa and Grahame Claire bring you an enchanting holiday romance that's sweet and full of light.

Audrey's boss gave her one objective—head to the small town of Winter Valley, and acquire that bed and breakfast the company has had their eye on forever. A big sale like this could change her career . . . and she's the only one who could convince the owner to make the deal.

On her way, she crashes into the truck of sexy, unavailable, single Dad Colin Bradford. The repairs won't be done until Christmas Eve, so she's stuck in Winter Valley until her car is fixed.

There's something magical about being in a small town at Christmas. Life is slower than her hectic job in the city. She finds herself falling for Winter Valley . . . and for Colin.

Though acquiring that bed and breakfast is much harder than she planned . . . Amidst all the hot chocolate, snowflakes, and silent nights, Audrey has a choice to make. Could Colin end up being her Christmas miracle?
Review:
Holiday With You was a Christmas story that was filled with romance, secrets, and a lot of fun.
With warmth and charm in the pages, this book was such an easy, quick read.
So if you're looking for a Hallmark book to pick up, then you'll want add this one to your tbr!
This is the nightmare before Christmas. And I'm dressed like a unicorn.
Audrey's demanding boss sent her out of state, before the holidays, to acquire a B&B in the adorable town of Winter Valley. Along with the message that she was
not
to return until she had acquired the B&B that wasn't for sale. Upon arriving to town, she crashed into Colin, a local single dad. And with repairs on her vehicle not being completed until Christmas Eve, she was stuck there where she kept running into Colin and his delightful family during her stay.
"Welcome to the chaos." He brushes his thumb across my cheek. Briefly, I close my eyes , savoring every millisecond of his touch. It's powerful. More so than it should be since we're practically strangers.
I absolutely loved how Aubrey and Colin met! You could tell that they were both attracted and interested in each other right away. However they seemed to prioritize other things in their lives, as more important than love. With Colin's daughter and Aubrey's job being their main focuses, I wondered how they could be pushed together. But
with a family and townspeople that couldn't help but meddle, and a place that had all the Christmas charm in the world, it was a lot of fun watching them come together.
"Unicorn." There's so much emotion behind the word that it sounds as if it's been yanked from his soul. I'm afraid to look too deep into the meaning. I'm terrified I won't hear what I want to. That I won't see what I want to see.
Colin was my favorite in this story!
He was kind, thoughtful, loved deeply and was the most amazing dad ever. His four year old daughter, Perry, was so easy to love too. Watching them interact was so sweet. And the rest of his family was endearing too. It seemed like there was a lot of potential for future books with his siblings *fingers crossed*. But one of my favorite things about Colin was how he called Aubrey unicorn. And each time he did, it made me smile so huge.
Maybe there's more out there than I thought. Maybe I can have more.
Audrey was a determined person, with a kind heart, who loved her job. While trying to figure out who owned the bed and breakfast, she kept finding reasons why this town made her happy. Which was needed, since it seemed like Audrey was missing joy in her life. And a lot of her newfound joy had to do with Colin. I loved their chemistry and how it added a spark into her life! And
I cherished how Audrey, Colin and Perry fit so well together. Their moments were so sweet and precious.
But Audrey was heading back home. Her life was in California, not in Winter Valley.
I belong. It's a dangerous thought, one I should snuff out faster than I can say candle . . . but my heart grips onto it with everything it has.
So with snow, cookies, and lots of holiday charm, this book was so heartwarming.
I enjoyed how family played such a big roll and it was impossible not to love the quaint town this story took place in. And if you adore epilogues, like I do, you're in for a treat. This one made my heart so happy. If you're looking for a holiday read or adore the Hallmark movie,
Let it Snow
with
Candace Cameron Bure,
then definitely add this one to your list!
*I voluntarily read and reviewed an advanced copy of this book, provided by the author. All thoughts and opinions are my own.*
About Claudia Burgoa:
Claudia is an award-winning, USA Today bestselling author. She writes alluring, thrilling stories about complicated women and the men who take their breath away.
She lives in Denver, Colorado with her husband and her youngest two children. She has a sweet Bichon, Macey, who thinks she's the ruler of the house. She's only partially right.
When Claudia is not writing, you can find her reading, knitting, or just hanging out with her family. At night, she likes to binge-watch shows with her equally geeky husband.
Connect with Claudia Facebook  I  Instagram  I  Amazon  I  Twitter  I  Goodreads  I  Reader Group  I  Website  I  Subscribe to Claudia's Newsletter
About Grahame Claire:
Grahame Claire is a USA Today Bestselling author of contemporary romance. A writer. A blogger. United by our love of stories and all things romance. There was definitely some insta-love. Hello? Books involved. A little courting. A lot of writing. The result…Grahame Claire. Soulmates. Unashamed of our multiple book boyfriends. Especially the ones that rooted in our heads and wouldn't leave us alone. Don't worry. We'll share. Pleased to meet you. Want to find out what we're up to?
Connect with Grahame Facebook  I  Twitter  I  Goodreads  I  Amazon  I  Instagram  I  Website
Related Posts
I'm so happy I got to be included in this blog tour! I adore Christmas stories and this book had so much holiday charm! Check out my 4 Star Review below ♥.