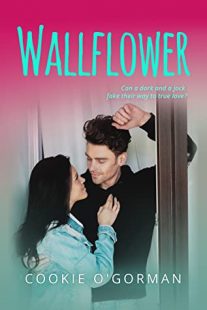 Wallflower
by
Cookie O'Gorman
Purchase on:
Amazon
Add to:
Goodreads
Synopsis:

Wallflower (wohl-flou-erh): Identifier for someone who is shy and/or awkward. For reference, see Viola Kent.

Seventeen-year-old Viola Kent likes being invisible. Well, not literally, but she's content being a loner, reading her books, and hanging out with the animals at the shelter. She just wants to keep her head down and get through her senior year at Durham High.

Driving Dare Frost to school every day wasn't part of the plan.

And when Viola finds out her dad recruited Dare, his number one player, to be her friend?

Her inner Slytherin demands revenge.

The solution: Get Dare to be her fake boyfriend.

Convincing the star athlete to pretend is easier than she'd thought it would be. The hard part is protecting her heart. With every word, touch, and kiss, Viola's feelings become more real.

The problem: Viola knows she's falling for Dare—but he doesn't believe in love.

This book features two sets of soulmates, one happy pooch named Hermione, so many sizzling kisses and answers the question:

Can a dork and a jock fake their way to true love?
Review:
Wallflower was impossible not to devour in one sitting! This story swept me away and the pages were filled with charm, humor and romance. So this book went straight onto my favorites list! I loved that the story line was so much fun and that I couldn't stop laughing and smiling.  I even cried a few tears, happy and sad.  And that ending?!  It made my heart so happy.  If you're a fan of young adult romance, characters that will embed themselves into your heart and kissing that will make you swoon, then this is a must for your tbr! While Wallflower can easily be read as a standalone, if you enjoyed Adorkable, I have a feeling you're going to love this book as much as me.
My face heated. "Could you not do that."
"Do what?" he said.
"That." I ran a hand through my hair, trying to cover my face a little and hide. "People will think you're flirting."
Dare stared at me. "And?"
Ugh, it felt like I was in the freaking Twilight zone. "You know, maybe I sat over here because I didn't want to be found," I said. "Did you ever think of that?"
"Too bad," he said with a cockiness I hadn't heard in a while. "I already found you. And now, we're having lunch. Deal with it."
Viola Kent was coerced by her Dad, Becks (screaming since I love Adorkable), to drive one of the boys on his soccer team to school.  Dare Frost was popular, outgoing and sexy.  Viola was a loner, who loved to read her books and help out at the animal shelter.  So when she found out that her Dad had convinced Dare to be her friend, she made plans to get him back.  And what better way then fake dating the boy her father forced to be her friend.
"What are you doing?" I gasped.
"Getting naked," he said.
"What?!?"
"Jeez, relax. I was kidding, flower." He laughed, the movement making the muscles in his stomach contract, and I could do nothing but stare. "You should've seen your face."
My eyes flashed back to his. "Did I look stunned and appalled? Because that's what I felt when you ripped your clothes off in front of me like that."
He tsked. "Funny. The only thing I saw was appreciation."
Right from the start I loved Viola!  She was so easy to click with, had the hugest heart ever and the kindest soul.  It seemed like her only friends in the world were the animals at the animal shelter.  I got so attached to two of them and wanted to take them home ♥.  Viola did have a fabulous relationship with her parents, and that made my heart so happy. I also loved that while Viola enjoyed her solitude, I respected how brave she could be and the chances she took.  There were times that I had sweaty palms and also felt so embarrassed for her.  Viola was so much more courageous than I ever could have been in some of those situations.  So it hurt to watch others bully her. I hated that a group of kids at her school tried to dim her light and make her feel bad about herself. But with Dare now in her life, I had all the hope in the world that he would help out with that horrific situation. And help her become a little more involved with those around her.
After a moment, I added, "But I've never gone to the games."
"That was before you were my girlfriend."
The words sent a ripple of warmth straight through me, and I cursed my heart for a fool.
Dare sailed right onto my book boyfriend list! He was such a good guy at heart.  Dare was kind, protective, seductive, thoughtful, caring and I was obsessed with him.  He was a star athlete at his school, so of course he was cocky but also swoon worthy. So I loved that he was so much more than Viola ever thought he was.  How could I not fall madly in love with him?!  Especially when he was sweet and charming to her.  Although…..Dare did enjoy messing with Viola.  But Viola would throw it right back at him.  It all made me laugh so much.  Each moment that we spent with Dare, the further he pulled me under his spell.  Plus when Dare called Viola flower, I literally melted.
Who knew a stolen first kiss could be so soul-shattering?
While Viola and Dare had known of each other, we got to watch their friendship grow.  Their moments in her car and at school kept me turning the pages faster. And the fact that Viola wanted them to get caught by her dad made their plans a ton of fun and smile inducing!  Their interactions were so entertaining and the way their fake dating played out gave me butterflies. But with a touch here.  A genuine smile there.  And kisses.  It slowly started to build something between them.  Something that felt real, even though it wasn't supposed to be. But they're both just faking it right? So what happens when one of them starts to feel more then they should?  Where are they supposed to go from there?
Oh my God.
Dare Frost had kissed me.
No, he'd branded me with his lips, stamping it into my memory, making sure I'd never forget him or this moment.
And I had one-hundred percent let him. Had kissed him back as if my life depended on it. My cheeks flared hot.
He read my expression and gave a slow smile.
Romance lovers will absolutely adore Wallflower!  With Princess Bride, Dirty Dancing, Clueless and other references, I actually screamed out loud a few times because of how they wove into the story.  From beginning to end this story was laugh out loud hilarious.  And I loved that there was also friendship, I heart good people like Estelle, and that we got to see what Sally and Becks were up to *jumping up and down*.  So while there were deeper moments with bullying, family struggles, and love, I spent the majority of this book constantly smiling.  I'm so happy to say that Cookie O'Gorman wrote another book that sailed right onto my favorites list!
Other Favorite Quotes:
"I don't want to be your friend," I said with as much distaste as I could muster.
"Too bad, flower."
Dare stared into my eyes, his baby blues warm and unflinching as my heart tried to escape my chest. "I'm going to be the best friend you've ever had," he said. The words were like a vow. "I'm going to friend you so hard no other friends will ever compare."
I had no idea what he meant by that.
But I'd be lying if I said I wasn't dying to find out.
✮✩✮✩✮✩✮✩✮
With the next breath, Dare had picked me up, my legs closing in reaction about his waist. I didn't realize he was walking until my back was pressed against the wall.
And still, we kissed.
✮✩✮✩✮✩✮✩✮
One thing was certain: Dare was very good at pretending.
That kiss had sure felt real.
But it wasn't, I reminded myself sternly. This was all just a means to an end.
*I voluntarily read and reviewed an advanced copy of this book, provided by the author. All thoughts and opinions are my own.*
Related Posts