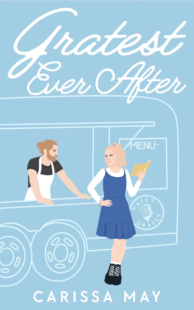 Gratest Ever After
by
Carissa May
Purchase on:
Amazon
Add to:
Goodreads
Synopsis:

Maddie Williams had big plans to spend her life writing happily ever afters, but after an abusive relationship left her physically and emotionally scarred, she no longer believes in them.

That is, until she finds herself living under the same roof as her best friend's older brother...

Nate West has always been there for Maddie; now is no exception. It's been two years since they last spoke, but when Maddie needs a place to stay Nate welcomes her into his home with no questions asked. Sparks fly between them as Maddie starts to write her own story.

Now it's up to her to create her own ending.

But can Maddie trust Nate with her heart, or will she stand in the way of her own happily ever after?
Review:
Gratest Ever After was filled with an emotional richness and depth that will tug on readers hearts. This forced proximity, slow burn, spicy read was so easy to love. With characters that felt real and a storyline that brimmed with a heartbreaking journey, this book was impossible to put down. Especially since Gratest Ever After was also filled with all the hope. Hope for healing. Hope for love. Hope for friendship. And hope that happily ever afters exist.
"It's okay, Maddie. I'm here. You're safe. You're always safe with me, remember?"
Everything went quiet again and I tried focusing on my breathing, but the silence was suffocating.
Maddie took us on an emotional journey. Her anxiety was overwhelming and caused her to have panic attacks, so I started out with so many questions. What happened in the past with Griffin, why hadn't she seen her best friend in two years, why her relationship with her dad felt the way it did, and so many more. So as Maddie slowly started to let us in, my heart broke for her. For what her past had become. How that affected her in the present. And it left me desperately wanting her to get the happily ever after she deserved. When Maddie found herself living with her best friend's older brother, I couldn't help the hope that bloomed in my heart. Yes she was attracted to Nate, and it seemed like sometimes he felt the same way, but being at Nate's house allowed Maddie to continue her path to healing. And writing her story.
He pressed his palms into his eyes and rested his head back. "I want to help you and I don't know how."
I took a deep breath in through my nose and out through my mouth. Biting down on my lip, I tried to think of what part of me I was comfortable sharing with him now. I wasn't sure if I was ready to talk about everything yet, but I wanted to give him something.
Even when Maddie was closed off and secretive, she was so easy to love. And there was this fragility about her that made us want to protect her. Nate felt the same way. So I loved that she let us know exactly how much she wanted Nate. And how her feelings towards him had changed…. he went from being her best friend's overprotective brother, to someone she desperately wanted. Yet Maddie was filled with so much self-doubt and little self-worth. As the story progressed, we got to read chapters of the book she was writing. That book was her past, and it was horrific and heartbreaking. It made us understand everything about Maddie, including how she went down that rabbit hole, and how it so adversely affected her now. I just wanted to reach into the book and give her a hug. Thankfully Nate was there to do just that.
Nate: How's the porn?
I bit the inside of my cheek, trying to stop my cheesy smile from spreading across my face.
Me: It's called smut, not porn. If you're going to call me out on it, at least get it right.
Nate: My apologies.
Nate: Is it even legal to read that stuff in public?
Me: That's the beauty of cute cartoon covers. No one knows.
Nate: Your secret is safe with me 😉
Nate was the most fabulous cinnamon roll book boyfriend! He tried his best to be kind, thoughtful, patient, and caring to Maddie. He also tried his best to get answers about her past, so he could figure out how to help her. So as he did little things to make her smile, the bookmarks made my heart burst with joy, we got to fall even more in love with Nate. He was swoon worthy! Add in the fact that he was a chef?! Not only did he make me want all the grilled cheese, but Nate was the total package that you will easily fall head over heels in love with! He also had a cat named Tuna, who was beyond fabulous and you will adore!
"Why don't you write a romance? It can center around new beginnings, small-towns, old friends… old friend's brothers…" Olivia said, wiggling her eyebrows at me.
I gasped, choking yet again on my coffee. Oh god, was it coming out of my nose? I reached across to the table next to us and fumbled for a wad of napkins, holding it to my face.
This beautifully emotional book will slowly seep into your heart and consume you. I loved watching Maddie find happiness in even the littlest of things. I loved watching friendships rekindle. I loved watching Maddie heal and even those moments where she was brave and stepped outside of her comfort zone. And underneath the healing was a heartwarming romance story. One that was spicy hot and also included emotional scenes that were touching and done brilliantly. There's so much more I want to say here but just know that with grey sweatpants for the win, charm bracelet's that mean everything, and adorably cheesy goodness, this book was so easy to love. Gratest Ever After did a wonderful job of portraying all of the different sides of mental health and Carissa May has definitively created a fan for life. I can't wait to see what she writes next!
"What are you doing here?"
"Dinglehopper," I whispered, knowing that by saying that one word it was equivalent to saying a thousand.

PS Dinglehopper ♥
I sucked in a shaky breath as he gently brushed away the tear with the pad of his thumb, exhaling softly as his eyes dropped to my mouth.
PPS I loved every single scene that revolved around the bathroom lol, they were beyond amazing!
*I voluntarily read and reviewed an advanced copy of this book, provided by the author. All thoughts and opinions are my own.*
Related Posts