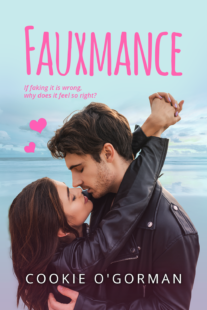 Fauxmance
by
Cookie O'Gorman
Purchase on:
Amazon
Add to:
Goodreads
Synopsis:

Fauxmance (foh-mans): Term for a romantic relationship that is fake. Real feelings, like love, are strictly prohibited. See also: Why would anyone enter a fake relationship?

Eighteen-year-old Magnolia believes in true love.

Or she did.

When her boyfriend dumps her the day before her sister's wedding, Maggie is devastated—but her broken heart is only part of the problem. Maggie is the maid of honor, and her sister insists: Every member of the bridal party must have an escort. No exceptions.

Thank goodness for Hayden Davenport.

Sarcastic, cocky, a surprisingly good listener and self-professed player, when Maggie gets stuck in an elevator with the handsome stranger, she thinks she's found the perfect wedding date. Unfortunately, Hayden hates weddings. Like really hates them.

But one soul-shattering kiss changes everything.

Maggie needs a fake boyfriend. Hayden wants to prove he's changed his playboy ways. Faking it should be easy. The hard part?

Remembering it's all pretend and not falling in love for real.

This book features two opposites with sizzling chemistry, a sweet, hopeless romantic and a cynical bad boy who'll steal your heart. Elevators, fake romance, and weddings, oh my! Get ready to swoon, laugh, and say 'I do' to this heartfelt YA romance.
Review:
Fauxmance was absolutely adorable and so much fun!  With laugh out loud and sigh worthy moments, this heartwarming story became a quick favorite!  And with a fun and flirty vibe, this was YA at its best!  If you're looking for a young adult romance that will keep you smiling and laughing, you definitely need this book in your life!
"Let me prove it to you."
My brows pinched together. "How are you going to do that?"
"I'm going to kiss you," he said.
Anything I was about to say left me. My brain went totally blank. What were words again?
"If you still think kissing's overrated after that, okay. I'll retire my player card for good." Hayden's eyes went to my lips, and they tingled in response. "That won't happen, though."
I swallowed to clear my throat.  "How can you be sure?"
"Because I'm going to do my best to please you."
After Magnolia got dumped by her longtime boyfriend, the day before her sister's wedding, she was lost without an escort.  And her sister was a stickler for how she wanted her wedding to run.  Thankfully fate intervened and Magnolia found herself stuck in an elevator with Hayden.  And while there was definitely a connection, and lots of chemistry with a swoon worthy kiss, Hayden was completely against weddings.  Except Hayden needed to prove he was no longer a player and Magnolia desperately needed a date.  What could be the harm of fake dating each other to get what they both wanted?
As he leaned back, Hayden gave me a soft smile. "Don't sound so worried. I'm going to be the perfect fake boyfriend."
I didn't tell him then— but that was exactly what I was worried about.
You will passionately fall in love with Hayden!  He was beyond sigh worthy.  With a bad boy, cynical vibe, I loved his cocky ways!  But he could also make me laugh so hard.  Messing up names, comparing Magnolia to his grandma, honestly there was so much uniqueness to Hayden that I loved learning everything there was about him! Especially his sweet side, like how he would stand up for Magnolia or say wonderful things about her. He could be such a good guy. Cookie O'Gorman created another book boyfriend that I was completely obsessed with!
"I couldn't stop thinking about you," he said, and my heart tried to  escape my chest— right up until he added, "Your strange fear of peeps  and how you refuse to eat without a napkin really made an impression."
"Ha ha," I said.
I loved Magnolia with my whole heart!  She was definitely someone you would want to be bff with.  She was so honest, but at the same time she cracked me up.  With always having her sister's back and her heartfelt dreams of being a bridesmaid, Magnolia was so adorable!  I loved the relationship she had with her mom, I loved that she went to therapy and I loved what a good, kindhearted person she was!  So watching how far she grew from that first page to the last warmed my heart!
I caught myself staring at Hayden's hands as he drove— the same hands  that had gripped my waist and tucked my hair behind my ear. My gaze moved to his lips, and I shivered. I could still feel the imprint of them on my skin.
Magnolia and Hayden were definitely opposites in quite a few ways. I loved how she tried her best to be positive whereas Hayden no problems putting it all out there and being realistic. But their interactions together had me laughing so hard at times I couldn't breathe. So with gestures that were smile inducing, second hand embarrassment that made you feel everything, and moments that will make you gasp out loud, this is the type of book that you can easily devour in one sitting! And with fake dating laced throughout the pages, just try your hardest not to smile from beginning to end!
But what if it could've been more? my mind whispered.
Shaking the thought off, I got back to work.
Fauxmance was swoon worthy, giggle inducing and impossible to put down! I literally squeaked, gasped, laughed and screamed out loud while reading this story. It was entertaining, captivating and the epilogue was the cutest! If you adore young adult romance, or the fake dating trope, you definitely need to meet Magnolia and Hayden!
*I voluntarily read and reviewed an advanced copy of this book, provided by the author. All thoughts and opinions are my own.*
Related Posts