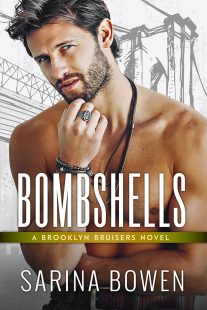 Bombshells
(
Brooklyn #5
)
by
Sarina Bowen
Purchase on:
Amazon
, 
iBooks
Add to:
Goodreads
Synopsis:

The women's league is in the house! And Brooklyn will never be the same again for Anton Bayer and the team…

This is my last chance to ditch my playboy reputation and finally fulfill my potential. So I've made three rules for our biggest season yet: no boozing, no women, and no scandals.

Especially that last thing.

So who do I befriend on the very first day back at the rink? An amazing female hockey player. I want Sylvie in a way that's more than just friendly. I crave her. But I have a championship to win, and so does she.

Then she gets her heart broken by my teammate, and I make the foolish mistake of comforting her in the best way I know how. Our night together sets off a string of sins.

Nobody can know about our affair, especially my overprotective teammate. I can't let anyone see into my greedy little heart. Not even her.

The things I want from her, and the things we've already done? If anyone knew, there'd be bombshells.

Contains: a defenseman with dreamy blue eyes, a female goalie with bad ideas, a major battle of the sexes and a swimming pool scene...
Excerpt
He hums under his breath as he locates the safety pin tucked under the fabric, and carefully frees it from the dress.
"There," he says quietly as the velvet begins to slip against my skin. "Ah, careful." He pauses, holding the dress in place, because that narrow circle of fabric is the only thing holding up the top of the dress. It wants to slip down my body. 
I don't make a move to help him. I don't reach back, and I don't let him off the hook. Instead, I reach for his free hand, and wrap it around my hip. And then I lean back against him, taking in the heat of his hard chest through his tuxedo shirt. 
I hold my breath. Because I want this. No, I need this. I'm so tired of waiting and wanting. And Anton's nearness has always done swoopy things to my stomach. 
Why not now? Why not him, and why not me?
"Sylvie," he whispers, and it sounds like a prayer. Then he drops the collar of the dress, and it slides like a silky waterfall down my upper body, until stopped by the zipper.
Then? I reach back and tug the zipper down slowly. 
Cool air hits my skin. Anton makes a low groan of protest as the dress continues to slide, exposing my lacy strapless bra. Then soft lips slip across the back of my neck. "Is this what you're asking me for?" He kisses the juncture of my shoulder.
"Yes."
"And this?" His tongue darts out to taste my skin, and my goosebumps redouble.
"Yes," I gasp.
He kisses me again, his mouth growing bolder and less gentle. Wet, open-mouthed kisses swirl against my skin, and then he taunts me with his tongue. 
Hell, I feel it in my nipples. I feel it everywhere. And I tilt my head to give him better access. He groans again, tasting my skin, tonguing each new inch, sucking lazily where it suits him before moving on. 
I had no idea a man could get me so hot by kissing my neck. I want more, so I try to turn around. 
But Anton tightens his arm around my waist, fighting me. He pins me in place, my back to his chest, and he continues the erotic assault on my bare shoulder.
My breasts feel achy, and I've started to shake. The brace of his hard body makes me sweat. "Please," I beg. I'm in a hurry now. More. Hotter. Faster. 
"Slow the fuck down," he hisses. "If we're making this trip to the land of reckless decisions, I'm gonna enjoy the ride. Now hold still."
I stand quietly on loose knees, while Anton locates the zipper where it's trapped at my hips. He eases it down at a torturous pace. I fight off a shiver as he drags his fingertips down my bare back, past the lace of my bra, and all the way onto my lacy black panties.
My dress falls into a silky heap at my feet.
"Sweet Jesus," he whispers, as one big hand massages my ass cheek. "You're stunning, Sylvie."
No one has ever paid me such a compliment, in such a reverent tone. And nobody has ever run his hands over my ass the way he's doing now—his touch a mixture of wonder and ownership. 
This is exactly what my life has been missing. 
Again, I try to turn around, and this time he lets me. I look up into that incredible gaze. "Take me to bed now, Anton. You know you want to."
He swallows roughly. I see a flicker of something dark cross those bright eyes. "If this is really what you want." He lifts his chin toward the bedroom. "Lead the way."
"It is," I assure him. Then I step out of the circle of my dress and lean down to pick it up, wearing nothing but see-through black lingerie and my heels.
"Jesus fuck," he mutters in a voice that sounds almost angry. The moment I'm vertical again, he yanks my hips toward his body as his mouth crushes mine. 
I wasn't expecting the kiss, but I am a professional goalkeeper, and pretty damn good at catching things flying my way. So it only takes me a split second to adjust to the friendly assault of Anton's aggressive mouth. His lips stroke mine urgently. I lean in and kiss him with everything I've got. 
He tilts his head and brushes his tongue across the seam of my lips. His roughened hand cups my jaw, his thumb sliding over my cheekbone. It's possessive in a way that makes my heart stutter. 
It doesn't matter that I'm in way over my head. It doesn't matter that I've never actually been naked with a man before. When I chose this one, I chose well.
Related Posts
I cannot stress enough how amazing this book is. It honestly might have bumped its way into the top favorite spot of everything I've ever read by Bowen (and that's a lot of books, lol).