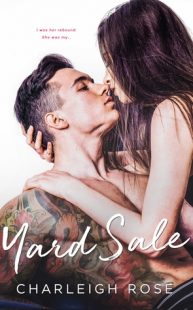 Yard Sale
by
Charleigh Rose
Purchase on:
Amazon
, 
Book Depository
Add to:
Goodreads
Synopsis:

Mollie
I was freshly fired from my job and betrayed by my boyfriend.
It was a new low for me.
A one-night stand with an arrogant stranger was just what I needed.
I didn't know that he was a famous snowboarder, or that he'd give me the best sex of my life.
I wasn't ever supposed to see him again.
Fate had other plans.

Cam
I was young and rich with the whole world at my fingertips.
I was in my prime.
A one-night stand with a hot little tourist on the rebound was the perfect way to spend my weekend.
I didn't know she'd leave in the middle of the night, or that I'd wake up wanting more.
I never thought I'd see her again.
Now she's back.
She's been keeping a secret.
One that will change everything.
Review:
Yard Sale was a quick and sexy story about Cam and Molly, who we met in Bad Intentions. I had wondered what their back story was and I'm so happy that we got to hear it! And while this was a novella, it sure didn't feel like one. There was so much emotion and story packed into the pages that it showed me again why I have fallen so hard for this author. Charleigh Rose creates stories that become entrenched in my heart and I love every minute of it!
"You said I had to let you leave, but, you didn't say anything about not following you."
I spin around and pin him with an impassive stare as I walk backwards.
"I can be tricky, too," he says, wiggling his brows.
Cam aka Camden Hess was a professional snowboarder doing his own thing. One night stands, riding hard and hanging with his buddies was his world. He had never wanted more from a woman than just a night, until he met Mollie Mabey. They met in a bar and I loved the games they played with each other. There was attraction, lust and while Mollie felt it too, she didn't make it easy for Cam. I loved how she made him work for her!
He's gorgeous. And intimidating. And, I can only assume, a player. He's everything I don't need in a boyfriend, but he's exactly what I need tonight.
I liked Mollie right away. She had sass and didn't fall all over Cam, like every other female seemed to do. And when Mollie quoted Cher Horowitz from Clueless, she became an instant favorite of mine. Plus, I adored her family and I knew she was good people since Sutton was her friend. If you haven't read Bad Intentions, Sutton was one of the friends in that book and she was kick ass, just like Mollie.
"Is this okay?" he asks, his voice thick and gravelly.
"Do whatever you want with me," I whisper. And I want him to. I want more of this feeling, and I'll chase it until the very last drop.
Cam and Mollie ended up having a one night stand and it was hot but also oh so dirty and kinky. After that night, she left. They didn't think they would ever see each other again, but fate had other plans. That's all I can say there, but I have to gush about Cam. You're going to love him! Cam warmed my heart and quickly stole it. He was genuine and fierce. He loved so strongly and he went after what he wanted. And when he was with Mollie, together they made me smile and laugh.
My heart says be careful, my head says impossible, but my body…my body is screaming at me to let Cam show it magic again. Because that night with him was pure magic.
Yard Sale can easily be read as a standalone, but there were epilogues in the back for the couples in Bad Habit and Bad Intentions. So definitely don't read that part of the story, if you haven't read those books first. There were huge spoilers. So of course I recommend this book and I'm so happy I have found another author that goes on my I will buy every single book they ever release list!
Love doesn't wait until you have your shit together. It just happens. It's up to you to decide how badly you want it.
PS The shops, the ice arena, the gondola, the lake, oh my gosh she was describing right by where I live. Not only do the descriptions make the scenery leap off the pages, but it makes me so happy reading about places that hold such a special place in my heart.
Related Posts