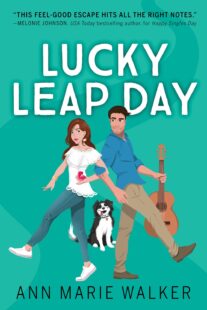 Lucky Leap Day
by
Ann Marie Walker
Purchase on:
Amazon
, 
iBooks
, 
Book Depository
Add to:
Goodreads
Synopsis:

Up-and-coming screenwriter Cara Kennedy has the biggest meeting of her career in two days―but for now, she's on vacation. Her short trip to Ireland is all planned out:

1. See the sites around Dublin
2. Don't think about her jerk of an ex she was supposed to spend this trip with
3. Relax with some Irish whiskey
4. Propose to a sexy Irish musician on Leap Day
5. Wake up married

Wait, those last two things weren't on her list...

A whirlwind trip to Ireland is supposed to end with a suitcase full of wool sweaters and souvenir pint glasses―not a husband you only just met!

After one-too-many whiskeys, fledgling screenwriter Cara Kennedy takes a page out of someone else's script when she gets caught up in the Irish tradition of women proposing on Leap Day. She wakes the next morning with a hot guy in her bed and a tin foil ring on her finger. Her flight is in four hours, and she has the most important meeting of her career in exactly two days―nothing she can do except take her new husband (and his adorable dog) back to LA with her and try to untangle the mess she's made of her life...

Perfect for fans of:

Friends to lovers romance
Sexy Irish brogue
Sensual, slow burn romance
When everything goes wrong, but it's so right
Review:
Lucky Leap Day was an adorable story that was low on the angst and lots of fun!  It was so easy to fly through and the characters were charming.  If you're in need of a quick, lighthearted read, then definitely check out this book!
"It's just… we don't really know all that much about each other, do we?" It was the understatement of the century. Cara didn't even know the most basic facts about Finn.
He chuckled. "Enough to want to get married."
This story whisked us away to Ireland and then California.  Cara was traveling to Ireland alone.  She was supposed to go with her ex, but after they broke up she thought why not and braved the trip solo.  It ended up leading her to meet Finn, who seemed to be a jack of all trades.  But after a drunken night together, Cara woke up in Finn's bed, with both of them wearing tin foil wedding rings.
"You're a right feek," Finn said.
Cara froze because that one she knew from one of the websites she'd read before her trip. Gorgeous girl. But it wasn't the compliment that stopped her in her tracks. It was the way Finn said it. Like she was the only woman who mattered in the world.
 Cara and Finn were both so likeable!  Finn was not only a sweetheart, but he was charming too.  And Cara had such a huge heart and an adventurous spirit.  Together they instantly had sparks and I loved where fate led them. If you're a fan of forced proximity and the one bed trope, this played out so fabulously. Of course I was rooting for their happily ever after!   On top of Cara and Finn, there were side characters that were memorable and an exuberant dog too ♥.
"Besides, it's not like I married you because of your career." He winked. "I just needed a mother for Oscar."
At the sound of his name, the dog lifted his head from where he'd been sleeping on the couch and gave a small bark.
"See, he agrees."
"Glad he approves," Cara said as they shared a laugh.
 Lucky Leap Day was smile inducing and oh so cute.  I devoured this book in two sittings and it left a smile on my face.  Plus the epilogue?! It was absolutely delightful and unique, I've never read one quite like it.  This was my first book by Ann Marie Walker and when I'm wanting a sweet, lighthearted read I'll definitely be checking out her other books!
*I voluntarily read and reviewed an advanced copy of this book, provided by the publisher. All thoughts and opinions are my own.*
Related Posts