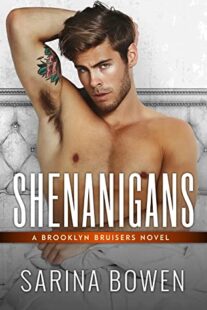 Shenanigans
(
Brooklyn #6
)
by
Sarina Bowen
Purchase on:
Amazon
, 
iBooks
, 
Book Depository
Add to:
Goodreads
Synopsis:

What I meant to do in Vegas: Let my hair down for once and celebrate winning a medal at my first women's hockey all-stars competition.

What I actually did: Got senior prom drunk and woke up married to Brooklyn's star winger, the great Neil Drake.

He's the heir to a billion dollars, and I barely survived my childhood. Our friendship is based strictly only on hockey, takeout food and smack talk.

And now holy matrimony. Although we both know it can't last, especially once his evil family gets wind of our Vegas shenanigans…

Contains: Meddling teammates, meddling parents, ugly jewelry and a pretend-kiss that nearly sets the world on fire.
Review
I have been salivating over this book now since I finished the last page of Bombshells. The dynamic that Charli and Neil have had since their very first meeting TOPPED with a drunken marriage in Vegas? Perfection. Sign me the hell up.
What I had not anticipated exactly was how fucking dreamy Cornelius Drake III was. What a King. And Charli? I knew there was always going to be more to peel back from that gruff and tough outer layer that no one has yet been able to see behind and I couldn't wait to find out what that "more" was.
One of the real kickers in their relationship, too, was their financial situations. The one thing that is consistently known to cause the most stress in a person's life and relationships of all kinds. Neil was an ACTUAL billionaire while Charli was used to just barely scraping by her entire life. Pile on a family of old money who is used to burying "embarrassing" or "unsavory" headline producing incidents and we've got some good fuel for the angst fire part of this story. But one thing you need to know is that Neil is generous. That man. He may use his billionaire powers to get what he wants sometimes but he's also a guy who was refusing to get new furniture even though the stuff he currently owned was unbearable to sit on, because he's a person who hates waste and wants to try to minimize it as much as he can (which you know, since he actually has the resources to help make those kinds of changes in the world, I'm sure he'll do everything in his power to actually achieve it).
ANYWAY what I'm trying to say is that Neil Drake is a stand up guy. The things he does to win over Charli in this book….and even then some of the things she does for him..made my heart ache in the best way. Charli has lived a pretty hard life and has been surrounded by some pretty terrible people so the fact that Neil was able to worm his way into her softer interior until he was able to burrow his way into her heart should be pretty telling. I'm over here PRAYING for a Vera book because I just can't be done with the Bruisers or Bombshells yet–I really can't.
P.s. The scene where the guys are watching the Bombshells' game is my favorite.
Huge thanks to Tuxbury Publishing LLC for allowing me to read an eARC of this book in exchange for my honest review!♥
Related Posts