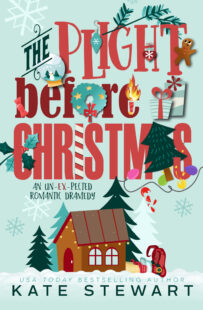 The Plight Before Christmas
by
Kate Stewart
Purchase on:
Amazon
Add to:
Goodreads
Synopsis:

Clark Griswold was onto something, at least with his annual holiday meltdown.
And since the last three weeks of my life have been riddled with humbug—another breakup, a broken toe, an office promotion I deserved and didn't get—I'm not at all in the mood to celebrate nor have the happ, happ, happiest Christmas EVER.

When Mom insisted that we all gather at my Grandparent's ancient cabin for an old school family Christmas, I fully intended to get into the holiday spirit with the help of the three wise men, Johnnie Walker, Jack Daniels, and Jim Beam. But those boys did absolutely nothing to offset the shock or temper the sting of seeing my EX on our doorstep the first day of our holiday soiree.

Apparently, Santa missed the memo, and this elf is pissed.

Stuck for a week with the man who obliterated my heart nearly two decades ago, I did the only thing I could do and put on my game face, thankful for the home advantage.

I knew better than to drink that last cup of eggnog.

I knew better than to get tongue tangled beneath the mistletoe with the only man to ever break my heart.

I knew better than to sleep with Satan's wingman on the eve of the Lord's birthday.

I could blame the nog. I could blame the deceitful light blue eyes, thick, angelic hair, and panty evaporating smirk…but mostly, I blame Eli because he always knew exactly which of my buttons to push.

I foolishly thought a family Christmas filled with nostalgia was going to turn my inner Scrooge around, but this year's festivities went up in flames. Leave it to the ghost of my Christmas past to be the one to light the match.

Fa la la la la, la FML.

The Plight Before Christmas is a full length, second chance, Christmas themed romance and most definitely on SANTA'S NAUGHTY LIST!
Review:
Fa la la la la, la FUCK MY LIFE.
The Plight Before Christmas was my favorite Christmas book of the year!  It was heartwarming, hilarious, sexy and so much fun!  If you're looking for a book to bring you some Christmas cheer, while also causing a tear or few, you need this one in your life.  The angst, relationships and story-line were beyond addictive and I couldn't put this book down!  This was my first story by Kate Stewart and I will be definitely checking out all of her backlist books!
Eli wasn't the guy you were supposed to plan a future with. He was the guy to break your heart and break it in well. I didn't realize it until it was too late.
At first, I wasn't the hugest fan of Whitney.  She came across as bitter and pessimistic in the very beginning.  She didn't hold back and let us know ALL of her thoughts!   But the moment she interacted with her family, I saw that we met her on a truly horrific day.  I started laughing in that second chapter and kept laughing till the end.  Her family was absolutely hilarious and I fell in love with them and her the moment they started emailing each other about their Christmas vacation at the cabin.  And when we met them?!  I was obsessed.  I loved how close Whitney was with all of her family!  She fought with them, was brutally honest and loved them with her whole heart and soul.  Whitney was such a good, kindhearted person.  She even let her niece destroy her with makeup lol.  And looking like that, was exactly how her ex Eli first saw her again. After all of these years.
For me, she was the one woman who never really left my thoughts. Over the years, some of the memories have faded. There's been a lot of spacing between personal relationships, but Whitney? Unforgettable.
I had so many questions when it came to Eli.  Whitney's brother brought him along to spend the holidays with them, since he had no one.  And I wanted to know everything!  From how he could have been so cold in the past and walked away from her, to wondering if he knew that Whitney would be there.  Because my gut was saying YES he did!  So while I wanted to hate Eli, that's not how it played out at all.  I loved Eli. From the moment he interacted with Whitney's nephew Peyton, I was a goner. Their mornings together were so adorable!  But Whitney's family firmly had her back.  Serena, her sister, made it clear what she thought of Eli and even their mom slayed him with stating she knew who he was lol!  Eli had an uphill battle, but he kept charging up that and winning hearts left and right.  Much to Whitney's dismay. I loved how he partook in all of their family actives and cared so deeply for the kids, sigh.
Echoes of my time with him remain in the room as I wrap my arms around myself, surrounded by nostalgia and the feel of the sweatshirt on my naked skin.
We got flashbacks to Eli and Whitney's past and they were done so fabulously.  With pieces here and there from how they met, fell in love, to what ultimately separated them made me even more invested.  I loved those little glimpses of the past because they held so much emotion!  And the chemistry they had back then was still going strong nowadays.  Because the electricity between them oommmmmggggg.  It was intense!  And the more time they spent around each other, we saw moments that showed they still cared.  Words, actions, you guys I was obsessed!  They still knew the other person.  But they both had walls that needed to be knocked down. And at times when they would let their guard down, it was everything!
The girl I fell in love with nearly two decades ago is standing right in  front of me, gifting me with a rare glimpse of the part of her heart  that's remained untainted by life, time, by me. A part of her that rings hopeful. A heart that once belonged to me.
One of the things I didn't expect was to be so invested in Whitney's family. They were so deeply ingrained into this story.  The family dynamics and relationships were done beautifully.   And some of my favorite moments in this book were when they were sitting down and eating meals.  They were intense, hilarious and beyond entertaining! But her siblings' relationships were going through pivotal moments and I felt their joy and heartache too.  I became just as invested in her siblings marriages as I was with Eli and Whitney. So it was impossible not to shed tears and hold out all of my hope that they would get their happily for evers too!
"You can pretend all you want that I haven't been inside you, but I refuse to."
She gapes at me, her eyes widening. "You did not just say that."
"I did. Don't you think we're a bit old for games?"
"I'm not playing games, you ass. I just don't see the point in talking about it.  It's a little late, Eli, don't you think?"
"We're still breathing, and our hearts are still beating. So, no, I don't think it's too late." 
As their lives unfolded, there was a deepness to this story I didn't see coming.  It explained so much and gutted me. But there were also so many moments of lightness and laughter. The spying had me screaming with laughter. The family secrets. The messing with one another. And the times that led to more were scorching hot! I shed so many tears. They were a mixture of happiness and sadness, and I loved how much this book made me feel. So if you're looking for a romantic Christmas story that will keep a smile on your face and is filled with all the emotions, this is it!  The epilogue gave us the most wonderful happily ever after! And I can't wait to read the rest of Stewart's books!
I'm standing here, seventeen years later, because I never forgot you—and in discovering you again—I want to know you, I want to kiss you.
PS The texting mishap, I still am laughing about that!
Related Posts