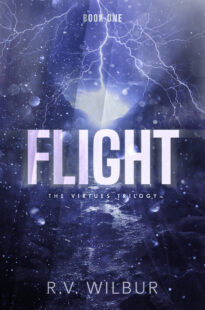 Flight
by
R.V. Wilbur
Purchase on:
Amazon
Add to:
Goodreads
Synopsis:

As an invisible battle rages…
The Balance preventing the world from falling into the hands of either good or evil has fallen, plunging the world into chaos. Ripped from their home behind an unseen Veil, the forces of both Darkness and Light find themselves exiled to earth—free to rise up and claim it as their own.

Hundreds of years later…
Lacey Talanton has lived alone in the city of Anatoliene for years despite still running from her past in her dreams every night. When she unwittingly enters the Veil and thwarts an attack on the leader of the most notorious gang in the city, she finds herself caught at the center of the war between the Light and the Darkness in a world she never knew existed

But all is not as it seems…
The deeper Lacey immerses herself in the battle between the forces of Light and Darkness hiding in plain sight, the more her nightmares begin to awaken. As new revelations and a traitor in the midst threaten the love, family, and home she has found in Anatoliene, Lacey faces impossible choices with deadly consequences that force the question:

How long can you endure the fight when all you know is to take flight?
Review:
Peace did not exist here. Only nightmares. And it was getting worse.
Flight whisked me away to a world that I got lost in. I was not prepared for everything these characters made me feel. Or that ending. If you're looking for a dystopian story that is laced with magical elements, then Flight is definitely your book!
"What happens if we don't win?"
Silence stretched on for so long that she began to wonder if she had imagined his responsive grunt, or if maybe he had simply muttered in his sleep.
But then, finally, he spoke. "I don't think the outcome matters. I have a feeling we'll all find out that we've both won and lost before the end."
Lacy was a woman who was struggling. She wasn't happy with who she had become and her past was haunting her thoughts. It seemed like the only way she could muffle those voices and images was with alcohol and wild nights with her friend Becca. Living in a dystopian world 100 years after the devastation took place added to an eeriness that could be felt in the pages. There were only a handful of cities left on the continent, and it seemed like so many were just struggling to survive. And stay safe. Like Lacy who didn't always feel safe.  She had secrets that no one could know about. So when she witnessed a meeting of the Unseen, which should be impossible for a human, her whole world was flipped upside down. And she found herself in the middle of two warring gangs. The Darkness, Tzel, and the Lightness, Liorah.
"If you believe anything you've heard here tonight, believe me when I say there is only one thing that should be feared in this city. And that is you."
Lacey stared at him a moment more, trying to process what that even meant before she shifted toward the door.
This book took some dark and twisty paths. Murdering their own wasn't given a second thought. And doing whatever it took to take out the enemy wasn't even blinked at.  With life and death situations commonplace, there was a slow burn romance that helped balance this book perfectly. As the story unfolded, we met characters that I have so many thoughts on. Here are a few….
How good would it feel to stop being the victim? To be the villain for once?
Jackoby was the definition of morally gray. I was traumatized from that torture scene eeps. Yet Jackoby also showed us moments of compassion and his heart. So I had questions about his past and what he wanted. I always felt like we got pieces of him, since he was so complex.
Becca was Lacy's friend, who helped her make interesting life choices. My feelings for her changed as we got to see more of who she was. But my lips are zipped about what those feelings are!
The housemates were a group of woman who loved and supported one another. I'm looking forward to getting to know each of them in the future books!
Finn was a book boyfriend many will fall for. I was always questioning what his thoughts were and desperately wanted to hear his voice. I loved watching him connect with Lacy, their relationship warmed my heart!
Finn glanced back at his cup, suddenly looking uncomfortable as a prickle of nervousness rose around him. "I thought they were the only family I needed in my life. And then I met you."
Lacey's eyes widened, and she felt her mouth gape open before jamming it shut.
There was a lot of world building in this story. I still don't have a firm grasp on it and Lacy's powers, but I'm hoping to in the future books. There was also lots of political intrigue for those who love that! So if you adore morally grey characters, dystopian worlds, slow burn romance, found family and the chosen one, you definitely need this book in your life! The storyline felt so unique and that ending left me excited for what is to come next!
There was no use in staying strong now. She would grieve. She would accept. And then she would get up. And she would keep going.
*I voluntarily read and reviewed an advanced copy of this book, provided by the author. All thoughts and opinions are my own.*
Related Posts