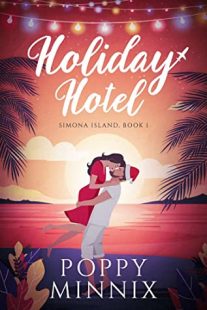 Holiday Hotel
(
Simona Island #1
)
by
Poppy Minnix
Purchase on:
Amazon
, 
iBooks
Add to:
Goodreads
Synopsis:

Sometimes, it takes a corset and an island getaway to bounce back from a disastrous breakup.

In the winter chill of New York City, Cozette Fay attempts to turn up the heat with a fun and sexy Ms. Claus roleplay. Unfortunately, her aloof boyfriend is more confused than aroused.

She says fa-la-la to her fizzled relationship and escapes to the tropics for Christmas where she meets Nico, a van-driving beach-hunk who secretly owns the hotel on private Simona Island. He upgrades her room, takes her on adventures, and can't seem to keep his eyes or his hands off of her despite claiming there's a non-fraternization policy.

It shouldn't matter that Nico won't share anything about himself outside of their tropical snow globe—she's there to reunite with herself, after all—but the closer they get, the more it seems he may be the Santa to her Mrs. Clause all year round.

Readers who enjoy Christmas with You from Tracy Alverez or The One Night Stand Before Christmas from Jana Aston would enjoy Holiday Hotel.
Review:
Holiday Hotel was a fun and flirty Christmas story!  With a beautiful island setting, fabulous characters and a story-line that was so easy to devour, this book was such a big hit!  If you're a fan of adult romance, then you definitely need to check this one out!
I shimmy out of my cover-up to get more comfortable, then lean back and moan as I sip the juice. "So good."
Ruth makes a dainty snort. "No wonder Nico is all aflutter."
I jerk my head in her direction. Nico is a-what?
Laughing, Ilaria gives a playful slap to Ruth's thigh.
Oh, so many things to say and not to say.
Cozette broke up with her boyfriend right before Christmas.  With her parents in Canada for the holidays and her childhood home currently being rented out, she desperately needed to escape and find some happiness.  When she told her travel agent to send her somewhere tropical, she went on an adventure that was so much more then she could have ever imagined.
I'm down to four days, three nights, two Christmas present ideas, and one hurricane in a palm tree. Enjoy the moment, Cozette.
 All it took was that first chapter to completely hook me!  I was addicted.  I loved that Cozette was determined, adventurous and took things as they came.  After her boyfriend turned her down in a Mrs Claus sexy outfit, I was so happy to see that she picked herself up and tried to make the best of it.  The story was told from her pov, and her attitude warmed my heart!  I also loved how she connected with others so easily.  The way she made others feel, like an instant friend, was a breath of fresh air!
The door clicks closed, and I blow out a long breath. O Christmas tree, am I in trouble with this one.
After arriving on the island, Cozette met Nico.  He was the man who drove her from the airport to her hotel.  And while there was instant attraction, Nico was so much more than meets the eye.  He secretly owned the hotel and had other secrets too, my lips are zipped.  I instantly liked him and loved learning that he was kind, generous, and thoughtful.  He truly had a heart of gold.  I also loved his laid back attitude and that he saw more then he should.
"Want me to stop?" he whispers, lips to my ear.
"No." I grin. "All is merry and right."
Nico and Cozette found themselves drawn to each other.  And while he stated there was a non-fraternizing policy and Cozette was leaving after the holidays, it didn't matter. What was between them couldn't be stopped.  Between snorkeling, having a hammock moment that melted my heart, Christmas cookie decorating, treasure hunting and so much more, you could see how right they were for one another.  And their steamy scenes together were so hot!
I map his shoulder blade with one hand and the curls at the nape of his neck with the other. "Merry Christmas, Nico."
Nico lifts his head and brushes his smiling lips over mine. "Merry Christmas, Cozi."
Holiday Hotel was a heartwarming Christmas story that was such a treat!  With side characters I adored so easily, my favorites were Ilaria and Ruth, this book played out like a movie.  And while many of the moments were fun and sexy, there was also an emotional moment or two.  One of them made me have tears in my eyes.  So if you're looking for an adult holiday book to devour that has a happily ever after, then definitely give this one a try!
*I voluntarily read and reviewed an advanced copy of this book, provided by the author. All thoughts and opinions are my own.*
Related Posts