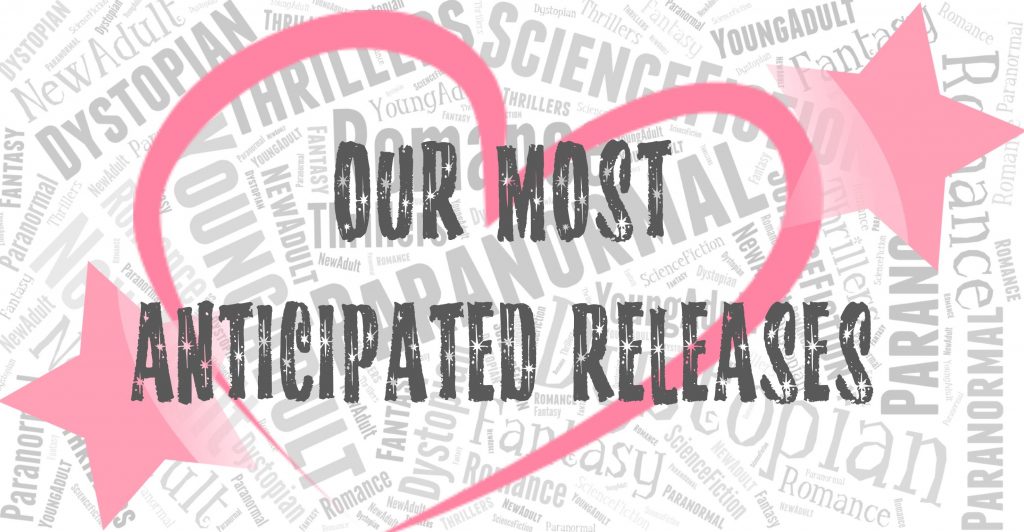 We love talking about books that we can't wait to read! And that includes the ones that haven't been released yet. So around the first day of every month, we'll share with you the books coming out that we're the most excited about. There's a link to Goodreads in case you want to add them to your tbr too! So here are the books we are counting down until they are released in January.
Releases 1/08 – The Wicked King (The Folk of the Air #2) by Holly Black
Goodreads ✩ Amazon ✩ Book Depository

The enchanting and bloodthirsty sequel to the New York Times bestselling novel The Cruel Prince. You must be strong enough to strike and strike and strike again without tiring. The first lesson is to make yourself strong. After the jaw-dropping revelation that Oak is the heir to Faerie, Jude must keep her younger brother safe. To do so, she has bound the wicked king, Cardan, to her, and made herself the power behind the throne. Navigating the constantly shifting political alliances of Faerie would be difficult enough if Cardan were easy to control. But he does everything in his power to humiliate and undermine her even as his fascination with her remains undiminished. When it becomes all too clear that someone close to Jude means to betray her, threatening her own life and the lives of everyone she loves, Jude must uncover the traitor and fight her own complicated feelings for Cardan to maintain control as a mortal in a Faerie world.
✩✮✩✮✩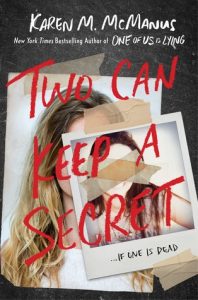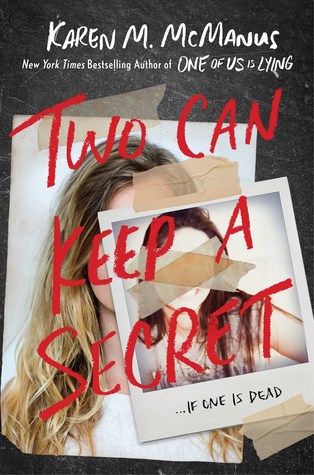 Releases 1/08 – Two Can Keep a Secret by Karen M. McManus
Goodreads ✩ Amazon ✩ Book Depository
Echo Ridge is small-town America. Ellery's never been there, but she's heard all about it. Her aunt went missing there at age seventeen. And only five years ago, a homecoming queen put the town on the map when she was killed. Now Ellery has to move there to live with a grandmother she barely knows.

The town is picture-perfect, but it's hiding secrets. And before school even begins for Ellery, someone has declared open season on homecoming, promising to make it as dangerous as it was five years ago. Then, almost as if to prove it, another girl goes missing.

Ellery knows all about secrets. Her mother has them; her grandmother does too. And the longer she's in Echo Ridge, the clearer it becomes that everyone there is hiding something. The thing is, secrets are dangerous–and most people aren't good at keeping them. Which is why in Echo Ridge, it's safest to keep your secrets to yourself.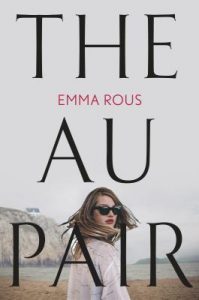 Releases 1/08 – The Au Pair by Emma Rous
Goodreads ✩ Amazon ✩ Book Depository
Seraphine Mayes and her twin brother, Danny, were born in the middle of summer at their family's estate on the Norfolk coast. Within hours of their birth, their mother threw herself from the cliffs, the au pair fled, and the village thrilled with whispers of dark cloaks, changelings, and the aloof couple who drew a young nanny into their inner circle.

Now an adult, Seraphine mourns the recent death of her father. While going through his belongings, she uncovers a family photograph that raises dangerous questions. It was taken on the day the twins were born, and in the photo, their mother, surrounded by her husband and her young son, is smiling serenely and holding just one baby.

Who is the child, and what really happened that day?
✩✮✩✮✩
Releases 1/08 – Slayer (Slayer #1) by Kiersten White
Goodreads ✩ Amazon ✩ Book Depository
From New York Times bestselling author Kiersten White comes a brand-new series set in the world of Buffy the Vampire Slayer that introduces a new Slayer as she grapples with the responsibility of managing her incredible powers that she's just beginning to understand.

Into every generation a Slayer is born…

Nina and her twin sister, Artemis, are far from normal. It's hard to be when you grow up at the Watcher's Academy, which is a bit different from your average boarding school. Here teens are trained as guides for Slayers—girls gifted with supernatural strength to fight the forces of darkness. But while Nina's mother is a prominent member of the Watcher's Council, Nina has never embraced the violent Watcher lifestyle. Instead she follows her instincts to heal, carving out a place for herself as the school medic.

Until the day Nina's life changes forever.

Thanks to Buffy, the famous (and infamous) Slayer that Nina's father died protecting, Nina is not only the newest Chosen One—she's the last Slayer, ever. Period.

As Nina hones her skills with her Watcher-in-training, Leo, there's plenty to keep her occupied: a monster fighting ring, a demon who eats happiness, a shadowy figure that keeps popping up in Nina's dreams…

But it's not until bodies start turning up that Nina's new powers will truly be tested—because someone she loves might be next.

One thing is clear: Being Chosen is easy. Making choices is hard.
✩✮✩✮✩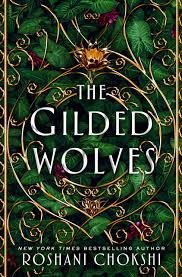 Releases 1/15 – The Gilded Wolves (The Gilded Wolves #1) by Roshani Chokshi
Goodreads ✩ Amazon ✩ Book Depository
From New York Times bestselling author Roshani Chokshi comes a novel set in Paris during a time of extraordinary change–one that is full of mystery, decadence, and dangerous desires…

No one believes in them. But soon no one will forget them.

It's 1889. The city is on the cusp of industry and power, and the Exposition Universelle has breathed new life into the streets and dredged up ancient secrets. Here, no one keeps tabs on dark truths better than treasure-hunter and wealthy hotelier Séverin Montagnet-Alarie. When the elite, ever-powerful Order of Babel coerces him to help them on a mission, Séverin is offered a treasure that he never imagined: his true inheritance.

To hunt down the ancient artifact the Order seeks, Séverin calls upon a band of unlikely experts: An engineer with a debt to pay. A historian banished from his home. A dancer with a sinister past. And a brother in arms if not blood.

Together, they will join Séverin as he explores the dark, glittering heart of Paris. What they find might change the course of history–but only if they can stay alive.
✩✮✩✮✩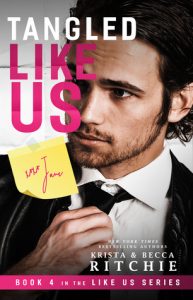 Releases 1/17 – Tangled Like Us (Like Us #4) by Krista Ritchie & Becca Ritchie
How to protect your heart:
Let your bodyguard have it.

Jane Cobalt is an American princess. The loyal and painfully curious twenty-three-year-old has inherited immense pressure to preserve the Cobalt legacy. But for Jane — sex, love, and life have been a series of royal failures.

After a friends-with-benefits ended in disaster, she's sworn to a "no sex" hiatus for, well, eternity — and she has no intention of letting anyone in her bed and definitely not her heart.

Twenty-eight-year-old Thatcher Moretti is painfully professional. As the stern 24/7 bodyguard to Jane, thinking about unbridled sex with his sweet client is a sin. One that he keeps committing.

But the real act is a hard line he'd never cross.

When a family member betrays Jane's trust, the media becomes obsessed with matchmaking the perpetually "single" Jane Cobalt and unwanted attention suddenly compromises her safety.

Thatcher would do anything to protect her, and one solution may level the threats:

Become the fake boyfriend to an American princess.

Entwined together with boiling chemistry, new "professional" parameters, and an oath, unsaid feelings threaten to rise and change everything.

​​The Like Us series is a true series, one continuous timeline, that follows a family of wealthy celebrities and the people that protect them.
✩✮✩✮✩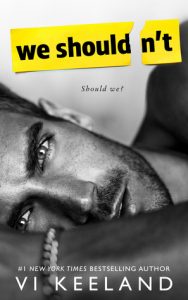 Releases 1/21 – We Shouldn't by Vi Keeland
From #1 New York Times Bestseller Vi Keeland, comes a new, sexy standalone novel.

Bennett Fox walked into my life on one hell of a crappy Monday morning.

I was late for the first day at my new job—a job I'd now have to compete for even though I'd already worked eight years to earn it, because of an unexpected merger.

While I lugged my belongings up to my new office, a meter maid wrote me a parking summons.

She'd ticketed a long line of cars—except for the Audi parked in front of me, which happened to be the same make and model as mine.

Annoyed, I decided to regift my ticket to the car that had evaded a fine.  Chances were, the owner would pay it and be none the wiser.

Except, I accidentally broke the windshield wiper while slipping the ticket onto the car's window.

Seriously, my day couldn't get any worse.

Things started to perk up when I ran into a gorgeous man in the elevator.  We had one of those brief moments that only happened in movies.

You know the deal…your body lights up, fireworks go off, and the air around you crackles with electricity.

His heated stare left me flush when I stepped off the elevator.

Maybe things here wouldn't be so bad after all.

Or so I thought.

Until I walked into my new boss's office and met my competition.

The gorgeous man from the elevator was now my nemesis. His heated stare wasn't because of any mutual attraction.  It was because he'd saw me vandalize his car. And now he couldn't wait to annihilate his rival.

There's a fine line between love and hate—and we shouldn't cross it.

 We shouldn't—but straddling that line could be so much fun.
✩✮✩✮✩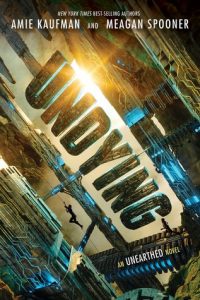 Releases 1/22 – Undying (Unearthed #2) by Amie Kaufman & Meagan Spooner
Goodreads ✩ Amazon ✩ Book Depository
Trapped aboard the Undying's ancient spaceship and reeling from what they've learned there, scavenger Mia and academic Jules are plunged into a desperate race to warn their home planet of the danger humanity's greed has unleashed. From the mountains of Spain to the streets of Prague, the sequel to Unearthed is a white-knuckle ride that will send readers hurtling back to earth, and leave them breathless until the last page.
✩✮✩✮✩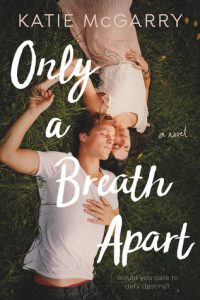 Releases 1/22 – Only a Breath Apart by Katie McGarry
Goodreads ✩ Amazon ✩ Book Depository
The Breakfast Club meets Guardians of the Galaxy in this YA sci-fi adventure by debut author M. K. England.

Hotshot pilot Nax Hall has a history of making poor life choices. So it's not exactly a surprise when he's kicked out of the elite Ellis Station Academy in less than twenty-four hours. But Nax's one-way trip back to Earth is cut short when a terrorist group attacks the Academy.

Nax and three other washouts escape—barely—but they're also the sole witnesses to the biggest crime in the history of space colonization. And the perfect scapegoats.

On the run, Nax and his fellow failures plan to pull off a dangerous heist to spread the truth. Because they may not be "Academy material," and they may not even get along, but they're the only ones left to step up and fight.

Full of high-stakes action, subversive humor, and underdogs becoming heroes, this YA sci-fi adventure is perfect for fans of Illuminae, Heart of Iron, or the cult classic TV show Firefly and is also a page-turning thrill ride that anyone—not just space nerds—can enjoy.
✩✮✩✮✩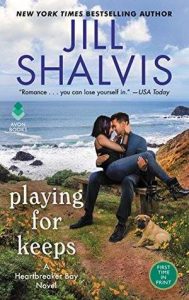 Releases 1/22 – Playing for Keeps (Heartbreaker Bay #7) by Jill Shalvis
Goodreads ✩ Amazon ✩ Book Depository
If you're planning on falling in love…

When it comes to the confident, charismatic Caleb Parker, Sadie Lane feels the spark—the kind that comes from rubbing each other the wrong way. She's yoga pants, he's a suit. She's a tattoo artist, he's a straight-laced mogul. But after they accidentally co-rescue an abandoned dog from a storm, Sadie sees a vulnerable side to the seemingly invincible hottie.

you'd better be sure…

Caleb doesn't do emotions. Growing up the underdog, he's learned the hard way to build up an impenetrable wall. Perfect for business. Disastrous for relationships. He's never worried about it before—not until he finally gets behind Sadie's armor and begins to fall.

… someone is there to catch you.

Both guarded and vulnerable, Sadie and Caleb are complete opposites. Or are they? Shocked at their undeniable connection, can they ever admit to wanting more? That all depends on what they're each willing to risk.
✩✮✩✮✩
Releases 1/22 – The Vanishing Stair (Truly Devious #2) by Maureen Johnson
Goodreads ✩ Amazon ✩ Book Depository
In New York Times bestselling author Maureen Johnson's second novel in the Truly Devious series, there are more twists and turns than Stevie Bell can imagine. No answer is given freely, and someone will pay for the truth with their life.

The Truly Devious case—an unsolved kidnapping and triple murder that rocked Ellingham Academy in 1936—has consumed Stevie for years. It's the very reason she came to the academy. But then her classmate was murdered, and her parents quickly pull her out of school. For her safety, they say. She must move past this obsession with crime.

Stevie's willing to do anything to get back to Ellingham, be back with her friends, and solve the Truly Devious case. Even if it means making a deal with the despicable Senator Edward King. And when Stevie finally returns, she also returns to David: the guy she kissed, and the guy who lied about his identity—Edward King's son.

But larger issues are at play. Where did the murderer hide? What's the meaning of the riddle Albert Ellingham left behind? And what, exactly, is at stake in the Truly Devious affair? The Ellingham case isn't just a piece of history—it's a live wire into the present.
✩✮✩✮✩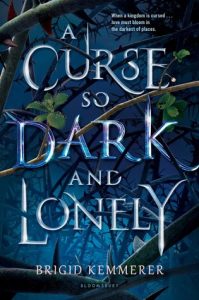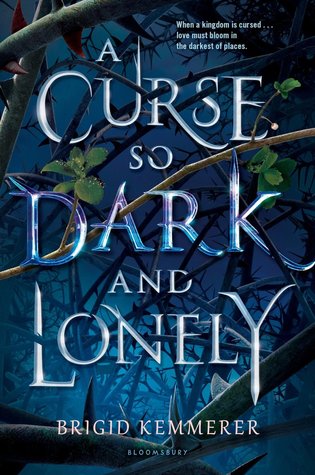 Releases 1/29 – A Curse So Dark and Lonely by Brigid Kemmerer
Goodreads ✩ Amazon ✩ Book Depository ✩ Chelsea's Review ✩ Arielle's Review

In a lush, contemporary fantasy retelling of Beauty and the Beast, Brigid Kemmerer gives readers another compulsively readable romance perfect for fans of Marissa Meyer.

Fall in love, break the curse.

It once seemed so easy to Prince Rhen, the heir to Emberfall. Cursed by a powerful enchantress to repeat the autumn of his eighteenth year over and over, he knew he could be saved if a girl fell for him. But that was before he learned that at the end of each autumn, he would turn into a vicious beast hell-bent on destruction. That was before he destroyed his castle, his family, and every last shred of hope.

Nothing has ever been easy for Harper. With her father long gone, her mother dying, and her brother barely holding their family together while constantly underestimating her because of her cerebral palsy, she learned to be tough enough to survive. But when she tries to save someone else on the streets of Washington, DC, she's instead somehow sucked into Rhen's cursed world.

Break the curse, save the kingdom.

A prince? A monster? A curse? Harper doesn't know where she is or what to believe. But as she spends time with Rhen in this enchanted land, she begins to understand what's at stake. And as Rhen realizes Harper is not just another girl to charm, his hope comes flooding back. But powerful forces are standing against Emberfall . . . and it will take more than a broken curse to save Harper, Rhen, and his people from utter ruin.
✩✮✩✮✩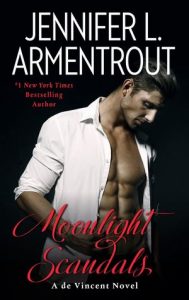 Releases 1/29 – Moonlight Scandals (de Vincent #3) by Jennifer L. Armentrout
Goodreads ✩ Amazon ✩ Book Depository
It takes a fearless woman to love the most scandalous man alive in New York Times Bestselling Author Jennifer L. Armentrout's breathtaking novel

Even a ghost hunter like Rosie Herpin couldn't have foreseen the fateful meeting between two mourners that has brought her so intimately close to the notorious and seductive Devlin de Vincent. Everyone in New Orleans knows he's heir to a dark family curse that both frightens and enthralls. To the locals, Devlin is the devil. To Rosie, he's a man who's stoking her wildest fantasies. When a brutal attack on her friend is linked to the de Vincents, he becomes a mystery she may be risking her life to solve. 

Devlin knows what he wants from this sexy and adventurous woman. But what does Rosie want from him? It's a question that becomes more pressing—and more dangerous—when he suspects her of prying into the shadows of his past. 

Now, the legends surrounding the de Vincents may not be myths at all. But if she's to discover the truth, she must follow them straight into the arms of the man she can't resist—the handsome devil himself.
✩✮✩✮✩
Releases 1/29 – King of Scars (Nikolai Duology #1) by Leigh Bardugo
Goodreads ✩ Amazon ✩ Book Depository
Face your demons…or feed them.

Nikolai Lantsov has always had a gift for the impossible. No one knows what he endured in his country's bloody civil war―and he intends to keep it that way. Now, as enemies gather at his weakened borders, the young king must find a way to refill Ravka's coffers, forge new alliances, and stop a rising threat to the once-great Grisha Army.

Yet with every day a dark magic within him grows stronger, threatening to destroy all he has built. With the help of a young monk and a legendary Grisha Squaller, Nikolai will journey to the places in Ravka where the deepest magic survives to vanquish the terrible legacy inside him. He will risk everything to save his country and himself. But some secrets aren't meant to stay buried―and some wounds aren't meant to heal.

Enter the Grishaverse with this new novel from #1 New York Times-bestselling author Leigh Bardugo.
✩✮✩✮✩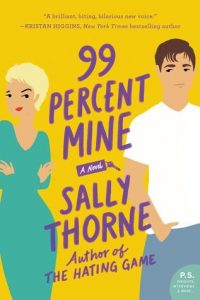 Releases 1/29 – 99 Percent Mine by Sally Thorne
Goodreads ✩ Amazon ✩ Book Depository ✩ Group Review

Crush (n.): a strong and often short-lived infatuation, particularly for someone beyond your reach…

Darcy Barrett has undertaken a global survey of men. She's travelled the world, and can categorically say that no one measures up to Tom Valeska, whose only flaw is that Darcy's twin brother Jamie saw him first and claimed him forever as his best friend. Despite Darcy's best efforts, Tom's off limits and loyal to her brother, 99%. That's the problem with finding her dream man at age eight and peaking in her photography career at age twenty—ever since, she's had to learn to settle for good enough.

When Darcy and Jamie inherit a tumble-down cottage from their grandmother, they're left with strict instructions to bring it back to its former glory and sell the property. Darcy plans to be in an aisle seat halfway across the ocean as soon as the renovations start, but before she can cut and run, she finds a familiar face on her porch: house-flipper extraordinaire Tom's arrived, he's bearing power tools, and he's single for the first time in almost a decade.

Suddenly Darcy's considering sticking around to make sure her twin doesn't ruin the cottage's inherent magic with his penchant for grey and chrome. She's definitely not staying because of her new business partner's tight t-shirts, or that perfect face that's inspiring her to pick up her camera again. Soon sparks are flying—and it's not the faulty wiring. It turns out one percent of Tom's heart might not be enough for Darcy anymore. This time around, she's switching things up. She's going to make Tom Valeska 99 percent hers.

This next hilarious romance includes a special PS section with two Happily Ever Afters—one for this novel featuring Darcy and Tom and the other, an epilogue featuring fan favorites Lucy Hutton and Josh Templeman from The Hating Game!
✩✮✩✮✩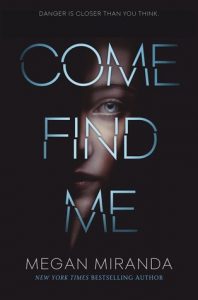 Releases 1/29 – Come Find Me by Megan Miranda
Goodreads ✩ Amazon ✩ Book Depository
From the New York Times bestselling author of All the Missing Girls and The Perfect Stranger comes a captivating thriller about two teens who connect when each discovers a mysterious radio frequency, which suggests their family tragedies are mysteriously connected.

After surviving an infamous family tragedy, sixteen-year-old Kennedy Jones has made it her mission to keep her brother's search through the cosmos alive. But then something disturbs the frequency on his radio telescope–a pattern registering where no signal should transmit.

In a neighboring county, seventeen-year-old Nolan Chandler is determined to find out what really happened to his brother, who disappeared the day after Nolan had an eerie premonition. There hasn't been a single lead for two years, until Nolan picks up an odd signal–a pattern coming from his brother's bedroom.

Drawn together by these strange signals–and their family tragedies–Kennedy and Nolan search for the origin of the mysterious frequency. But the more they uncover, the more they believe that everything's connected–even their pasts–as it appears the signal is meant for them alone, sharing a message that only they can understand. Is something coming for them? Or is the frequency warning them about something that's already here?
So these are the books we can't wait to be released this month! Are you excited about any of these releases too? Or is there a book we missed that we should definitely check out? Let us know. ♥