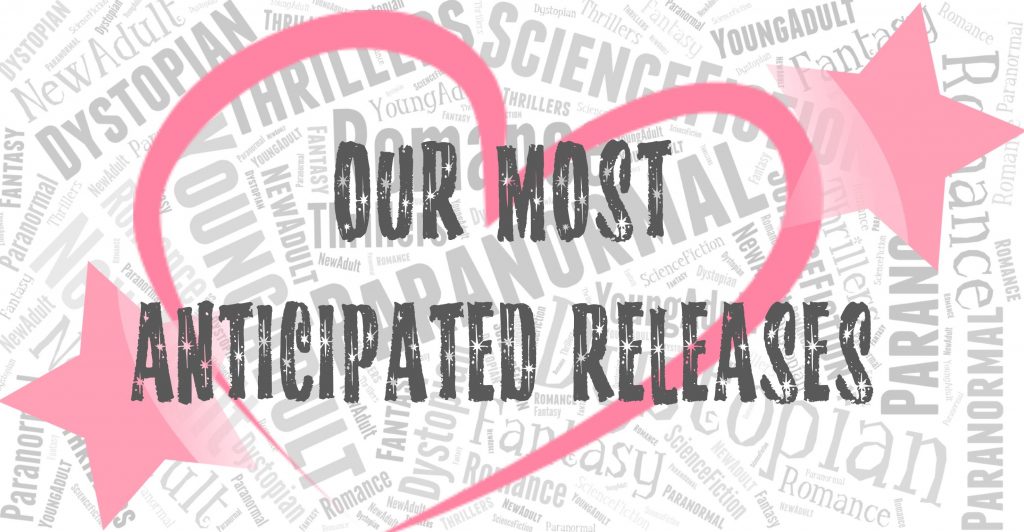 We love talking about books that we can't wait to read! And that includes the ones that haven't been released yet. So around the first day of every month, we'll share with you the books coming out that we're the most excited about. There's a link to Goodreads in case you want to add them to your tbr too! So here are the books we are counting down until they are released in March.
Releases 3/05 – A Question of Holmes (Charlotte Holmes #4) by Brittany Cavallaro
Goodreads ✩ Amazon ✩ Book Depository

In the explosive conclusion to the New York Times bestselling Charlotte Holmes series, Holmes and Watson think they're finally in the clear after graduating from Sherringford…but danger awaits in the hallowed halls of Oxford.

Charlotte Holmes and Jamie Watson finally have a chance to start over. With all the freedom their pre-college summer program provides and no one on their tail, the only mystery they need to solve, once and for all, is what they are to each other.  

But upon their arrival at Oxford, Charlotte is immediately drawn into a new case: a series of accidents befell the theater program at Oxford last year, culminating in a young woman going missing on the night of a major performance.

The mystery has gone unsolved; the case is cold. And no one—least of all the girl's peculiar, close-knit group of friends—is talking.

When Watson and Holmes join the theater program, the "accidents" start anew, giving them no choice but to throw themselves into the case. But as the complicated lines of friendship, love, and loyalty blur, time is running out—and tragedy waits in the wings.
✩✮✩✮✩
Releases 3/05 – You Owe Me a Murder by Eileen Cook
Goodreads ✩ Amazon ✩ Book Depository
Seventeen-year-old Kim gets more than she bargained for when she is set up for murder. Perfect for fans of One of Us is Lying, E. Lockhart, and Gillian Flynn.

17-year-old Kim never expected to plot a murder. But that was before her boyfriend dumped her for another girl. Now, Kim's stuck on a class trip to London with him and his new soulmate and she can't help wishing he was a little bit dead, even if she'd never really do that.
 
But when Kim meets Nicki, a stranger on the plane who's more than willing to listen to Kim's woes, things start to look up. Nicki's got a great sense of humor, and when she jokes about swapping murders, Kim plays along—that is, until Kim's ex-boyfriend mysteriously dies.
 
Blackmailed by Nicki to fulfill her end of the deal, Kim will have to commit a murder or take the fall for one.
Releases 3/12 – Bloodleaf (Bloodleaf #1) by Crystal Smith
Goodreads ✩ Amazon ✩ Book Depository
Princess Aurelia is a prisoner to her crown and the heir that nobody wants. Surrounded by spirits and banned from using her blood-magic, Aurelia flees her country after a devastating assassination attempt. To escape her fate, Aurelia disguises herself as a commoner in a new land and discovers a happiness her crown has never allowed. As she forges new bonds and perfects her magic, she begins to fall for a man who is forbidden to rule beside her. But the ghosts that haunt Aurelia refuse to abandon her, and she finds herself succumbing to their call as they expose a nefarious plot that only she can defeat. Will she be forced to choose between the weight of the crown and the freedom of her new life?
✩✮✩✮✩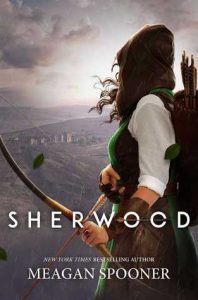 Releases 3/15 – Sherwood by Meagan Spooner
Goodreads ✩ Amazon ✩ Book Depository
Robin of Locksley is dead.

Maid Marian doesn't know how she'll go on, but the people of Locksley town, persecuted by the Sheriff of Nottingham, need a protector. And the dreadful Guy of Gisborne, the Sheriff's right hand, wishes to step into Robin's shoes as Lord of Locksley and Marian's fiancé.

Who is there to stop them?

Marian never meant to tread in Robin's footsteps—never intended to stand as a beacon of hope to those awaiting his triumphant return. But with a sweep of his green cloak and the flash of her sword, Marian makes the choice to become her own hero: Robin Hood.
✩✮✩✮✩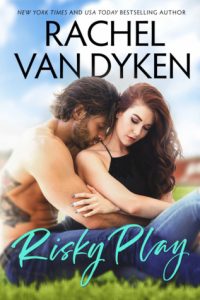 Releases 3/19 – Risky Play (Red Card #1) by Rachel Van Dyken
Goodreads ✩ Amazon ✩ Book Depository
Even one-night stands deserve a second chance in New York Times bestselling author Rachel Van Dyken's novel of sporting desire.

What else can a virgin do when she's ditched at the altar? Seattle heiress Mackenzie Dupont is treating herself to a single-girl honeymoon in Mexico and a desire to relinquish her innocence to a gorgeous one-night stand. Fake names. True pleasure. But when she wakes up alone, Mackenzie realizes just how much anger is left in her broken heart.

Suffering a tragic personal loss, pro soccer player Slade Rodriguez has his reasons for vanishing without a goodbye. Right or wrong, he's blaming the beautiful and infuriating stranger he never wants to see again. They're both in for a shock when Mackenzie shows up as his new personal assistant. And they both have a lot to learn about each other. Because they share more than they could possibly know, including a common enemy who's playing his own games. And he's not afraid to get dirty.

Now there's only one way Mackenzie and Slade can win: to trust in each other and to stop hiding from the lies they've told, the secrets they've kept, the mistakes they've made, and the attraction that still burns between them.
✩✮✩✮✩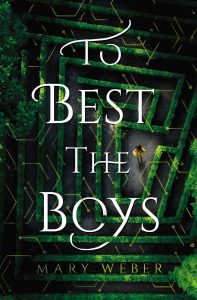 Releases 3/19 – To Best the Boys by Mary Weber
Goodreads ✩ Amazon ✩ Book Depository
The task is simple:

Don a disguise.

Survive the labyrinth.

Best the boys.

In a thrilling new fantasy from the bestselling author of the Storm Siren Trilogy, one girl makes a stand against society and enters a world made exclusively for boys.

Every year for the past fifty-four years, the residents of Pinsbury Port have received a mysterious letter inviting all eligible-aged boys to compete for an esteemed scholarship to the all-male Stemwick University. The poorer residents look to see if their names are on the list. The wealthier look to see how likely their sons are to survive. And Rhen Tellur opens it to see if she can derive which substances the ink and parchment are created from, using her father's microscope.

In the province of Caldon, where women train in wifely duties and men pursue collegiate education, sixteen-year-old Rhen Tellur wants nothing more than to become a scientist. As the poor of her seaside town fall prey to a deadly disease, she and her father work desperately to find a cure. But when her mum succumbs to it as well? Rhen decides to take the future into her own hands—through the annual all-male scholarship competition.

With her cousin, Seleni, by her side, the girls don disguises and enter Mr. Holm's labyrinth, to best the boys and claim the scholarship prize. Except not everyone is ready for a girl who doesn't know her place. And not everyone survives the deadly maze.

Welcome to the labyrinth.
✩✮✩✮✩
Releases 3/19 – Girls with Sharp Sticks by Suzanne Young
Goodreads ✩ Amazon ✩ Book Depository

Some of the prettiest flowers have the sharpest thorns.

The Girls of Innovations Academy are beautiful and well-behaved—it says so on their report cards. Under the watchful gaze of their Guardian, they receive a well-rounded education that promises to make them better. Obedient girls, free from arrogance or defiance. Free from troublesome opinions or individual interests.

But the girls' carefully controlled existence may not be quite as it appears. As Mena and her friends uncover the dark secrets of what's actually happening there—and who they really are—the girls of Innovations Academy will learn to fight back.

Bringing the trademark plot twists and high-octane drama that made The Program a bestselling and award-winning series, Suzanne Young launches a new series that confronts some of today's most pressing ethical questions.
✩✮✩✮✩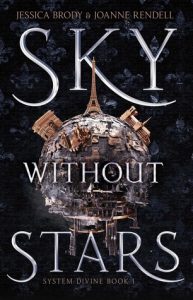 Releases 3/26 – Sky Without Stars (System Divine #1) by Jessica Brody & Joanne Rendell
Goodreads ✩ Amazon ✩ Book Depository
A thief.
An officer.
A guardian.

Three strangers, one shared destiny…

When the Last Days came, the planet of Laterre promised hope. A new life for a wealthy French family and their descendants. But five hundred years later, it's now a place where an extravagant elite class reigns supreme; where the clouds hide the stars and the poor starve in the streets; where a rebel group, long thought dead, is resurfacing.

Whispers of revolution have begun—a revolution that hinges on three unlikely heroes…

Chatine is a street-savvy thief who will do anything to escape the brutal Regime, including spy on Marcellus, the grandson of the most powerful man on the planet.

Marcellus is an officer—and the son of a renowned traitor. In training to take command of the military, Marcellus begins to doubt the government he's vowed to serve when his father dies and leaves behind a cryptic message that only one person can read: a girl named Alouette.

Alouette is living in an underground refuge, where she guards and protects the last surviving library on the planet. But a shocking murder will bring Alouette to the surface for the first time in twelve years…and plunge Laterre into chaos.

All three have a role to play in a dangerous game of revolution—and together they will shape the future of a planet.

Power, romance, and destiny collide in this sweeping reimagining of Victor Hugo's masterpiece, Les Misérables.
So these are the books we can't wait to be released this month! Are you excited about any of these releases too? Or is there a book we missed that we should definitely check out? Let us know. ♥
Related Posts