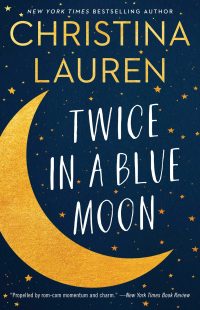 Twice in a Blue Moon
by
Christina Lauren
Purchase on:
Amazon
, 
iBooks
Add to:
Goodreads
Synopsis:

Sam Brandis was Tate Jones's first: Her first love. Her first everything. Including her first heartbreak.

During a whirlwind two-week vacation abroad, Sam and Tate fell for each other in only the way that first loves do: sharing all of their hopes, dreams, and deepest secrets along the way. Sam was the first, and only, person that Tate—the long-lost daughter of one of the world's biggest film stars—ever revealed her identity to. So when it became clear her trust was misplaced, her world shattered for good.

Fourteen years later, Tate, now an up-and-coming actress, only thinks about her first love every once in a blue moon. When she steps onto the set of her first big break, he's the last person she expects to see. Yet here Sam is, the same charming, confident man she knew, but even more alluring than she remembered. Forced to confront the man who betrayed her, Tate must ask herself if it's possible to do the wrong thing for the right reason… and whether "once in a lifetime" can come around twice.
Review:
Twice in a Blue Moon was an enchanting tale of second chances. With beautiful scenery, characters that were easy to love and a story-line that was hard to put down, this story was so much fun! The only thing it was missing was either an epilogue or a few more chapters. Things moved pretty fast towards the end of this story, and I desperately needed to have more. That's the only thing that prevented this from being 5 Stars.
Sam kissed me one more time and then hesitated. His cheeks flushed just before he admitted, "I think I'm falling in love with you. Is that crazy?"
Biting my lips was the only way to hold in my elated scream. Finally, I managed, "No. It isn't crazy. Because, me too."
Tate met Sam when they were both vacationing in Europe with their grandparents. I loved Sam and his grandpa right away! They were warm, kind and they felt like people you had known your whole life. I loved watching how Tate and Sam easily formed their friendship. They bonded over their similarities, like not being able to do things in life that were their passion. And it wasn't long before they would confess everything to each other. And when there were touches, kisses and watching what felt like first love unfold, it was butterfly inducing! Their moments together in London felt magical. And I was excited for what could be when they got back to the states, even though there was so much distance between them. The first 100 plus pages of this story, I fell in love with them. Only to have the rug pulled beneath Tate and the readers' feet. She was betrayed, and her life would never be the same.
It was only two weeks of my life, a long time ago, but I loved him. I remember the feeling; it's still the only time I've ever felt it.
Tate was the daughter of one of the most famous actors and her identity had been given away. Her life had been a whirlwind since she got back from London. Now she was an actress, and was to be the star of a movie that was supposed to skyrocket her career even further. The script was beautiful, the role was life changing and there was something about the storyline that spoke to her. Yet when Tate arrived on set in Northern California, north of where she grew up, Sam was there. All of her feelings rushed back to her. Consuming her. And threatened the potential for her to nail this job. It was impossible not to be nervous with Sam and Tate around each other again. I didn't know where they could go. But I was secretly hoping they could fix what destroyed them in the past. Or at least get answers so Tate could move on.
Charlie steps in front of me, blocking my view. I am so busted. "Why are we staring at Satan?"
"I wasn't."
"You were. Are you feeling nice things, Tate Jones?"
"I wasn't— I just…" I lean to the side to peek again. "Is he crying?"
She doesn't even turn around. "We don't care if it cries. We aren't even sure it has feelings, remember?"
"I remember," I say dutifully, straightening and grinning at her.
I loved Tate! She could be so black and white, and harsh. But it made sense, her whole life had been taken away from her. She wasn't able to hide anymore. So I got her anger and hurt towards Sam. I got her nerves over whether this would affect her ability to work. She never seemed to have solid footing. Especially with Sam back in the picture. And Sam? Well, I had already fallen in love with him when he was 21. And as an adult, I desperately wanted to watch him redeem himself. For there to be such a solid answer for why he did what he did. Or that we put the clues together wrong. So anytime he was around Sam, it was hard to ignore the electricity between them. What they had built in a few weeks couldn't be ignored all of these years later. So I struggled with my feelings right along with Tate.
I shove him once and he stumbles back, landing against the side of the truck. My hands come to the front of his shirt, pulling the cotton into my fists, and I want to tear it off, dig my hands into the skin underneath and pull his heart free.
The other characters filled in the story perfectly. Tate's dad, sigh. Even though I didn't like him, it got to the point where it was impossible to separate my feelings from Tate. When she wanted to find that connection with her dad, I wanted that for her too. Probably my favorite side character was Charlie, her best friend. I adored her! Ohhh and Nick her co-worker and main lead in the movie. He helped Tate so much, he was impossible not to love! I wish he got his own story. And the setting felt like its own character. I grew up not that far from where parts of this story took place. So hearing about Guerneville, where I went to camp and drove through countless times, to The Coddingtown Mall I would frequent with friends and my mom, to even the area the movie was north of Point Arena, wow that one knocked the wind out of me because that area holds such a special place from my late teens to early 20s. So this story was so vivid! I felt like I was walking back through those locations and it made my heart so happy!
"Can you believe me, though?" he asks quietly. "That the worst thing I ever did was for the best reason I ever had?"
I loved how we not only got first love in a NA setting, but an Adult second chance romance too. It was very similar in that vein to Love and Other Words, which is one of my favorite books by them! So if you're wanting a romance story that will make you fall in love. Have characters that are so easy to click with. And a storyline that makes it so easy to binge, definitely add this one to your tbr. Just make sure you're okay with not getting a peak into the future, because that was my only hang-up!
Related Posts