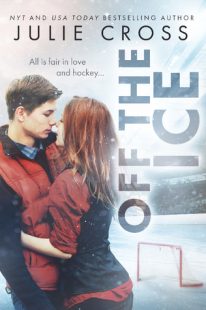 Off the Ice
(
Juniper Falls #1
)
by
Julie Cross
Purchase on:
Amazon
, 
iBooks
Add to:
Goodreads
Synopsis:

All is fair in love and hockey…

Claire O'Connor is back in Juniper Falls, but that doesn't mean she wants to be. One semester off, that's what she promised herself. Just long enough to take care of her father and keep the family business—a hockey bar beside the ice rink—afloat. After that, she's getting the hell out. Again.

Enter Tate Tanley. What happened between them the night before she left town resurfaces the second they lay eyes on each other. But the guy she remembers has been replaced by a total hottie. When Tate is unexpectedly called in to take over for the hockey team's star goalie, suddenly he's in the spotlight and on his way to becoming just another egotistical varsity hockey player. And Claire's sworn off Juniper Falls hockey players for good.

It's the absolute worst time to fall in love.

For Tate and Claire, hockey isn't just a game. And they both might not survive a body check to the heart.
Review:
Off the Ice was my first book from Julie Cross and I was completely enraptured.  I loved how it was sweet and adorable, while also being deep and emotional.  It was the best of both worlds.  So if you're a fan of young adult, or sports romances, then definitely check this one out.  I'm so glad I did!
All the threads of my life, my future, have changed or been pulled away from me, but this… This bridge between Tate and me somehow emerged in the midst of everything falling apart.
I knew that I was going to like this book, just from the prologue.  We got taken back in time, right before Claire O'Connor left for college.  We watched Claire hang out with her friend Jody at a party. And even Jody's younger brother, Tate Tanley, was there.  It was such a normal, relatable scene and I loved how comfortable they all were with each other. You could tell they had been friends since they were kids.  But what felt like a cute YA romance, quickly took a turn into something so much more.  Watching Tate deal with his drunken dad pulled on my heart.  And that one night ended up connecting Claire and Tate in a way neither one of them saw coming.  After that we jumped ahead one year, and I was shocked by how much their lives had changed.
I used to think all of this wasn't real and Juniper Falls was just my life before it got real. Now everything I wanted before, it's all just unicorns. Shiny, gratuitous unicorns. – Claire
I absolutely adored Claire.  While she had been deemed as different than her classmates, she was always sweet and endearing in my eyes.  Plus she had this innocence to her that made me want to protect her from the world. Especially when her father got cancer.  Claire ended up pausing her college career and coming back home. She wanted to help take care of her family and their business.  Watching Claire with her dad broke my heart. Cancer is such a horrific disease and it was portrayed in such an accurate manner.  We saw how it affected  Claire and her whole family.  Nothing was glossed over and it was extremely emotional.
"I hate him. I hate him so much it makes me hate myself." He whispers the words with his eyes still closed, like it's wrong for him to say them but yet he needs to.
While Claire's world changed, Tate's did too in an entirely different way.  Tate ended up becoming the school's starting hockey goalie a year earlier than he planned.  But it felt like the weight of the world was on his shoulders. I never realized how intense hockey games were and I caught myself holding my breath.  But Tate's life wasn't just about winning and losing games. His dad was always in the background. While his dad was seen as the town's hockey hero, to Tate he was a mean and manipulative drunk.  My heart hurt for Tate. Tate was one of the good guys who deserved his HEA!  He was sexy, took control and I loved how he easily made others feel safe, loved and secure.  Sigh.
I don't know why I thought this would be hard. It's not. But it's not easy, either.
It's…inevitable.
How long have we been walking toward this very moment without knowing? Years, I bet.
While they were both drowning in their own worlds, Tate and Claire kept running into each other.  And while they had a familiar friendship that spanned years, there was also something else there. Butterflies, flirting, stolen looks and touches kept happening.  And we watched as they found solace in each other.  They had no problem talking about the hardships in their lives and being honest with each other.  They had a true and beautiful friendship. But they were friends and he was her friend's younger brother.  Nothing should happen between them. Right?
Something twists inside my chest. My own heart is breaking. No, it's gluing back together. It's doing both. I don't know…
I just know that I got my wish. I got the kiss I've been dreaming about for years.
As we alternated between Claire and Tate and I found myself with tears in my eyes.  For Claire's heartfelt and also gut wrenching moments with her dad. To Tate and Claire being completely honest with each other.  This book was extremely emotional. But there was also sweet moments like watching Tate's relationship with his stepfather unfold.  Plus I loved when Tate spent time with his friends, Leo and Jamie. I could easily read a book about each of them! So yes, I definitely recommend this book!  It was filled with life lessons of going after what you want, forming relationships and having faith in yourself.  I absolutely adored Off the Ice and I'm definitely looking forward to picking up the next book in this series!