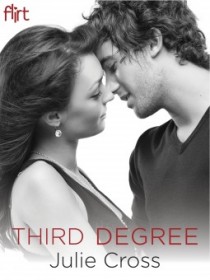 Third Degree
by
Julie Cross
Purchase on:
Amazon
, 
iBooks
Add to:
Goodreads
Synopsis:

I used to be "Isabel Jenkins, child prodigy." As lame as that sounds, at least it was an identity. But now I'm not sure what I am. I just failed the most important exam of my life—the emotional readiness test required to get into a medical residency program—and it turns out my parents can't stand each other. Now I'm trying to figure out how to pick up the pieces of my life, and that means re-enrolling as a college freshman, but this time I'm shutting the books and majoring in being eighteen.

But so far, my roommate hates me and I'm not into the party scene. The only good thing about school has been getting to know my insanely hot RA. Marshall Collins makes me wonder about everything I missed while I was growing up too fast. Pretty soon we're hanging out constantly, but for the first time, I find myself wanting more than a no-strings-attached physical relationship. And the lesson I really need is one Marsh definitely can't teach me: love. Because I'm going to be alone forever if I don't learn fast.
Don't you hate when you think you found a book you might love and you end being disappointed?
I'm not going to lie : I loathe that – It makes me feel like I'm cheap somehow, you know? I don't even know how to talk about this book because I can't help but get the impression I read two books. Indeed what I can say about the first half wouldn't be accurate for the second part and vice versa. Whatever. I'll do what I can.
The beginning was great. Unexpectedly excellent. Isabel Izzie's voice was oddly refreshing, as she doesn't know how to interact with people and always prevents herself from being personally involved with what others might feel. In other words, she overanalyzes everything she hears and always manages to counteract other expectations – others being her coworkers at the hospital (yes, because she's kind of a genius, did I say that?), her family, her one night stands… Well. Everyone. Now that I think about it, she could totally be part of Doctor House's Team. First because she has a gift for finding diseases diagnostics and then because well… You know that cold chick who always gives medical related answers? That's her. After she failed at a psychological test, she ends in college in order to "try to blend and experience a twenty-something life".
@IsabelJenkinsMD: If you woke up this morning with a sore throat, it's not because you slept with wet hair. #StupidMyths #IgnoreGrandma
Arrives Marshall, her RA – and even if he's part of the picture relatively early in the story, we can't talk about insta-love here. Insta-attraction, maybe, but nothing annoying or make-me-cringe material. First because being his RA, he's not allowed to start a relationship with her and secondly because as a former student of her mother, he knows who she is. Ahem. That is to say : he knows how weird she can be and decides to start a let's stop freaking out people project. I heard the plot is similar to The Rosie Project, which I haven't read but which deals with a character who shares the same inability to communicate with others.
" I haven't really been exposed to an environment where a large pool of males would see me as a potential – "
" Don't finish that sentence." Marshall holds his hands up in front of him. " There's no way it can end well. And you make it sound like you're an alien or something."
Izzie's behavior is all kind of messed-up sometimes but man that was hilarious. Example? She caught DNA samples of her roommate's one-night-stand (you don't want to know how) because she thought he might have syphilis. Yes, she so did that.
I loved that part. The conversations between Marshall and Izzie? Awesomesauce. The way he tries to help her blend without never rejecting her for what she truly is? Freakin cute and adorable. Loved, loved that.
No girl-hate. No insta-love. No love-triangle. Funny characters. If the books ended here, I would have given it 4 stars. But the second part just didn't work for me. At all. *sigh* Let's try to explain why, shall we?
That's something I often feel with NA and this one wasn't exception to the rule : in my opinion, they're too long. That's not a question or number of pages, really, because Third Degree barely exceed 270 pages or so. No, what bothers me is the fact I'm always feeling the author needs to add useless drama at some point in order to make the book longer. I don't know if I'm making any sense, but what I'm trying to say is this : In the second half I got the impression I wasn't reading the same book – I didn't even recognize the characters and the change was confusing. Like we could stop the story but oh. f*ck. there are pages left so we have to put with something else. Like it was stretched out. Excessively stretched out. I'm not saying the twist isn't realistic. It can be. But I didn't like it. That's all.
So here I am, trying to gather my thoughts – and unfortunately the ultimate feeling I get is disappointment. What a bummer. I'm not saying the book is bad though, because from what I've read in NA, it stays in the good stuff as it doesn't contain all the things I hate in that kind of books sometimes.
That's why even if my rating leans toward a 2.5, I rounded up at 3. In the middle of all these annoying heroines Izzie stays f*cking great.
Related Posts