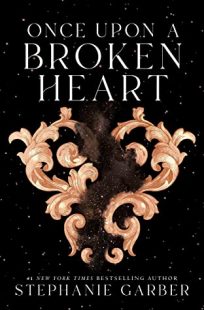 Once Upon a Broken Heart (Once Upon a Broken Heart
(
Once Upon a Broken Heart #1
)
by
Stephanie Garber
Purchase on:
Amazon
, 
iBooks
, 
Book Depository
Add to:
Goodreads
Synopsis:

Once Upon a Broken Heart marks the launch of a new series from beloved author Stephanie Garber about love, curses, and the lengths that people will go to for happily ever after

For as long as she can remember, Evangeline Fox has believed in true love and happy endings…until she learns that the love of her life will marry another.

Desperate to stop the wedding and to heal her wounded heart, Evangeline strikes a deal with the charismatic, but wicked, Prince of Hearts. In exchange for his help, he asks for three kisses, to be given at the time and place of his choosing.

But after Evangeline's first promised kiss, she learns that bargaining with an immortal is a dangerous game ― and that the Prince of Hearts wants far more from her than she'd pledged. He has plans for Evangeline, plans that will either end in the greatest happily ever after, or the most exquisite tragedy...
Review:
Once Upon a Broken Heart was a magically, unique story.  The world was phenomenal and came alive from the pages.  Everything captured your attention and you were left not sure what was true or not.  Yet it was all beautiful and breathtaking.  I would love to live in this world! The characters completely fascinated me and I fell in love.  But beware because darkness was hidden here and there, but it didn't even matter because this story will creep up on you and own every part of you!
"I believe there are far more possibilities than happily ever after or tragedy. Every story has the potential for infinite endings."
That first chapter pulled me in.  I loved Evangeline Fox and her broken heart.  She thought her true love was cursed and she would do anything to stop the wedding. He was marrying her step sister and it was breaking her heart.  Beyond desperate, Evangeline went to the chapel of the Prince of Hearts.  Jacks.  She made a deal with a Fate to stop the wedding.  Yet the outcome and everything afterwards was nothing Evangeline could ever fathom.  And it set her on a path she didn't even realize she couldn't control.
He gave her a real smile, revealing a pair of dimples that briefly made him look more angel than devil. But she imagined even angels would need to beware of him. She could picture him flashing those deceptive dimples as he tricked an angel into losing its wings just so he could play with the feathers.
Evangeline was someone I instantly liked!  Her shattered heart reached out to me and I felt her pain.  And as we watched her, I loved her tenacity, her strength and her ability to see the goodness in others.  Her heart was pure and she always tried her best.  But most of all, I loved her cleverness.  I wanted Evangeline to find happiness.  Especially since she felt so alone.  After making the deal with Jacks, I was beyond curious where it would lead Evangeline!
"Do you stare at everyone like that, or just me?" Jacks looked up. Vivid blue eyes met hers.
It shouldn't have made her blood rush the way that it did.
Jacks was hilarious without even trying.  His humor gripped me and I laughed at the most inappropriate times.  It made me fall for him even harder.  Yet Jacks was someone I'm still trying to understand.  Yes he had his goals.  He seemed to know what he wanted.  But I would catch glimmers of hope and moments where Evangeline would make him pause.  He didn't seem to expect much from his future, but it felt like Evangeline made him see himself as more.  So my heart cried for Jacks.  I just wanted goodness in his life and for that goodness to be Evangeline!
He held on to her as if she were a grudge, his body rigid and tense, as  if he really didn't want her there, and yet his arms were tight around  her waist as though he had no intention of ever letting her go. 
Jacks and Evangeline together were everything.  I loved that Jacks would go and mess with Evangeline, that he seemed to change the tune of their story.  I was all for it.  But I would also question why he did certain things.  At times he cut me.  And I would have died to know his thoughts.  But then in that next moment he would go above and beyond.  Jacks was a mystery.  Whose looks set me on fire.  And who melted my heart every time he called Evangeline, Little Fox.
"Jacks, what did you do?" she whispered. "It's not what I did, Little  Fox. It's what you've done. And tomorrow night, you get to do even more."
I questioned so much, practically everything.  I trusted no one except Evangeline.  While I desperately wanted to trust Jacks, I kept reminding myself that wouldn't be wise.  No matter how much I was falling for him. And even when he told us the truth, I questioned what was he keeping from us.  This book had so many twists and mysteries and they kept me on my toes!  So many of the side characters shined brightly too.  One of my favorites was Lala.  She fascinated me to no end.  And even the Prince did too.
Evangeline didn't know if she wanted to laugh or cry.
She knew what Jacks was. She hadn't been foolish enough to believe that she was different or special and that he wouldn't destroy her. But maybe she'd believed it a little.
Prophecies, truths, and fairy-tales all swirled together and made Once Upon a Broken Heart feel so magical.  With characters that were easy to love and a beautiful story, this book will sweep you away!  This world will always be one of my most favorites!  And that ending, oh how tricky this story was.  Make for sure you have the next book, because you'll desperately need it!