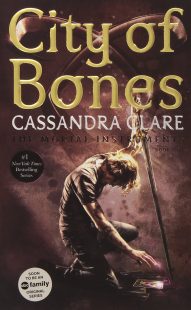 City of Bones
(
The Mortal Instruments #1
)
by
Cassandra Clare
Purchase on:
Amazon
, 
iBooks
Add to:
Goodreads
Synopsis:

When fifteen-year-old Clary Fray heads out to the Pandemonium Club in New York City, she hardly expects to witness a murder― much less a murder committed by three teenagers covered with strange tattoos and brandishing bizarre weapons. Then the body disappears into thin air. It's hard to call the police when the murderers are invisible to everyone else and when there is nothing―not even a smear of blood―to show that a boy has died. Or was he a boy?

This is Clary's first meeting with the Shadowhunters, warriors dedicated to ridding the earth of demons. It's also her first encounter with Jace, a Shadowhunter who looks a little like an angel and acts a lot like a jerk. Within twenty-four hours Clary is pulled into Jace's world with a vengeance when her mother disappears and Clary herself is attacked by a demon. But why would demons be interested in ordinary mundanes like Clary and her mother? And how did Clary suddenly get the Sight? The Shadowhunters would like to know...
"All the stories are true." 
One of the best parts of re-reading old favorites (especially series) is actually getting around to reviewing them. One of the saddest parts of trying to review them, though, is that all of my initial wonder and excitement is lost. I will always love these books and characters, I know I will. BUT, this time around, this particular book was more of a four instead of the five I initially had it at. It might be because Clare's writing has grown so exponentially and I know just how more amazing and intricate her books get….I'm not sure. Either way I will try to do my best to do justice to what sixteen-year-old thought about this book. *lol oh God what am I getting myself into*
"It's so dark," she said lamely. 
"You want me to hold your hand?"
Clary put both her hands behind her back like a small child. 
"Don't talk down to me."
"Well, I could hardly talk up to you. You're too short."
Yeah literally right after I typed that I knew there would be no way that was going to be possible bahahah. Sixteen-year-old me probably thought she was hot shit and was an idiot when it came to a lot of things and I literally would never want to read a review that she had written. And anyways, I can guarantee for the most part, the things I liked then were still the same things I liked now. Basically the reason why I started reading this again was that I am about 75% of the way through Queen of Air and Darkness and I felt like I had forgotten so many things and kinda of missed where things were in the beginning. I kept on reading QoAaD, of course, but I would randomly pick up this book throughout that too. Kind of a horrible idea, but here we are.
One of the best parts of this book, this series, this world of Shadowhunters is just that—the world. I have always been a fantasy fan so the thought of there being vampires, faeries, werewolves, warlocks, and a warrior race that has angel blood in their veins that spend their lives protecting the human race against demons (all hidden in plain sight of course!). As much as I would feel offended that such a world is there and that I haven't been asked to be a part of it, I still think it is cool to think that *more* might exist than what we know.
Another aspect of these books that has always intrigued me is the Shadowhunter's government structure, The Clave. I think Clare wrote their laws, their beliefs, and their prejudices very deliberately. It is so frustrating to read about their clashes with the Downworlders at times but then if you take a step back and consider how minorities are treated in real life, you have to think, 'yeah..you think these fictional problems are frustrating and horrible? Try thinking about the ones that real life people face every day…' It only kind of gets worse too and is at somewhat of a boiling point in the point I'm on in Queen of Air and Darkness. I really hope we can see things get better asap…
"Aren't you tired?" His voice was low. "I've never been more awake."
Finally, THE most important part of this book, this series—the characters!!! Clare knows how to write some funny/interesting/relatable/annoying/diverse/unforgettable characters, let me tell you. Clary, the main protagonist of this entire series, can be annoying at times but given her age and the amount of bat shit craziness that gets dumped on her all at once, I get it. Onto Jace. Jace for me is the OG snarky bad boy of Young Adult fantasy. Their dialogue is so funny and full of quippy one liners I can barely handle it (it a good way). You either love to love or love to hate her characters and I am all here for it. Also—can we just talk about how awesomely messed up it is that she wrote this story line where two of the main characters fall in love (and most of us immediately root for them), we find out they are "siblings," and then we still end up rooting for them (or at least I did bahahaha) to be together until View Spoiler »they actually find out they are in fact NOT related in book three « Hide Spoiler. I remember being so ashamed/ embarrassed trying to explain the plot of these books to my friends back in the day lol, man. Good stuff.
Overall if you're looking to get into a series that is now 16 books long and counting (counting the e-books as 3 separate books for when they're in their compiled form) and is crazily woven together with characters that are related and interconnected over the span of over a hundred years then this is the series for you!!!!!!!!!!
"If you insist on disavowing that which is ugly about what you do," said Magnus, still looking at Alec, "you will never learn from your mistakes."
…So it turns out that I didn't actually review this book but my general thoughts on the concept of the whole series, woops. I think it's still plain to see what my thoughts and feelings are, though and that's really why I came here to finally add a review!  Onto the rest!
"The boy never cried again, and he never forgot what he'd learned: that to love is to destroy, and that to be loved is to be the one destroyed."