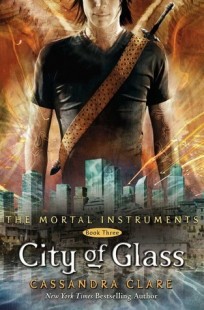 City of Glass
(
The Mortal Instruments #3
)
by
Cassandra Clare
Purchase on:
Amazon
, 
iBooks
Add to:
Goodreads
What a fun, exciting read! I was utterly consumed with COG and was driven nearly mad when I had to put it down. The story takes place in Idris making for a refreshing setting and story line.
So much happens that it's almost overwhelming to think of writing a review. Another problem? I most definitely started City of Fallen Angels immediately after finishing COG two days ago, so my recollection of the story is foggy, that mixed feeling when you read two books so close together. Whoops.
Things have finally come to a head for every party involved. Clary and Jace, Simon, Alec and Magnus, downworlders and shadowhunters, etc. I felt a sense of triumph on more than one occasion. Everything that we could possibly question about the past two installments is addressed, and more than we could imagine is thrown our way-not overwhelmingly so, though. What I loved most is the amount of peril laced through each page of the story.
Nothing was an easy fight. So many times we readers become engrossed into a story only for it to end up falling short and dissappointing us. It happens more often than not, sadly, and I didn't feel let down with the end of COG. It was tied up happily enough that we could go on with our lives if we so choose to, but it also left enough wiggle room to continue the series. What did Clare decide to do? Obviously she decided to keep truckin'. While I have read that some people wish she would stop here, I have to say I disagree. Yes, there is such a thing as leaving a story alone while you're ahead, but I can't help but feel a little sad at the thought of never reading about Jace and Clary again. I don't normally become so invested in a longer series-I generally lose interest quickly, but not with TMI. Clare writes the stories so you get a little of what you WANT, but not as much as you NEED.
Also, for those who have read the Infernal Devices trilogy, we start to see the mention of more and more of the names from it. Herondales (yyaaaayyyy!!), Lightwoods, Brother Zacariah, etc. I LOVE that. I LOVED TID and as I am reading the next installment, COFA, more and more is being said about them. It gets me so excited and I start smiling like a loon. Thank God Magnus was present back then, because we wouldn't get these cute reminiscent thoughts throughout the novel without him.
I'm not sure what my review was even about or if it even made sense, but the point is, I loved this novel and it was the best in the series yet. It is on-the-edge-of-your-seat good, and the romance was sweet and exciting. So for those of you who haven't read it yet, what are you waiting for?
Related Posts