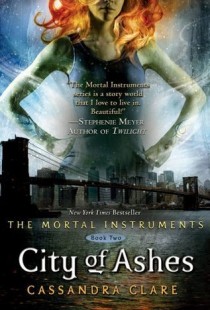 City of Ashes
(
The Mortal Instruments #2
)
by
Cassandra Clare
Purchase on:
Amazon
, 
iBooks
Add to:
Goodreads
**In no way is it my intention to diss on the author's integrity, just wanted to put forth the idea that there are some questionable ideas she has with this series-nothing more. Her writing is otherwise addicting**
There was so much going on in this novel it made my head spin. It's hard to wrap my head around everything that happened, which makes this a particularly hard review to write.
Clary is adjusting to the fact that the world as she knows it does not exist and that things are much more complex than she ever could have imagined. She starts to realize that while she longs for the normal life she once had, she can never truly get it back-everything is different now. She is an important part to this alternate universe she was never aware of and is begining to embrace and further her knowledge.
Simon is pursuing her more heavily, pushing their relationship farther than it has ever gone.
He is also still recovering from the incident in the previous novel, making him a little bolder than he once was. I have to admit-he annoyed the living snot out of me for most of this story. I just wanted him OUT OF THE PICTURE-whatever that meant. Near the end, of course, my feelings changed-yes, I'm fickle apparently. People can mature, and more so, they can realize something and do with the knowlege what they want. In his case, it matured him and helped his character development along nicely.
Alec and Isabelle were great. I really liked their part in the story and always liked when they were around. I loved that we got to see Alec in some scenes WITHOUT a scowl this time around-it did wonders for his character in my eyes. And Isabelle…well, I always loved her character. Bitchy or not, she always has something witty or funny to say, much like Jace's character. She's fierce, loyal, and surprisingly, very loving.
And finally Jace. We got to see a lot more of Jace, and a lot more with just his perspective and what was going on with him. He is such a deep character, and I really do like him a lot. He is so loyal and has so much love in him, he just never got to use it as a child and that is the saddest part of this story (aside from the author using any indication that incest is acceptable in this series…I find that creeptastic..and excrutiatingly sad). I think it's clear he has daddy issues and that's why he is snippy most of the time. It's justifiable. Whenever he enters a scene, I know 9 times out of 10 I am going to laugh, so I always enjoy the story more when he is involved.
I wish Clare would just drop this plot problem and move on with it already. Obviously something is amiss with it, and I'd rather not have to keep waiting for the inevitable to happen. Please let it go! I want some Jace/Clary action! And no…I don't revel at the idea of incest, I just know enough about the series from others that this idea doesn't fool me. I don't think she'd have so many loyal fans if this series ultimately ended on an incestual (is that a word? Well, it is now) note. I just don't buy it. That's right-I'm not buyin' what she's sellin'. So let's hope for some plot revelations in City of Glass, because I can't wait for more action, romance and drama to unfold.
Related Posts