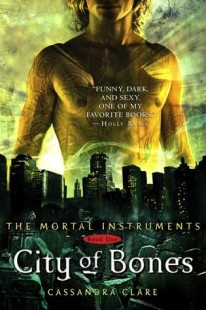 City of Bones
(
The Mortal Instruments #1
)
by
Cassandra Clare
Purchase on:
Amazon
, 
iBooks
, 
Book Depository
Add to:
Goodreads
After finishing City of Bones last night, I didn't really know what to say about it. Even this morning after sleeping on it, I am still at a loss for words. I suppose this might just be one of those novels where you know you have to keep reading the follow ups to truly appreciate the first in the series-or at least that's how I feel. Did I enjoy it? Thoroughly. Was I able to put it down easily to connect with the real world? Not really. Did I connect with Clary as the main character? Not particularly. I think this is the largest problem.
I read Infernal Devices before this, not really knowing which one would be better, and I fell in love with Will, Jem, and Tessa. I can see so many similarities between the two series already, and no, not because it's the same author and Infernal Devices was a prequel, but I see a lot of the same "problems" arising but in different forms. I think my hesitancy comes from the ending of the final TID novel, and how Clare chose to close out that particular series. While it appeased some, the epilogue left me unsettled. So I am slow to fall head over heels for one guy, because I am not sure how Clare will handle the end of TMI. Will she cop out again? I can't be sure.
What I am sure of is that these are different characters (mostly) and they have separate problems thus far, so I assume they will be handled differently.
Clary wasn't as likeable as I would have imagined based on what people say about her, but I didn't dislike her either-I'm neutral. I have also heard Jace is a humongous jerk-shocker. I found I am the opposite of what I have heard. I found Jace to be somewhat sweet, actually, and Clary to be the jerk. I don't know if I was just expecting this horrible guy or what, but I have read far too many romance novels where the main hero is a jerk, and I found Jace to be mild. Now as for Simon, he was also just okay. I didn't truly care for his character and if he gets his heart broken, nor am I as heartless to wish Clary won't look his way. Apparently I am all about fine lines on this review and, as I said before, don't know what to think.
So all in all, it was a gripping novel with many unexpected (or expected if you are me and people warned me of *gasp* creepy plot twists) twists and turns. I liked the supporting cast, and I liked how it ended with them-it was sweet. I also found myself laughing out loud when something happens to Simon and also "aww" ing out loud. So many things to think about and so much to look forward to, I can't wait to figure out where TMI is heading and what all we have in store for us.
Related Posts