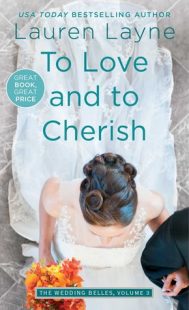 To Love and to Cherish
(
The Wedding Belles #3
)
by
Lauren Layne
Purchase on:
Amazon
, 
iBooks
Add to:
Goodreads
Synopsis:

Sex and the City meets The Wedding Planner in The Wedding Belles, a contemporary and witty romance series about three high-powered New York City women who can plan any wedding—but their own.

Alexis Morgan has spent the past eight years devoted to turning her tiny start-up into Manhattan's premiere wedding planning company, The Wedding Belles. Now that her business is thriving, it's time to turn towards her much neglected personal life, and Alexis approaches her relationships like she does everything else: with a plan. Not a part of that plan is Logan Harris, the silent partner in the Belles, and the one person who's been there for her since the very beginning. But Alexis needs someone fun, and Logan's all business, all the time—except when a late night at the office ends with an unexpected kiss that leaves the usually cool and together Alexis reeling.

Logan has lusted after Alexis since the day he walked into the tiny Harlem apartment that used to double as her office. But the ambitious wedding planner has always been untouchable...until now. Alexis has made it clear that she's on the dating market—and equally clear that he's not in the running. But when Alexis finds herself in need of a date for her sister's last minute wedding in Florida, Logan knows it's the perfect time to show Alexis that there's more to him than numbers and spreadsheets—and beneath the pinstripes and glasses lies a hot-blooded heartthrob. As Florida's sultry days turn into even hotter nights, Logan's out to convince Alexis that the fling of a lifetime could just maybe turn into forever...
Review:
To Love and to Cherish started out so fabulously!  That prologue quickly pulled me in and I could feel the electricity between Alexis and Logan.  I laughed, I smiled, and I was having a blast flipping through the pages as I fell hard for Logan.  But then Alexis and I started to butt heads, and it only got progressively worse.  Which is so devastating, because I have struggled with this series *cries because LL is one of my favorite authors*.  Thankfully there is one book in this series I can highly recommend, For Better or Worse.  I fell madly in love with the second book in The Wedding Belles.  The banter, the fighting, the sexiness, the emotions that were pulled out of me, its definite a must read.  You can read my 5 Star review for that book here.  But for this current book, I couldn't get past Alexis' behavior and how she treated Logan.
Alexis is the creator of the Belles, and I could never get a good grasp on who she was in the previous books.  She could be such a conundrum at times, and I always wondered what had made her that way.  Well it doesn't take us long to get a clear understanding to why Alexis is the way she is.  I felt beyond awful for what happened to her, and I fully understood why she had such severe trust issues.  But the poor guy who was put through the ringer, because of her trust issues, was Logan.
Logan is Alexis' accountant, who's been a constant in her life for the last 8 years.  He's a true friend who she not only trusts with her company, but she even gave him a key to her apartment.  Now you see, this is where I struggled.  Because Alexis didn't trust Logan with her heart at all.   Even though he proved himself multiple times throughout this book.  He showed her how he was loyal, how he cared for her, how he desperately wanted her.  Yet, she continually stepped backwards, and hurt him again and again.  Regardless of how much hurt she caused, he still wanted her and was patient.  And it got to the point where I thought he deserved someone better.  I wouldn't have even batted an eyelash if Logan would have walked away.  I mean, a person can only take so much rejection.  And the amount of rejection that was shoveled his way was too much.  It broke my heart again and again.
Now what I loved about this book was Logan.  He was intriguing and easily pulled me in.  I loved learning the different sides of him.  Ohhh and  I loved watching him interact with Josh (he's the main male character from For Better or Worse, that's the favorite book I was talking about in the beginning of this review). So for Logan's sake, I truly hope you'll end up falling for this book way more than I did.  It was a lot of fun and there's this cake tasting scene that was smile inducing and hot!  But then Alexis kept happening and that didn't help me out any.  But on a positive note, I'm keeping my fingers crossed that the next series LL creates will go back to being 5 Star status in my eyes!
*ARC kindly provided by Gallery, Threshold, Pocket Books via Netgalley in exchange for an honest review*