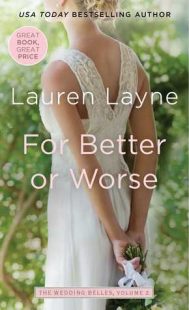 For Better or Worse
(
The Wedding Belles #2
)
by
Lauren Layne
Purchase on:
Amazon
, 
iBooks
, 
Book Depository
Add to:
Goodreads
Synopsis:

Will a budding wedding planner and her bad boy neighbor stop banging heads and start hearing wedding bells in the sexy second novel in USA TODAY bestselling author Lauren Layne's irresistible new series that marries Sex and the City with The Wedding Planner?

When small-town girl Heather Fowler finally gets promoted from assistant to actual wedding planner, she's determined to make it as one of Manhattan's elite Wedding Belles. Unfortunately, her first client demands an opulent black-tie affair at the Plaza…in five months' time. Heather's days quickly become a flurry of cake tastings, dress-fittings, RSVP cards, and bridal tantrums. But what she's really losing sleep over is the live music blaring from her playboy neighbor's apartment all night.

Five years ago, Josh Tanner was an up-and-comer on Wall Street, complete with the penthouse and the migraines. But a grim cancer diagnosis made him realize there is more to life than the corner office. If only he could convince his pretty, workaholic neighbor to let loose, too. As Heather lets down her guard, Josh is surprised when he starts falling for the sweet, vulnerable woman hiding beneath those power suits. Soon, it's Heather's turn to convince Josh to take the biggest risk of all: love.
Review:
From the first chapter alone, I  knew for Better or Worse was going to be a favorite!  I was giddy, smiley and I already had butterflies dancing around in my stomach.  It was shocking how fast I fell for Josh, and I absolutely adored our heroine Heather.  This was the type of book that I couldn't read fast enough, yet I wanted to savor it at the same time.  And I'm so ecstatic to say this, because while I thought the novella in this series was just good, the first book was a huge flop for me.  So I was crazy nervous picking up this book, especially since I usually love everything this author has written.  Well, except the first two books in this series *hides face while cringing*.  But  now I can proudly say that I have another LL book to add to my favorites list!
Yep. It was official. The new neighbor had to die. – Heather
Soooo, that first chapter.  I need someone to gush with me over it!  Heather finally has the dream apartment, and she believes she's close to having her dream job.  Which is being promoted from Assistant Wedding Planner to Wedding Planner.  Yet there's one huge flaw.  Her noisy neighbor next door who uses his apartment for band practice.  While Heather was storming over there to tell Josh to quiet down in the middle of the night, since she has to work the next morning, I was cheering her along.  But from the moment Josh opened that door, I was a goner.
Life was too short— way too short to sleep with only one person.
Did that make him an ass? Maybe. Did he care? Not particularly. – Josh
Josh Turner is one of those guys that is beyond sexy and mesmerizing.  He quickly captures your attention and there's truly no getting out of his seduction.  He is forward yet withholds parts of himself, he is confident yet at other times unsure of what to say, oh he just felt so real to me.  And while Heather tries to stay indifferent to Josh and his player ways, he slowly starts to win her over.  I loved all of his attempts, even if his end game was to get her to sleep with him haha.  But over time, a friendship unfolded and it was all so natural and perfect.
Heather held her ground, and they were toe-to-toe, glare-to-glare.
She spread her arms to the side. "You happy? You get what you want?"
Josh shook his head. "Not even fucking close."
His mouth slammed down on hers a half second before his hands closed greedily around her head as he took her in the hottest kiss of her life.
Their friendship was filled with banter, fighting (I LOVED their arguments, they were insanely sexy when they were fighting!), tenderness and a perfect amount of sexual tension that always left me begging for more.  Every time they were together, I kept thinking now this is my favorite moment in the book!  I even loved the nickname Josh used for Heather.  How in the world did I get so giddy over a nickname?!  Especially that one?!  Yet I did, and I always found myself smiling. 
He scooped up her mug and stood with a wink. "Damned if I don't like you a little bit, 4C, especially when you're all pissy and shit."
Heather ignored this, pointedly looking out the window as she waited for him to return with more of the insane coffee.
But damned if she didn't like him a little bit, too.
This time around I adored all of the Belles!  They felt fleshed out, which was one of my struggles with the first book.  And meeting Josh's mom, oh I'm a huge fan, I couldn't wait to see where she would pop up next ha.  They all fit seamlessly within the pages.  So as the story flowed, I continued to get pulled further and further into their lives.  And by that last chapter, I found myself crying.  Okay not just crying, I completely bawled my eyes out.  This story was absolutely perfect to me!  So if you had issues with the first book, like I did, I truly hope that you'll give this one a try!  It's more than worth it!
*ARC kindly provided by Gallery, Threshold, Pocket Books via Netgalley in exchange for an honest review*
BUY NOW
Don't Miss Any of the Wedding Belles Novels
"So this is where the noise happens, huh?" she asked.
Josh's eyes narrowed as his friend's hand touched Heather's back briefly. "Absolutely," Trevor said. "We're sorry it keeps you up though."
"Oh, it's okay," she said, waving her hand. "I mean . . . it's not. But tonight I couldn't sleep anyway, so you get a free pass. What do you all play?"
"Donny's bass, Felix is on drums. Josh is lead guitar, and I, as the most important member, have the pipes."
"Oh! I thought Josh was the singer," Heather said with a quick glance over her shoulder at him.
Their eyes locked, and Josh felt a flicker of . . . something.
"Ah, is that what he's telling the women these days," Trevor joked.
"No, I just . . . I hear him, singing sometimes," Heather muttered.
"Our boy can carry a tune well enough, but wait until you hear me, love," Trevor said.
Josh turned away in mild disgust, pulling a beer out of the fridge as Trevor and the other guys coaxed Heather into the practice room, thrilled to have any sort of audience, even a reluctant one.
"Yo, Tanner," Felix called.
"What," he called, popping the lid off the bottle and tilting the beer back to his lips as he tried to shake off whatever was bringing down his mood tonight.
"Let's show Heather here that we're more than a bit of noise coming through her bedroom wall."
Josh turned around to see Donny dragging one of his kitchen chairs across the room, disappearing into the practice room.
"All right, love, you just sit down and get comfortable," Trevor said. "Tanner! Come on, man."
Josh heard the low strum of Donny's guitar, heard Felix do a little warm-up rhythm, and knew there was no way of getting out of it. If he refused to play a song now, he'd look like an ass.
Still, his feet didn't move, and he took another sip of beer.
Feeling eyes on him, he glanced up to see Heather in the doorway, leaning one shoulder against the doorjamb as she studied him.
"Okay, 4A?" she asked.
Her tone was lighthearted, almost slightly reluctant, as though she didn't want to care about why he was out here alone, feeling oddly itchy with his life.
He appreciated it. He'd spent enough time in the past few years dealing with people who walked on eggshells around him, cooing sweetness. Some of it genuine, some of it not so much.
Heather's no-nonsense question was refreshing—and exactly what he needed.
He was happy and healthy and living the dream, damn it.
Even if he was no longer sure it was his dream.
"You going soft on me?" he asked, taking one last sip of his beer before setting it aside and strolling toward her.
Heather's eyes narrowed. "Hardly. I just wanted you to get your shit together so I can see your cute lead singer work his magic."
He deliberately stepped into the doorway so she couldn't move in either direction without brushing against him, grinning at her discomfort.
"You're in a better mood tonight," he said, his eyes skimming over her crazy curls and relaxed expression. "Why?"
"Believe it or not, I'm not a shrew."
"Huh."
Heather shoved his shoulder with a little scowl. "I'm not!"
"Does that mean you're going to start making banana bread like Mrs. Calvin?"
"Yes, definitely. And coffee cake and sugar cookies and whatever other goodies you might like. All while wearing a frilly, feminine apron."
"Dare I hope there's nothing under the apron?" he asked, leaning in slightly.
"Right again!" she said, in mock delight. "I just love to bake naked."
Josh's pulse leapt, but Trevor interrupted before the sudden X-rated picture in his mind could turn into a full-fledged fantasy.
"Dude, we doing this or what?"
Josh looked at Heather.
"One song," she said, holding up a finger. "I may as well see what the music sounds like on this side of the wall."
About Author:
Lauren Layne is the USA Today bestselling author of more than a dozen romantic comedies. She lives in New York City with her husband (who was her high school sweetheart–cute, right?!) and plus-sized Pomeranian.

In 2011, she ditched her corporate career in Seattle to pursue a full-time writing career in Manhattan, and never looked back.

In her ideal world, every stiletto-wearing, Kate Spade wielding woman would carry a Kindle stocked with Lauren Layne books.

For a list of all her works, please be sure to check out her official website!
Save
Save
Save
Save
Save
Save
Save
Related Posts
You guys, I loved this book! I already went back through and read my favorite scenes I'm not even going to tell you how many times. Josh, Heather, the fighting, the banter, oh my gosh, it was absolutely perfect! So check out my 5 Star Review below, read a sweet scene between Josh and Heather, and enter a fabulous giveaway to win a copy of this book. Enjoy!