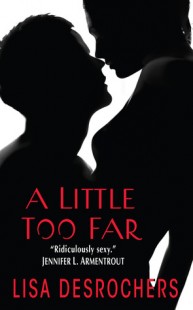 A Little Too Far
(
A Little Too Far #1
)
by
Lisa Desrochers
Purchase on:
Amazon
, 
iBooks
Add to:
Goodreads
A story of a girl with a broken heart, traveling to Rome to escape and find herself again. Two boys, both unattainable and the complete opposite of what she needs…or are they both exactly what she was looking for?
I'll be frank-I didn't even want to read this book. I saw it exploding on my feed and never once thought to mark it as 'to-read'. The main character makes a mistake and sleeps with her stepbrother, then travels to Rome and meets a priest-to-be? So not interested, and so not my style. I'm not against religion in any way; I just don't particularly care for religion overload in stories. It's a stupid thing for me to feel that way, really. Regardless of these aforementioned facts, my friend asked if I'd like to read it and I agreed. Why not, right? I was in a reading slump and nothing was piquing my interest anyway. If anything, I could just add it to a long line of disappointments, no problem. Little did I know that I'd fall in love with two incredibly awesome guys.
I think it goes without saying, I shocked even myself with how much I loved this totally cute story. Both guys were so unbelievably sweet and so completely different. Another surprising fact? I fell in love with both guys…I knew I loved the brother-He and Lexie had an adorable bond that drew me in almost instantly, and it kept my mind wandering to him the whole time she was in Rome. Well…almost the whole time. Insert Alessandro (Or Alejandro, as I so jokingly loved to call him), a priest in training. He swooped into the story and stole my heart with his adorable, secret smiles and selfless behavior throughout the entire story.
Now, many readers were upset with the lack of darkness drawn from the story. I do that sometimes-hear about a story and wish for something to happen, and when it never does, I am totally upset and disappointed. The thing with this story is, though, that I didn't go into it wanting and needing something dark. I just wanted to read something good, no matter how cheesy, and that's what I got-a good, well-rounded story.
The angst that was present, however, was the can-never-be relationships that were tested between each possible couple. Trent and Lexie represented the step-brother/sister relationship that can be considered both morally corrupt and unacceptable in society, no matter what it truly means on paper. Trent has always been the guy who, while honest with each new endeavor, has never had problems with the lady-folk. Alessandro and Lexie drew from the desire that can never be acted upon because of his devotion to God. He grew up in less than desirable circumstances and is on the path to making his life worth meaning and helping others turn theirs around. Lexie enters and he feels himself being drawn to the side he swore he would never lust after. What's right for either of these situations?
He sighs and looks at me, his eyes sad. "You are my inspiration, Lexie. You always have been"
-Trent
"You make me question myself…my choices," he says, low in my ear.
"…You confuse me, Lexie, more than anyone has in a long time."
-Alessandro
In many ways, we really didn't get enough of either guy, especially Trent. She was in Rome, centered around her studies and following her dreams, all the while getting closer to Alessandro, but never forgetting about Trent. A truly fun, albeit cheesy, journey that had me laughing, smiling, tearing up, rooting for both men, and feeling the best kind of angst when things became unbearably complicated. One thing I have to say, though, is that the story was written so incredibly well, that the cheese factor didn't even phase me-if anything, it made me love it more, because I felt myself smiling like an absolute goofball-and I haven't done that for a NA book in a long time. I loved this story more than I ever could have imagined, and will thank my friend repeatedly for bringing it to my attention and making it worthy of my annoyingly picky book-dar.
Related Posts