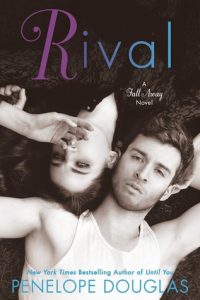 Rival
(
Fall Away #2
)
by
Penelope Douglas
Purchase on:
Amazon
, 
Book Depository
Add to:
Goodreads
Synopsis:

From the New Adult sensation and New York Times bestselling author of Until You

Madoc and Fallon. Two estranged teenagers playing games that push the boundaries between love and war…

She's back.

For the two years she's been away at boarding school, there was no word from her. Back when we lived in the same house, she used to cut me down during the day and then leave her door open for me at night.

I was stupid then, but now I'm ready to beat her at her own game…

I'm back.

Two years and I can tell he still wants me, even if he acts like he's better than me.

But I won't be scared away. Or pushed down. I'll call his bluff and fight back. That's what he wants, right? As long as I keep my guard up, he'll never know how much he affects me….
*So my quotes are dead. They died. I wrote this review a month ago and have no clue where my quotes went. So…that sucks. But the review must go on :P*
It goes without saying that I basically read what I have time for and, frankly, crave this year. I don't have extra energy to drudge through a massive fantasy (even though I so dearly miss them) or even to delve into my YA sci-fi….it's just one of those things, guys. I love my daughter, but boy does she zap all that extra time away!
That being said, my favorite books this year have been YA/NA contemporaries…with a flair for the dramatic (if you can't tell). It seems crazy to me, but my absolute favorite read this year has been, without a doubt, Punk 57. I don't know why, I don't know how, but in some ways, this book just always sticks in my mind.
When I'm trying to pick out a book, it's always 'I really want something JUST like Punk 57, where can I find one?'….and the desperate search continues/ensues. And the only logical answer that I can find has been staring me in the face the whole time: No one does Penelope Douglas like…well…Penelope Douglas.
You can't keep looking for sad imitations when what you seek is HOT, dirty hate-to-love foreplay and giving as good as you get until you finally get together. Only Penelope Douglas has mastered this, for me, and I should have realized it sooner.
I had read Bully FOREVER ago and LOVED it. But I'm not the type to jump into another character's story after being with another couple. It's just not my thing. I don't know why, but that's just me. So I had bought this book FOREVER ago and just couldn't bring myself to open it up. And then recently I was going through all my unread books on my iPad and saw this sitting at the very bottom-I could have hit myself over the head. This book was EXACTLY what I needed, even if I didn't know it. It doesn't help that Penelope Douglas makes me border that fine line of 'crossing the line of what I deem acceptable' in romance.
I won't lie-this woman is kind of sick, if you think about it. I love her, don't get me wrong, but this woman be twisted. The things these couples go through before they get together is depraved and just plain…wrong…but it's just…..oh my god it's so good. I HATE drama in any other books or series. I hate contrived situations that make no sense. I HATE adding cheese when there doesn't need to be any…but between Penelope Douglas and Linda Kage, I am putty in their dirty minded little hands. I. Can't. Get. ENOUGH.
As it were, I found that this book overdid it quite a bit-Stretched the story-line beyond thin. That's most likely why my rating is lower. Actually, no, there's A LOT more to it than that, and my reasoning really bothers me, but I'll do that in a spoiler below. But then…..there's the hate to love aspect. And I'm just a sucker for that. For two people who love each other but fight to the bitter end to deny it until they fall madly all over each other in love. And then I revert back to my issues: Why did she keep running away? Give me a fucking break, dude. You love him…so STAY THERE. This just plain grated on my already fragile nerves with this story. Let's just get to my BIGGEST problem with this story and why it never could have gotten above a 3:(view spoiler)[Abortion. Not. Okay. Why didn't he deserve to know? Even though she was young, did a child deserve to die? (hide spoiler)] Makes me sick, it's not up for discussion, and my opinion of the story lessened IMMENSELY after this sordid plot development. Bitch, Bye.
BUT-aside from all this? I LOVED the romance. I LOVED the sexual tension. I LOOOOVED how possessive he was of her and how Madoc reacted to other guys. I LOVED all this…I just wish I didn't have to wade through all the bullshit to see it. I also loved Jared and Tate's relationship in the background-with time, I loved the integrated stories and how it brought me back to the old days when I read this book. Waiting this long to read this story helped me to really fall hard for characters I had long forgotten about, and it was like taking in a breath of fresh air. Though….I must say, even though I adored Bully, I really don't think it's a very healthy relationship Jared and Tate share. Eh, but its fiction-I'll just try and keep the Jareds (both book and real boy) of the world FAR away from my little nugget (Even though her mother does so love a bad boy now and again).
AH AND AND AND-The end. C'mon Douglas. Really? REALLLYYYYY? C'mon. lol. (view spoiler)[Married???? Hmm (hide spoiler)]. I'm just sayin'. Cute? Yes. Absolutely. Cheesy? OH YEAH. Necessary? I think not.
Yeah, I rated this a three (But, at the end of the day, I was down and sad…and I just needed a Madoc. Sue me) and had more problems with it than not…but there's just something so alluring about an extremely addictive hate-to-love romance. And when I say hate???? It's legit hate, y'all.
YUM.
Related Posts