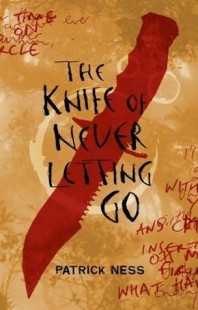 The Knife of Never Letting Go
(
Chaos Walking #1
)
by
Patrick Ness
Purchase on:
Amazon
, 
iBooks
, 
Book Depository
Add to:
Goodreads
Synopsis:

Todd Hewitt is the only boy in a town of men. Ever since the settlers were infected with the Noise germ, Todd can hear everything the men think, and they hear everything he thinks. Todd is just a month away from becoming a man, but in the midst of the cacophony, he knows that the town is hiding something from him -- something so awful Todd is forced to flee with only his dog, whose simple, loyal voice he hears too. With hostile men from the town in pursuit, the two stumble upon a strange and eerily silent creature: a girl. Who is she? Why wasn't she killed by the germ like all the females on New World? Propelled by Todd's gritty narration, readers are in for a white-knuckle journey in which a boy on the cusp of manhood must unlearn everything he knows in order to figure out who he truly is. Includes "The New World," a short story by Patrick Ness.
Review:
I thoroughly enjoyed this book and I'm looking forward to finishing the series because I HAVE to know what happens. It's written unlike anything I have ever read, and I loved it! The writing has this ability to suck you in and make you become completely lost in Todd's world. An hour will pass and you'll have no clue that you have been reading that long because it feels as though you've only had your book open for five minutes. And I loved the main character Todd and his faithful dog Manchee. The journey they embark on is enthralling and I was constantly needing to know what was going to happen next! I was convinced from the beginning that this was going to be a 5 star book for me. But then there's a scene that takes place that destroyed a piece of the happiness and joy I discovered while reading Todd and Manchee's journey. I sobbed hysterically. This part broke my heart into a million pieces and then those millions of pieces somehow shattered even more. I became tainted with how I viewed a character and although I'm going to finish the series I still can't help but think about IT. It IS a magnificent story, it does have amazing characters and the writing is completely addicting so THAT is why I'm continuing on, even though my heart is still in pieces.
Life ain't fair.
It ain't.
Not never.
It's pointless and stupid and there's only suffering and pain and people who want to hurt you. You can't love nothing or no one cuz it'll all be taken away or ruined and you'll be left alone and constantly having to fight, constantly having to run just to stay alive.
We start out the book in Prentisstown, where everyone can hear everyone else's thoughts. No one has any privacy and even the animals' talk. Todd is just a young boy and while he is the swamp one day, with his dog Manchee, something happens. He doesn't understand what is happening or why he has to leave but he is being forced to flee the only town he has ever known. The only folks that have ever loved him. And all he can take with him is a backpack, some supplies and his best pal Manchee. There's one problem though. The people chasing after him can hear his thoughts. So how in the world do you escape or hide when they always know what you are thinking?
I squeeze my eyes shut tight. And there's only blackness. Only blackness and nothing. One more time, I've ruined everything. One more time, I've done everything wrong.
The premise of the book and the way the story flows is fascinating. The way the story speaks to us is truly unique. Listening to Todd narrate the story with his "direkshuns" (directions), "civilizayshun" (civilization) and "concentrayshun" (concentration) makes you feel more one with their world. It's so real that it feels as though you could blink your eyes and the next thing you know you would be standing next to him. Todd is a determined boy and he has such a sensitive heart that you can't help but love him. His struggles and the situations that he finds himself in again and again makes your heart ache for him. You're constantly wishing that he catches some break. A tiny break. Any break. Because his journey is unthinkably hard. The choices he has to make would break a man apart, and he is just a boy. And then we have Manchee. Gah, I love, love, love that dog! Sometimes I think I loved him more than Todd. He is such an amazing friend. His words can be so hilarious, he loves Todd with his whole heart, he is the best companion anyone could ever ask for and he is fearless. Manchee IS the definition of man's best friend. Being able to hear his voice completely humanizes him and therefore you're stuck with not only worrying about what's going to happen to Todd but Manchee too.
I think how hope may be the thing that pulls you forward, may be the thing that keeps you going, but that it's dangerous, too, that it's painful and risky, that it's making a dare to the world and when has the world ever let us win a dare?
All in all, I struggle with two issuesView Spoiler »Pain or death to animals or children « Hide Spoiler and since the book contained one of those, I can never truly love the book completely. I definitely loved parts of it, many, many parts but I can never love it as a whole. Unfortunately, that scene took something that was entirely wonderful in my mind, and cast a shadow over the book and a character. I WILL be continuing the series and I am hoping my attitude towards a character will change but it is what it is and that event can never be taken back. The writing, characters, storyline are all fascinating and make an addicting read. I'll definitely be recommending this to people who don't struggle with the same issues that I do. But at the end of the day, I'm still stuck reeling over a decision that was made that I can't completely agree with. I'm hoping that the next book has everything I loved about this book but just without that one heart wrenching part.
Maybe if I was a killer, they wouldn't be dead. And that's a trade I'd make any day. I'll be a killer, if that's what it takes. Watch me.
Why I'm upset – huge, huge spoilers – View Spoiler »So the reason I'm so upset is that Todd is left with a choice. He and Voila are floating out into the river on a boat while Manchee is attacking Aaron who is the bad guy. Manchee just saved Todd's life again and allowed him to be able to get on the boat with Viola whom they rescued. Aaron rips Manchee off of him and yells at Todd to choose, either Manchee or Viola. Todd chooses Viola. After Todd speaks Viola's name then poor Manchee is barking Todd? Todd? and then Aaron breaks Manchee's neck. THIS made me sick to my stomach. I was sobbing hysterically and couldn't stop. I was so upset that I chucked my Kindle across the room. And I'm still crying while writing out these very thoughts. Now if this was any other story with any other dog than yes it would be sad but NOT devastating. No way. BUT we could hear Manchee's thoughts. We listened to him talk and help Todd throughout the whole story. He became HUMANIZED. He was no longer just a dog to a boy. To me he WAS a little person in a dog's body. And the fact that Todd didn't go back to fight for him, even though he was hallucinating and dying, leaves a sour taste in my mouth. It's all so very wrong and it makes me sick that Todd didn't try to talk, negotiate, fight, something, anything! While Manchee previously fought for him 2 times and could have easily lost his life both times, Todd didn't do anything the one time he could have fought and lost his life for his best friend. It's all wrong to me and it pains me that Todd didn't say/do/anything. « Hide Spoiler
Related Posts