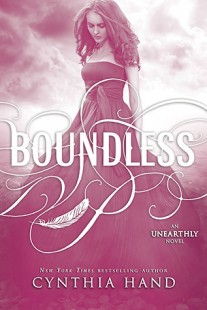 Boundless
(
Unearthly #3
)
by
Cynthia Hand
Purchase on:
Amazon
, 
iBooks
, 
Book Depository
Add to:
Goodreads
I guess 3.5 stars. Ugh. I want to give it four, I do, but too little was wrapped up at the end
Part One: To the Pain
I realize not many people will get that reference if they have not seen The Princess Bride, but I'm using it because it's how I feel in this moment. I also realize I haven't rated Boundless. I'm more than aware. What I am not aware of, however, is how I'm going to rate this novel. I'm torn by my love of the trilogy, my loyalty to the characters and their happiness, and how royally we all got screwed as readers. So here we go with the review. I am sad to say I'm severely disappointed-at least with the last quarter of the book. After finishing Boundless I feel a hollowness in my heart and an ache in my soul.
Yes-it got that deep for me. I invested my time into this trilogy, all the while realizing that there was going to be a sad ending for at least one of the boys in this dumbass love triangle, and then she takes it there-that sad place where you don't feel good for the other character. That place where your mind will forever be trapped and wondering wth happened to your beloved characters, or namely that one character you can't stand to let go because they were unjustly served at the end of the story as you know it. And yes-I'm angry as much as I am sad. I just can't believe, that after all the time she put into writing these novels, that she can't even give us more than like..a page…of an epilogue? It was frustrating and left me feeling so empty with the way she thought she so neatly wrapped these people's lives up, when in reality, she really just metaphorically threw all their lives into a bucket and hoped we appreciated that way of an explanation for their futures. No. Believe me when I say it PAINS me to rant like this.
Part Two: To the Tears
I can't even begin to explain how wrapped up I got into the characters' stories and how much I looked forward to reading each and every page. Each book had such depth and love poured into them, and this fact is why I was so depressed that she left an essentially unfinished story for all her avid fans of this series. At one point in the story, and I kid you not, I slammed my Nook down and ran into the bathroom and started bawling. I'm talking HUGE, EMBARRASSING, crocodile tears streaming down my face. Straight up FUGLY crying. It was ridiculous. I felt betrayed that she was even possibly going to take this story in the direction it was inevitably leading to. I was a blubbering mess, and this led me to trying to tell my boyfriend about the story and why all of a sudden I was having a nervous breakdown in the middle of our living room-that went well-angels…paranormal…blubber blubber…can't believe she did this..I ending up skipping ahead, because this couldn't POSSIBLY be the ending-idc I had to know, and thank GOD it miraculously turned around. I predicted this, but I didn't predict that even after that fact, I would still feel horrible. I felt drained-NOT the good kind. I knew, I just KNEW she was going to take the easy way out, and she did. I couldn't believe it. Which leads me to my finale and part three.
Part 3-WTF and Utterly Heartbreaking Betrayal (yea, different theme here)
She copped out. Like majorly. She left one guy, and I will not say who, hanging high and dry. I'm talking not even an explanation or epiphany of what's to come for him and I think that plays the biggest hand in her betrayal. I loved both guys. They were both AMAZING. My heart broke for the loser in this sad game(there really never was a clear winner for me, they both deserved her and ultimately, happiness), because deep down, I had a soft spot for him. Most definitely.
And then she can't even give him a future. What. The. F. Wrong. So wrong. And I can't be ok with it, I can't. We are just left with the fact that he is sad, and we are just supposed to accept it-and I never will. His story is most definitely unfinished. Even after all that bullshit, the author doesn't even give our happy couple more than a page of their future life together. Not. Even. A. Measly. Chapter. Oh and no worries, we literally don't get any closure for any of the other characters either. Like I said. Utter betrayal. I'm becoming a broken record here, so I'll wrap it up- I loved this series, and I will maybe, probably, someday re read it. I loved these characters. I grew with them, I heard their feelings, I felt their pains and sorrows, and I'm going to miss them. Especially since I got so little to go on at the end of book three. I just hope that maybe she can someday revisit this story and add to it, because to me, I feel there is so much more to it, and I can't help but hope for that happy(er) ending.
Related Posts