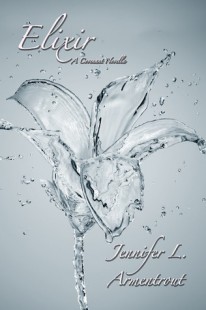 Elixir (Covenant #3.5)
by Jennifer L. Armentrout
Purchase on: Amazon, iBooks, 
Book Depository
Add to: Goodreads


A Covenant novella from Aiden's POV?? Yes, please! While Deity ended with (shocker) a brutal cliffhanger, Jennifer decided to take pity on our poor souls and write a novella that kinda eased that ache until Apollyon comes out next week. This story showed how deeply Aiden loves Alex and how he would go to the ends of the earth to save her. He goes as far to say he'd die for her, and that in itself is an admirable trait.
Throughout the story he literally does anything he can to do what Alex would want in this situation, and it's as beautiful as it is heartbreaking. He ultimately has to make an unsavory decision, but what's for the best. At the end we are left with one very clear point: He will fight to the death for her and will take out anyone, even a God, to keep Alex alive.
I loved Elixir, and I would suggest it to anyone who has read this series. I hate reading novellas, but I loved this story and it left me feeling a little more hopeful towards Alex's tremulous situation. Now I can breathe a little easier and hope for the best for Aiden and Alex in the next two books to come 🙂
Related Posts