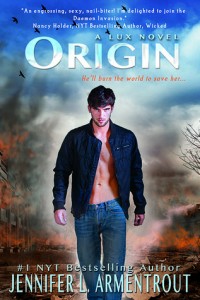 Origin
(
Lux #4
)
by
Jennifer L. Armentrout
Purchase on:
Amazon
, 
iBooks
, 
Book Depository
Add to:
Goodreads
"A certain bone-deep understanding occurred and my hand tightened around the smaller one I held. It weren't stars we were staring at. The sky was falling."

I'm not quite sure what to say right now. Daemon is just…he's just special. When all else fails and I'm having a bad day, I turn to one of the Lux novels-they never fail to make me smile. We all knew that under that bad attitude was a guy who was falling madly in love with a human girl, and it makes for such a cute, endearing story, that I could never be disappointed with any of these books. What happened when I picked up this book, I will never be able to explain, but it felt like I was whole again the minute August 27th arrived and this bright blue cover was screaming at me from my ereader. These stories have the power to manipulate my attitude, good or bad, and Origin was no exception.
"..You're my-you're my everything, Kat." At the sound of her soft inhale, I smiled again. "Come on, Kitten, did you really expect anything less from me? I love you."
We start immediately where we left off in Opal. A heap of shit. View Spoiler » Kat is with the bad guys, and Daemon wants to rip the world apart to get her back. « Hide Spoiler This was by far the darkest story yet. And I can't say I didn't miss the lightness of the first three installments. Sure, things have to rear their ugly head eventually, but I still missed what was in the other books.
He did something truly remarkable with hips, causing me to gasp.
"Yeah," he said smugly. "I deserve another kiss."
Yes. Yes he did.
Daemon. Oh Daemon. Daemon's raw passion fueled the entirety of Origin. What he feels for Katy can't be measured, and he makes sure everyone around knows it. He is a hard person-he's had to be for his family's safety. But when it comes to
his girl, he is sweet, affectionate, kind-hearted, and gentle. No one can tell him he is wrong, because, well, he's Daemon, right? No one tells him what to do, and when it comes to katy, he'd burn the whole world to keep her safe.

"Yes," I said. "She is worth everything".
Dawson is more 'present' in this one, both physically and mentally. But while Dawson and Daemon are carbon copies of one another, there is something that separates the twins. Daemon's inner strength. What ultimately broke Dawson didn't come close to touching Daemon. It's not necessarily cockiness, but confidence, and that's whyView Spoiler » when the stakes get high, and Daemon is purposely abducted with/for Katy, Daemon doesn't break. « Hide Spoiler No matter what they throw at him, he won't break; he is both physically and mentally equipped to take care of business, no matter the cost, and that's what makes him powerful. His loyalty, passion, and soul.
"I want a years-worth of seconds and minutes with you. I want a decade's worth of hours, so many that I can't add them up."
For once, the banter wasn't the star. Shit is real, and big things are happening. No one is safe-not even the main characters. There was a lot of death and destruction, I'm not going to lie to you. Unlikely allies will surface and those you thought were the most trustworthy are the ones to stab you in the back. Corruption in society and a new soon-to-be apocalypse is on the rise. What to do, where to go, and who to trust are only a handful of problems our little team of outsiders will face. You are in for a truly emotional ride.
Our compassion that night had been the final nail in our coffins. It was so ironically sad.
Happy tears, relieved tears, my bestie is awesome tears-you name 'em, I cried 'em. This book made me a sappy, squeeing mess. I never squee. Origin is a strong story about what you are willing to do to protect/save the ones you love, and to what lengths you are willing to go to find happiness.
Related Posts