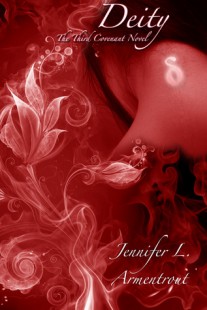 Deity
(
Covenant #3
)
by
Jennifer L. Armentrout
Purchase on:
Amazon
, 
iBooks
, 
Book Depository
Add to:
Goodreads
Synopsis:

Now includes bonus novella ELIXIR

History is on repeat, and things didn't go so well the last time.

Alexandria isn't sure she's going to make it to her eighteenth birthday—to her Awakening. A long-forgotten, fanatical order is out to kill her, and if the Council ever discovers what she did in the Catskills, she's a goner... and so is Aiden.

If that's not freaky enough, whenever Alex and Seth spend time "training"—which really is just Seth's code word for some up-close and personal one-on-one time—she ends up with another mark of the Apollyon, which brings her one step closer to Awakening ahead of schedule. Awesome.

But as her birthday draws near, her entire world shatters with a startling revelation and she's caught between love and Fate. One will do anything to protect her. One has been lying to her since the beginning. Once the gods have revealed themselves, unleashing their wrath, lives will be irrevocably changed… and destroyed. Those left standing will discover if love is truly greater than Fate...
That ending. Oh my. That ending was a low blow. A real kick in the teeth, that's for sure. I was seriously breathless when I finished Deity. Jen has now went from "one of" my favorite authors TO my FAVORITE author. No one can do what she does, no one takes it where she is willing to take it. She pushes each character to both their physical and mental limit, making for the most entertaining and heart pounding twists, turns, and conclusions. Her writing is truly astounding. This story gripped it's claws into me and didn't let me go-it haunted me all night.
I can only be grateful that Apollyon, book 4, is coming out next Tuesday. I don't think I could handle ANOTHER of Jennnifer's book hangovers for months. I'm still waiting for Origin in the Lux series and I thought THAT was bad. But having two of her series all up in my thoughts all the time? No..it can't be healthy for me.
Alex is back from New York and she has a secret about what happened there. A secret no one knows about except Aiden, Seth, and her. She must avoid trouble and keep the secret at any cost. The tricky part is that trouble finds HER, and it is a major problem. What happens after is a series of events that can only lead to ill willed power and destruction of their lives as they know it. Now, how anyone can be rooting for her to be with Seth is beyond me. He shows his true colors in this one, and they are not pretty. The thing is, I never once liked or trusted Seth. I'm not saying that goes either way after this book, but I just know who is right for her. Aiden is sweet, kind, caring, and willing to risk it all for her-for this forbidden relationship that can never happen. If that's not love, I don't know what is. He doesn't want to suck power from her, just suck face-lol. Sorry, couldn't resist. My point is that I absolutely love when boys get jealous in these precarious situations, and this book is no exception. I loved it. My heart swelled to two sizes too big when Aiden does what he does for her. He really is a great guy.
People we once thought had no morals come to light and show how wrong we really are, and others show the side of themselves we have all been waiting for. We get to see what everyone is really like, WHO everyone truly is, and we discover there are more allies and even more foes than we expected. So much happens it gives you whiplash, but the story is woven together flawlessly and you really couldn't ask for more. I am guilty of always wanting more, more, more, but really, how much more could have happened? There isn't even room for more peril-I think she filled this book's quota.
So. To sum it up-The moral of the story is: apparantly the third book in all of her series have ungodly cliffhangers that are hard to get over, so I just need to get over it already. I don't know what will come of the fourth installment in the Covenant series, but what I do know? I'm sure it will be brutal. You see, I have never read the fourth installment in any of her books-they are never released yet. But based on her writing style, it will most likely be a doozy. I just don't know how she can top the ending of Deity. *shivers* So one can only hope I don't have to wait too long for the fifth and final book or I don't know if I can do it. It will sure be a long summer waiting for all of her books to come out 🙁
Related Posts